Altus White Rock offers relaxed luxury living with captivating views framed by Alumicor curtainwall, windows and terrace doors
Posted on November 15th, 2023 by Heather West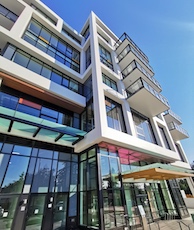 Altus White Rock defines modern urban resort living with its 12-storey, 126-unit residential mixed-use development. Positioned at a geographical pinnacle in British Columbia's White Rock community and a 15-minute drive to the U.S. border, Altus delivers panoramic views of Semiahmoo and Boundary Bays. Framing these vistas are Alumicor curtainwall, windows and terrace doors installed by Transparent Glazing Systems (TGS).

The high-rise condominium's combination of Alumicor systems provides high thermal performance to support the building's energy efficiency and keep residences comfortable during British Columbia's cold winters. In warmer weather, projected window vents integrated within the curtainwall offer fresh air and natural ventilation.

Oviedo Properties worked with Chris Dikeakos Architects and general contractor Quorom Group to bring the project from concept to completion in 2022. According to the property's website, "Our design philosophy of 'every square inch' is focussed on making every inch count, creating spaces that are effortlessly liveable."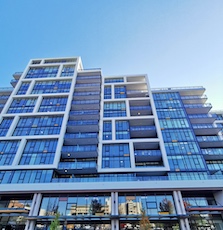 The relaxed, West Coast modern exterior visually distinguishes the overall structural mass with an approachable, distinctive rectilinear gridwork. The dark finish on the aluminum-framed glass façade contrasts with the white natural stone. The clean lines articulate offset vertical volumes with projected and recessed balconies. The staggered elevations provide a cascading variety of private and shared terraces and patios, and ensure residents enjoy exceptional views.

"We carefully designed the building to capture both the ocean and mountain views," Kanwar Dhamrait, CEO of Oviedo Properties, told the Vancouver Sun. Along with captivating views, each residence features high ceilings with full-height windows for a bright, airy atmosphere. Natural light, materials and colours create a unified, complementary esthetic from the exterior through the interior design.

Altus presents a move-in-ready, pet-friendly, luxury living experience with spacious floorplans, resident-only amenities and conveniences of city life. Being a good neighbour, the building was designed with sustainability in mind. In addition to the high-performance Alumicor curtainwall, windows and terrace doors, Altus features energy-efficient and low-flow fixtures, water-conserving and drought-resistant landscaping. The natural and constructed canopies also provide shading.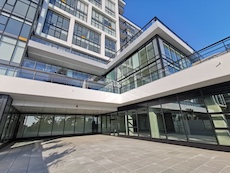 The building's varied height and scale further harmonizes within the surrounding community. Located across the street from a hospital, Altus White Rock leases commercial and retail space on its first two storeys. More than 45,000 square feet of office space is dedicated to medical professionals. An additional 3,500 square feet houses a children's daycare center. Proximity to schools, shopping, dining and entertainment options enhances the building's desirability to its residents.
**
Altus White Rock, 1526 Finlay Street, White Rock, BC V4B 4L9, Canada; https://www.altuswhiterock.com
• Developer: Oviedo Properties; Surrey, British Columbia; https://oviedoproperties.com
• Architect: Chris Dikeakos Architects Inc.; Vancouver; https://www.dikeakos.com
• General contractor: The Quorom Group; Langley, British Columbia; https://www.quorumgroup.net
• Glazing contractor: Transparent Glazing Systems (TGS); Burnaby, British Columbia; https://www.tgsbc.com
• Aluminum-framed glazing systems – manufacturer: Alumicor; Toronto; https://alumicor.com
• Photos provided by Transparent Glazing Systems (TGS)
• Aerial video: https://vimeo.com/733338706
About Alumicor Brand
Alumicor is a brand of Apogee SFS Canada, LLC, part of the Apogee Enterprises, Inc. portfolio. Alumicor is a Canadian-based supplier of architectural aluminum building envelope products. With corporate offices in Toronto, Alumicor services the North American market through manufacturing facilities in Winnipeg, Manitoba; and Toronto.
Founded in 1959, Alumicor has earned respect and recognition for technical competence, responsiveness and integrity. Alumicor joined Apogee Enterprises, Inc.'s family of brands in 2013, which includes Tubelite, an industry leader brand in eco-efficient storefront, curtainwall and entrance systems in the United States. This strengthened Alumicor's ability to provide an unrivalled level of customer support, an expansive product portfolio and dependable service.
Alumicor and its staff are members of numerous construction associations including Association de vitrerie et fenestration du Québec (AVFQ), Construction Specifications Canada (CSC), Fenestration Glazing and Industry Alliance (FGIA), Ontario Glass and Metal Association (OGMA), and Ontario Building Envelope Council (OBEC).
###
---
Filed under: Alumicor, Projects
---
Story Resources
Photo 1 courtesy of Transparent Glazing Systems (TGS), courtesy of Alumicor
Photo 2 courtesy of Transparent Glazing Systems (TGS), courtesy of Alumicor
Photo 3 courtesy of Transparent Glazing Systems (TGS), courtesy of Alumicor
Word document - English
Word document – French
Zipped folder of photos provided by Transparent Glazing Systems (TGS), courtesy of Alumicor
Request high res photographs for publication