Client News: Newly opened Mississippi Aquarium features distinctive, resilient, sustainable RHEINZINK zinc-clad buildings
Posted on September 30th, 2020 by Heather West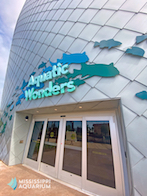 Opened on Aug. 29, 2020, Mississippi Aquarium welcomes visitors to downtown Gulfport's newest destination attracting both residents and tourists. Its three main buildings showcase a distinctive, scaled pattern using 16,000 zinc tiles fabricated from RHEINZINK prePATINA® blue-grey material. With a potential lifespan of 100 years or more, this resilient, natural metal supports both the Aquarium's economical and environmental goals.
Destination Development
Mississippi Aquarium's mission revolves around three pillars – education, conservation and community. Set on 5.8 acres, the Aquarium's exhibits and buildings are connected by landscaped walkways with plants representing all seven physiographic regions of Mississippi. The indoor and outdoor campus tells the story of the state's aquatic resources from the Delta to the Coastline and ties all the of these natural resources together.
The Aquarium's habitats contain 1 million gallons of both salt and fresh water, and more than 80,000 square feet of habitat for marine mammals, otters, alligators, crocodiles, river animals and a shore bird aviary. Three main buildings house the Aquatic Wonders exhibits, Changing Tides building, which is a premier event space, and the ticketing services and gift shop.
RHEINZINK prePATINA blue-grey panels clad each of the three buildings. Their complex curved, geometric shapes present a welcoming, distinctive look with a dynamic, evolving appearance that develops a natural patina over time. In addition to the zinc material's unique aesthetic, the wall panels maintain their self-healing, low-to-no-maintenance, corrosion-resistant performance for many decades.
Leading the effort to bring Mississippi Aquarium to fruition, the Gulfport Redevelopment Commission (GRC) serves as the urban renewal agency for the City of Gulfport. Uniting the City of Gulfport and the Mississippi Sound, the new aquarium is expected to be economically self-sustaining. It anchors a comprehensive plan to revitalize the downtown area that will elevate the entire Mississippi Gulf Coast as a premier family-friendly tourist destination.
Based on budget and footprint, Mississippi Aquarium will join similar, top-U.S. destinations such as Boston's New England Aquarium and the California's Aquarium of the Pacific. The facility is estimated to host 487,000 yearly visitors.
Creative Collaboration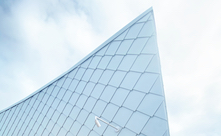 Mississippi Aquarium's development, design and construction has been underway for more than five years. In March 2016, GRC and Mississippi-based Eley Guild Hardy Architects (EGH) unveiled the project's conceptual design to the public.
"From an architectural perspective, we wanted to be unique. Our buildings are guitar pick shape with odd angles and they add a distinctive look and color to the skyline. The contrast of the buildings and the white sails give a spectacular view," explained Kurt Allen, President and CEO of Mississippi Aquarium.
The Aquarium's design and details were refined by EGH along with the aquarium design specialists at PGAV Destinations PC of St. Louis. PGAV previously contributed to designs for Space Shuttle Atlantis, Chimelong Ocean Kingdom, Georgia Aquarium, the Hoover Dam, and SeaWorld Adventure Parks. For more local expertise with projects in Downtown Gulfport, EGH also added Christian Preus Landscape Architecture, Uzun+Case structural engineers and Brown, Mitchell & Alexander, Inc. Consulting Engineers (BMA) to contribute to the Mississippi Aquarium's project team.
"The goal everyone shared was to create a walkable downtown area that attracts young people and provides a catalyst for economic development in Gulfport," said EGH's Thomas Allen, AIA. "Mississippi Aquarium will not only entice more commercial projects, but additional mixed-use and long-awaited higher density residential developments. Soon there will be a tram bridge leading over to Jones Park, and the CTA transportation hub is almost complete adjacent to the site. This is a game-changer for the City of Gulfport and the entire Gulf Coast."
Construction Considerations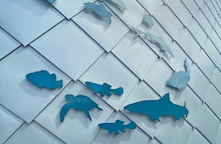 From its earliest stages and Mississippi Aquarium's May 2018 groundbreaking, general contractor Roy Anderson Corporation (RAC) oversaw the construction project. Total estimated construction costs were $52 million of the Aquarium's approximate $100 million overall budget. Working closely with RAC, Roofing Solutions fabricated and installed the zinc flat-lock wall tiles on all three buildings using more than 81,400 pounds of RHEINZINK prePATINA blue-grey as supplied by Oakland Metal Sales.
"We worked hand-in-hand with the general contractor, the manufacturer and the supplier," said David Furr, Roofing Solutions' general manager for Mississippi. "It really was a joint effort to get it done. A massive amount of coordination was needed to keep everything working smoothly and safely."
Tupac De La Cruz, Roofing Solutions' operations manager, agreed and added, "This was our first time working with RHEINZINK and Oakland Metal Sales. Our approach was to study the material properties and availability. Since the project had a considerable size, materials' lead time and availability were key to us, so we had to work in close and constant communication. Both the manufacturer and supplier were in direct contact with us, with fast responses and solutions to every challenge this project represented."
According to Furr, "Thousands and thousands of panels were fabricated by our crew at our Prairieville (Louisiana) factory and then shipped to the jobsite in phases. The material was placed in covered storage on site so that our people in the field had the supply they needed to install 50 to 60 tiles each day."
Roofing Solutions estimated that 35 people from its company contributed to Mississippi Aquarium, including three or four people who worked on site for a full year.
Cladding Complexities


All of Mississippi Aquarium's three buildings feature RHEINZINK prePATINA diamond flat-lock wall tiles, fabricated and installed by Roofing Solutions in a scaled, offset, overlapping pattern. The rounded, guitar-pick form of the buildings are composed of three curved walls that splay outward as they rise.
"It gets bigger as you go up, and some of these walls are over 60 feet high," simplified EGH's Allen. "We didn't want them to feel too big and overwhelm visitors. When you're standing inside the park, everything should feel approachable."
He continued, "Because every building is a different size and slightly different shape, it took some strategic geometric planning to layout and scale the RHEINZINK panels appropriately. Each building's panels are custom-sized to make all of them look uniform in their overall massing. It's a forced perspective. Hopefully, you won't be able to notice the difference."
"We provided the zinc coils in three custom widths to make it easier for Roofing Solutions to fabricate the precise panel sizes with efficiency and minimal scrap," said Oakland Metal Sales' Steve Stetson.
"We have experience in projects that require cladding methods for wall panels, so this was not our first time using this type of pattern," noted De La Cruz. "Having the possibility to design and produce the panels and attachments in our own warehouse, having experienced crews that know their way around the machines we use, and their experience with different gauges and sources of materials we use for our roofing and wall panel projects, gave us an advantage in successfully producing and installing the wall panels at Mississippi Aquarium."
At four stories and 22,200 square feet, the Aquatic Wonders building is largest of the three and uses 24-by-24-inch zinc tiles. The mid-size, 13,600-square-foot exhibit building has 20-by-20-inch tiles that clad the entire façade include its parapet and dramatic canopy.
At 5,400 square feet, the smallest building uses 16-by-16-inch tiles to scale the ticketing area and Gulf Shop. Sheltering visitors from Mississippi's occasional rain, EGH inset the ticket windows and entrances, allowing the walls to provide an integrated covering. Where needed, Roofing Solutions fabricated custom trim, flashings and other detailing from the same RHEINZINK prePATINA material used to make the wall tiles.
Patina and Perpetuity


"We've been looking forward to working on a project with RHEINZINK for a long time," said EGH's Allen. "It's a homogenous material and it has a lifespan much longer than other products. Many other wall claddings – aluminum, prefinished metal, even stainless steel – would start to fade and pit after many years in these coastal conditions."
EGH's Allen also praised the material's aesthetic virtue and endurance. "The prePATINA zinc material begins with a consistent blue-grey color and, as it ages, its patina continues to gain character from the salt air and climate. They get more beautiful as time goes on. Similar to copper, it evolves instead of fails."
Allen estimates the life cycle cost of RHEINZINK's material, plus Roofing Solution's fabrication and installation, to be comparable to other metal cladding. He added, "Other than a little cleaning to keep the dirt off, there's hardly any maintenance. The longevity is what pays for itself."
"It was a big moment for me to finally be able to use a metal product that can last you more than 50 years, maybe even 100 years." EGH's Allen elaborated, "A lot of architects never get to design a project like this. I am very grateful for this rare opportunity. By the time I die, the zinc panels will still be serving their purpose."
Proven Performance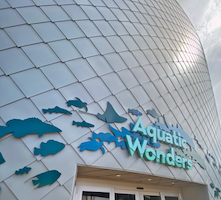 Remembering that, 15 years ago, Hurricane Katrina's flood levels topped at 24.5 feet, the elevation of the project site was raised to 25 feet and complemented by a seawall surrounding the Aquarium. Pumps and generators onsite also will maintain the care of the animals in the event of natural disaster.
Flooding, high winds, fade, corrosion and rust were all concerns expressed by the Aquarium's executive team, designers and contractors. EGH specified 1.0mm-thick RHEINZINK prePATINA blue-grey flat-lock panels to meet the project's multiple performance requirements. Tests were conducted to ensure the zinc tiles could withstand hurricane-force winds of up to 175 mph.
Ahead of the zinc material's installation, a plywood fire-treated exterior-grade substrate was set in place. Next a thick liquid waterproofing coating was applied, temporarily giving the structures an orange hue.
Roofing Solutions' field team anchored each zinc tile in place with sealed, concealed fasteners. "It's complicated and hard work, but it makes for great pull out strength, while sealing all the holes well. You should never have to remove the fastening clips, but if necessary, the tiles can be removed," observed EGH's Allen. "Roofing Solutions did an excellent job. Their installation looked better than our model, which is hard to do!"
Appreciative of the compliment, De La Cruz said, "This has been one of the most interesting projects we have had the privilege to participate on. We are truly grateful for the opportunity and proud of the excellent work of all our teams – from estimators, submittals team, and of course, our operations team, which supervised every detail from material purchase, transportation, fabrication, and final installation and touch ups."
Impressive Impact
Roofing Solutions' team members were counted among the approximately 400 construction jobs involved in creating the Aquarium, with 75% of this workforce coming from the Gulfport and Mississippi region.
Mississippi Aquarium is funded through a public and private partnership with 90% of the funding from City of Gulfport bonds, Mississippi Development Authority grants, Restore Act and Gulf of Mexico Energy Security Act (GOMESA) funds. The remaining 10% was contributed through by private donations to the Mississippi Aquarium Foundation.
"This is a win for the State of Mississippi and our Coastal region," stated the City of Gulfport Mayor Billy Hewes in a Facebook post. "There was a great deal of work by a lot of people in getting to this point. Commitments by the City and State, combined with partnerships with multiple agencies and universities, will result in a world class aquarium, which will advance tourism, economic development, research, and education initiatives for generations."
As a nonprofit 501(c)(3) organization, the Aquarium also supports community events, education outreach and partners with state and federal agencies to pioneer much-needed dolphin and marine research in the Gulf. Mississippi Aquarium seeks to empower the community to take action for conservation by connecting them to the aquatic world and participate in conservation events, beach cleanups and recycling initiatives.
"It is our obligation to provide our city, Coastal Mississippi and the entire state with an unparalleled aquatic experience – one that remains focused on our three pillars: education, conservation and community," echoed Allen, President and CEO of Mississippi Aquarium. "Each decision made is to ensure we are building safe habitats for our animals and creating experiences that will captivate our guests."
The care and welfare of the animals is the top priority as Mississippi Aquarium seeks to obtain accreditation from multiple industry institutions including the Association of Zoos and Aquariums (AZA), the American Humane Association (AHA), the International Marine Animal Trainers' Association (IMATA), and the Alliance of Marine Mammal Parks and Aquariums (Alliance). These accreditations will make Mississippi Aquarium the only fully accredited aquarium in the state.
**
Mississippi Aquarium, 2100 E Beach Blvd, Gulfport, MS 39501
* Owner: Mississippi Aquarium; Gulfport, Mississippi; https://www.msaquarium.org
* Developer: The City of Gulfport and the Gulfport Redevelopment Commission; Gulfport, Mississippi; http://www.gulfport-ms.gov
* Architect: Eley Guild Hardy Architects; Biloxi, Mississippi; https://eleyguildhardy.com
* Aquarium designer: PGAV Destinations PC; St. Louis, Missouri; https://pgavdestinations.com
* Landscape architect: Christian Preus Landscape Architecture; Ocean Springs, Mississippi; http://cpladesignplanning.com
* Structural engineer: Uzun+Case, LLC; Atlanta; http://uzuncase.com
* Consulting engineer: Brown, Mitchell & Alexander, Inc. Consulting Engineers; Gulfport, Mississippi; http://www.bmaengineers.com
* General contractor: Roy Anderson Corporation; Gulfport, Mississippi; https://www.rac.com
* Fabricator and installing contractor – zinc façade and wall cladding: Roofing Solutions; Prairieville, Louisiana; http://roofingsolutionsla.com
* Distributor– zinc façade and wall cladding: Oakland Metal Sales, Inc.; Auburn Hills, Michigan; http://www.oaklandmetalsales.com
* Manufacturer – zinc façade and wall cladding: RHEINZINK America, Inc.; Woburn, Massachusetts; https://www.rheinzink.us
* Photographer: Mississippi Aquarium
* Video: https://vimeo.com/439355045
RHEINZINK America, Inc. led the introduction of architectural zinc in North America and continues to offer one of the industry's most reliable, trusted brands. Architects and contractors are supported by unparalleled customer service and technical assistance. RHEINZINK is readily available through an established network of qualified distributors and systems partners across the United States, Canada and Mexico. Ideal for roofing, façade, gutter and interior applications. RHEINZINK is environmentally friendly, 100% recyclable and offers a potential lifespan of 100 years or more.
For more information on RHEINZINK, call 781-729-0812 or visit https://www.rheinzink.us.
###
---
Filed under: Projects, RHEINZINK
---
Story Resources
Word document
Request high res photographs for publication