Association News: AAMA releases updated standard vertical load evaluation method for side-hinged door slabs
Posted on August 4th, 2017 by Heather West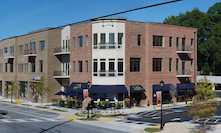 The American Architectural Manufacturers Association (AAMA) recently released an updated document to provide a standard method of evaluating side-hinged door active slabs for their ability to resist a vertical load. AAMA 925-17, the "Specification for Determining the Vertical Loading Resistance of Side-Hinged Door Systems," determines the ability of a side-hinged door slab to remain operable following the application of a vertical load along the lock stile. It was last updated in 2013.
"AAMA 925 has been updated to remove the collection of data-only methodology and incorporated a simplified pass/fail approach to the test," said Chad Elbert (JELD-WEN), chair of the Side-Hinged Auxiliary Test Method Task Group. "To ensure that a door leaf (slab) design can withstand a reasonable vertical load on the lock stile and remain operable, the pass/fail criteria is to validate the leaf (slab) will still close within the opening. The prior approach collected data-only with now pass/fail limitations."
Additional edits to this updated standard include the replacement of the term "door leaf" with "door slab," as well as a section clarifying what kinds of slabs may qualify other slabs.
AAMA 925-17, as well as other AAMA documents, may be purchased from AAMA's online store. More information about AAMA and its activities can be found on the AAMA website.
AAMA is the source of performance standards, product certification, and educational programs for the fenestration industry.SM
###
---
Filed under: FGIA
---
Story Resources
Word document
Request high res photographs for publication