Client News: Macy's New York historic façade refreshed with windows finished by Linetec
Posted on September 30th, 2020 by Heather West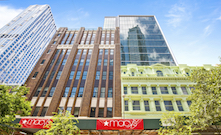 A refreshed, renovated, historic, four-story façade greets visitors to the redesigned and re-opened Macy's department store at 422 Fulton Street in Downtown Brooklyn, New York. The nine-story building's top five levels have been converted to Class A offices. Macy's occupies approximately 300,000 square feet of retail space on the lower floors, retaining its street-level prominence, architectural heritage and community connection.
The windows on the second, third and fourth floors were replaced to improve the exterior appearance of the ornate, cast-iron façade. The previous window units had aged throughout the decades. Dramatically enhancing the retail façade for shoppers, staff and the community, the new windows present an exterior worthy of the building's legacy. In total, 63 aluminum-framed windows were supplied with panning by Winco Windows. All of Winco's aluminum material was finished by Linetec in a Key Lime soft green color to complement the historic façade's palette.
Each window's dimensions span approximately 4 by 9 feet and 15 were manufactured with arched tops. Winco's 1450H Series window systems are fixed with offset lites to replicate the historic look of traditional, operable hung units. "The systems were standard, but utilized in innovative combinations to meet the historic requirements," said Winco's sales representative, Marty Colby.
The window systems' modern construction meets the Architectural AW-100 Performance Class designation per the North American Fenestration Standard (NAFS). Supporting the windows' performance and durability, Linetec finished the aluminum framing and panning using a 70% PVDF resin-based architectural coating. To retain the project's unique color and to withstand New York's climate and high-traffic conditions, the windows' painted finishes meet the industry-leading AAMA 2605 coatings specification for high resistance to corrosion, weathering, pollution, salt spray, humidity and abrasion.
Too Beautiful to Destroy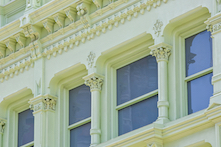 Long before Brooklyn's transit-rich neighborhood became home to Macy's Downtown Brooklyn store in 1995, it originally was constructed in 1865 when horse-drawn carriages were the primary transportation in New York. It became the flagship department shore of Wechsler & Abraham, forerunner to becoming the better known Abraham & Straus stores.
The building was designed in the French Second Empire architectural style capped with a mansard roof and clad in a cast-iron façade consisting of thousands of interconnected pieces. The building underwent several renovations and expansions through the decades. "While the original building never received landmark status, it was too beautiful to destroy," noted Winco's vice president of sales and marketing, Kurtis Suellentrop.
By 2015, the iron cladding remained up to the fourth story and stretched 98 feet wide. More than 1,000 pieces weighing 69 tons were cataloged and shipped to restoration and window replacement specialty contractor Allen Architectural Metals in Alabama.
Winco worked closely with Allen Architectural Metals to provide the window system design, engineering and isometric details to suit the façade system's punched openings. The original windows were replicated using Winco's 1450H Series windows. Colby elaborated, "The restored historic façade was reinstalled over a concrete weather wall that is Macy's portion of the new building. Monolithic spandrel glass with a tinted, reflective infill hides the contemporary building from passersby, while presenting the façade's original sightlines."
Additional renovation project team members included architectural firm Perkins Eastman and general contractor JRM Construction Management. Construction costs for the total five-floor renovation are estimated at $100 million.
Dynamic, Diverse and Daylit Destination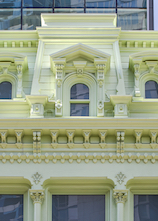 The historic retail destination has grown and developed with the community around it. With the renewed store, Macy's executives said it seeks "to fuse its traditions with Brooklyn's local flavor to create a modern environment of cutting-edge style and hip, urban attitude."
"Brooklyn has emerged as one of the most dynamic, diverse and vibrant communities in America. This is a place we know well and have served with a highly successful downtown store on Fulton Street since 1865," said Terry J. Lundgren, Macy's, Inc. former chairman and chief executive officer, at the beginning of the project's three-year renovation.
He continued, "In recent years, it has become clear that our Fulton Street store requires major improvements in order to serve the Brooklyn of today, as well as future generations of customers. We invested the time and resources necessary to fully study and understand the opportunity for making a major positive impact on Brooklyn and selecting the most capable partner in the project. We are now moving forward with a bold and exciting project with Tishman Speyer, one of the world's most experienced and visionary developers."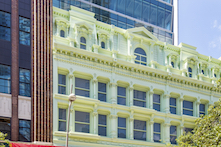 Tishman Speyer's former co-CEOs Jerry Speyer and Rob Speyer (current president and CEO), added, "We believe this partnership will produce a transformative mixed-use development in one of the nation's foremost destinations for today's creative workers and new economy companies."
Macy's celebrated its revitalized retail space at a grand re-opening on Nov. 9, 2018. Following the event, Brooklyn Reporter quoted Macy's Downtown Brooklyn store manager Kizzie Tunson as saying, "The renovation of Macy's Downtown Brooklyn illustrates our firm commitment to the Fulton Street retail community and our loyal customers. We are proud to present our customers with an updated store environment, enhanced merchandise offerings, and an elevated level of customer service."
Updated entrances and windows, high ceilings and dramatic rooms on the Brooklyn location's main floor now house Macy's signature cosmetics, fragrances, shoes, handbags and accessories as well as a LensCrafters and "At Your Service" customer center. The lower level, below ground, showcases furniture and housewares. The three upper stories display fashionable apparel and a more welcoming shopping environment thanks in part to the new windows.
Winco's president, Bill Krenn concluded, "Thanks to the owners and real estate developers' foresight and the incredible teamwork of the project partners, the face of the original Abraham & Straus department store adorns Fulton Street in downtown Brooklyn once again."
**
Macy's, 422 Fulton Street, Brooklyn, New York 11201; https://l.macys.com/brooklyn-downtown-in-brooklyn-ny
* Developer: Tishman Speyer; New York; https://tishmanspeyer.com
* Architect: Perkins Eastman; New York; http://www.perkinseastman.com
* General contractor: JRM Construction Management; New York; http://www.jrmcm.com
* Restoration and window replacement specialty contractor: Allen Architectural Metals, Inc.; Talladega, Alabama; http://www.allenmetals.com
* Replacement windows – manufacturer: Winco Window; St. Louis, Missouri; https://wincowindow.com
* Replacement windows – aluminum finishing provider: Linetec; Wausau, Wisconsin; https://linetec.com
* Photographer: Jeffrey Rosenberg Photography
About Linetec
Located in Wisconsin, Linetec serves customers across the country, finishing such products as aluminum windows, wall systems, doors, hardware and other architectural metal components, as well as automotive, marine and manufactured consumer goods. The company is a subsidiary of Apogee Enterprises, Inc. (NASDAQ: APOG).
Linetec is a member of the Aluminum Anodizers Council (AAC), the American Institute of Architects (AIA), the Association of Licensed Architects (ALA), the Fenestration & Glazing Industry Alliance (FGIA), the National Glass Association (NGA) and the U.S. Green Building Council (USGBC).
###
---
Filed under: Linetec
---
Story Resources
Word document
Request high res photographs for publication