Client News: Louisville library's LEED Gold, Northeast Regional Branch features RHEINZINK-prePATINA zinc exterior supporting a 100-year lifespan
Posted on May 2nd, 2022 by Heather West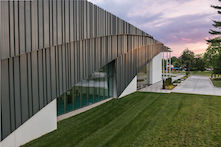 Kentucky's LEED Gold-certified, award-winning Louisville Free Public Library (LFPL) Northeast Regional Branch features naturally sustainable RHEINZINK-prePATINA® graphite-grey zinc exterior wall cladding. Designed by JRA Architects and MSR Design, the newly constructed, 40,000-square-foot facility serves 170,000 people in eastern Jefferson County as more than information center.
American public libraries seek designs to both realize their potential for the 21st century and to create spaces that will serve their communities far into the next century. Blending modern amenities within a historical landscape, the LFPL Northeast Regional Branch presents a "pavilion in the park." Shaded by mature heritage shade trees, a stylized front porch entry welcomes visitors to the library.

RHEINZINK-prePATINA exterior wall cladding contributed to the LFPL's aesthetic, performance and sustainable goals. The double standing seam zinc panels form the façade's arched, overlapping, metal "curtains," which frame openings to reveal the activity within the library's contemporary interior. RHEINZINK's natural material further supports the building's resiliency and longevity with a lifespan of up to 100 years or more.
Award-winning design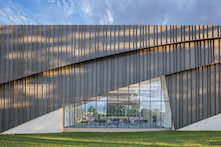 The library's effective and efficient design embellishes on a low-rise box structure with prominent metal and glass architectural features that add organic fluidity and visual interest. The project's thoughtful approach was recognized with a 2021 Honor Award from American Institute of Architects (AIA) Kentucky and a 2021 AIA Minnesota Commendation for Excellence in Design for Equitable Communities. The library also was featured in The Chicago Athenaeum Museum of Architecture and Design's 2020 Award winners.
Among the library's winning design elements, the AIA Kentucky Honor Award jury commented on the high-quality, uniquely shaped materials, and the façade's visual connection to the green space. Shaded by numerous mature trees, the building and site planning also were praised as being "very sensitive, creating interesting spaces that would encourage return visits."
Merits of metal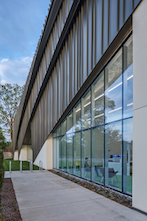 Matthew Kruntorád, AIA, LEED AP, principal at MSR and architect for the project, credited the role of metal in defining the LFPL Northeast Regional Branch. "Metal inconspicuously supports the sweeping curtainwall to enable panoramic views into the landscape," he shared in a Metal Construction News article. "It offers a fascinating textural pattern that enlivens the opaque portions of the façade."
RHEINZINK-prePATINA graphite-grey zinc counterbalances the clear anodize of the aluminum window framing, the reflectivity of the transparent glass expanses and the bright white roof atop the library, lending gravity and permanence to an otherwise airy building. The organic curves, shaded surfaces and patinated zinc integrate the building into the wooded park's rolling landscape.
To create the distinctive zinc-clad façade, approximately 9 tons of 24-guage RHEINZINK-prePATINA Graphite Grey were supplied by Oakland Metal Sales. Rigidized® Metals Corp. fabricated the zinc material into double standing seam panels. A portion of these panels were embossed by Rigidized using a special striated appearance to accentuate the subtle shade differences within the library's overall texture.
RHEINZINK-prePATINA zinc achieves its graphite-grey color through a proprietary processing method that results in a pre-weathered appearance. The look is representative of a naturally patinated zinc panel, which normally would take years. The finish will continue to patina over time responding to Louisville's unique climate and conditions. The corrosion-resistant metal requires minimal maintenance over its long lifespan. At the end of its use on the library, the metal is 100% recyclable.
Environmentally responsible, energy-efficient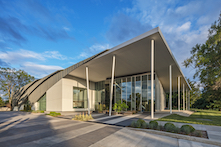 American Roofing and Metal installed RHEINZINK's zinc panels in sweeping, overlapping layers with long arching curves. The installers worked closely with construction manager Sullivan|Cozart to meet the project's budget and schedule, as well as its performance and sustainability requirements.
Following two years of construction and a year of successful operations, the Northeast Regional Branch library earned LEED Gold certification. In addition to the sustainable zinc cladding, green building design features and environmentally responsible material choices include geothermal heating and cooling, optimized ventilation systems, recycled rubber flooring, and energy-efficient glazing systems.
A column-free interior space enables flexibility for short-term adjustments and adaptability for long-term changes. A pressurized access floor plenum maintains greater occupant comfort with less robust HVAC equipment, which, when partnered with daylight-responsive LED lighting, exceeds the AIA 2030 challenge with systems that are 70% better than a typical public library.
Linking past, present and future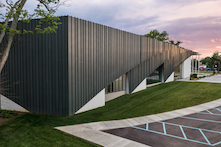 Surrounded by suburban offices, the brand-new library was built on the preserved, but unused, 13-acre formal lawn of the historic, National Register-designated Bellevoir-Ormsby Home. This Civil War-era mansion was incorporated into the project as a standalone administration office building for LFPL and as a coffee house for its patrons.  Parking is available on Bellevoir Circle, the drive that surrounds the oval shaped grounds, rather than concentrated in a lot, preserving the expanse of the historical lawn. Pedestrian paths curve through the park connecting the Bellevoir-Ormsby Home to the new library.

The Northeast Regional Branch Library's interior embraces a connection to its historical and ecological surroundings with expansive views of the grounds. The covered plaza fronting the wall of windows provides shaded exterior areas, protects the interior from direct sunlight in the height of summer and physically connects the building to the park. The daylighting from the south-facing window wall fills the library with natural light and overhead daylighting fixtures shaded by perforated fabric hangings contribute more sunlight in northern rooms.

Collections, connections and community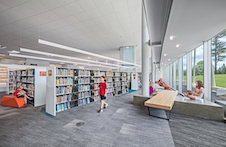 The bulk of the library's 120,000-book collection is displayed in an area several feet below the entry level grade to preserve the open feeling of the interior space and visible connections to the surroundings. The sloped path down to the collection showcases featured materials from the collection displayed on angular double-sided shelving.
Seating is available throughout the library, such as on the amphitheater steps. Private reading spaces and partitioned rooms allow for more intimate connections with the material. The openness of the library along with rooms created by movable furnishings provide opportunity for adaptability of the space as needs change over time.  More than just a place for books, the library includes contemporary amenities typical for a community space in a previously underserved area of Louisville: A dedicated children's area, a space for teens, public meeting rooms, computers, wireless internet access and services for senior citizens. The state-of-the-art library also features a Maker Space; a flexible, multi-purpose space that facilitates creative pursuits of the surrounding community.

An average of 20,000 people visit the LFPL Northeast Regional Branch library each month, checking out more than 60,000 books and other materials. It is the last of three new regional libraries designed by JRA and MSR that are strategically positioned to ensure that 90% of the city's residents would live within 5 miles of a full-service library.  "Libraries incubate intellectual curiosity, promote literacy, help our children succeed in school and our adults to reach their full potential," said LFPL's director, Lee Burchfield. "The Northeast Regional is a spectacular library in a beautiful, park-like setting that will inspire creativity and innovation for generations of Louisvillians."
**
Louisville Free Public Library, Northeast Regional Branch; 15 Bellevoir Circle, Louisville, KY 40223; https://www.lfpl.org/branches/northeast.html
RHEINZINK America, Inc. led the introduction of architectural zinc in North America and continues to offer one of the industry's most reliable, trusted brands. Its portfolio of products includes RHEINZINK-CLASSIC® bright rolled, RHEINZINK-prePATINA® blue-gray and graphite-gray, RHEINZINK-artCOLOR® in an array of colors, RHEINZINK-GRANUM® basalte and skygrey; and RHEINZINK-PRISMO® color-pigmented, architectural-grade zinc options.
Architects and contractors are supported by unparalleled customer service and technical assistance. RHEINZINK is readily available through an established network of qualified distributors and systems partners across the United States, Canada and Mexico. Ideal for roofing, façade and wall cladding systems, gutter and interior applications. RHEINZINK is environmentally friendly, 100% recyclable and offers a potential lifespan of 80 years or more. For more information on RHEINZINK, call 781-729-0812 or visit https://www.rheinzink.us.
###
---
Filed under: Projects, RHEINZINK
---
Story Resources
Word document
Request high res photographs for publication