Client News: Warren Dudding hired as Rockfon's V.P. Marketing and Business Development
Posted on January 30th, 2019 by Heather West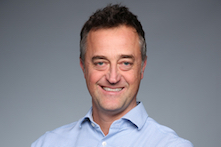 Rockfon has named Warren Dudding as its vice president of marketing and business development for North America. He reports directly to John Medio, president of Rockfon North America, and will work closely with other members of the executive management team.
Dudding draws from more than 20 years of building products marketing experience. Rockfon is part of the ROCKWOOL Group and offers acoustic stone wool ceiling tiles, specialty metal ceiling panels, suspended ceiling systems and accessories.
Based in Chicago, Dudding relocated from England where he served as the marketing director for ROCKWOOL Ltd responsible for product management, communications, technical, public affairs and market intelligence. Part of the ROCKWOOL Group, ROCKWOOL Ltd is the UK's leading manufacturer of sustainable, non-combustible stone wool insulation.
* About Rockfon *
Rockfon is part of the ROCKWOOL Group and is offering advanced acoustic ceilings and wall solutions to create beautiful, comfortable spaces.
At the ROCKWOOL Group, we are committed to enriching the lives of everyone who experiences our product solutions. Our expertise is perfectly suited to tackle many of today's biggest sustainability and development challenges, from energy consumption and noise pollution to fire resilience, water scarcity and flooding. Our range of products reflects the diversity of the world's needs, while supporting our stakeholders in reducing their own carbon footprint.
Stone wool is a versatile material and forms the basis of all our businesses. With approximately 11,000 passionate colleagues in 39 countries, we are the world leader in stone wool solutions, from building insulation to acoustic ceilings, external cladding systems to horticultural solutions, engineered fibers for industrial use to insulation for the process industry, and marine and offshore.
For more information, visit https://www.rockfon.com.
###
---
---
Story Resources
Portrait: Warren Dudding
Word document
Request high res photographs for publication