FGIA Launches New Safety Library
Posted on February 7th, 2023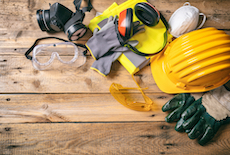 Schaumburg, Illinois – The Fenestration and Glazing Industry Alliance (FGIA) announces the launch of a new online home for fenestration safety resources created by, and for, FGIA members. The Safety Library is assembled by the FGIA Fenestration Safety Committee, which was formed in 2020 to provide members with safety information and education related to the fenestration industry. The committee has sponsored numerous safety presentations and hands-on sessions at FGIA conferences with topics varying from active shooter training to OSHA programs. Safety presentations from the Glass Safety Awareness Council of IGMA, which unified with AAMA in 2020 to form FGIA, are also provided on this page. FGIA member login is required.

"This new resource is the result of the hard work of the FGIA Fenestration Safety Committee, whose members continue to diligently build a strong portfolio of online resources," said Angela Dickson, FGIA Marketing and Communications Director. "Now there is a place where members can find all of the association's recent safety presentations, which offer a wealth of information on a wide range of safety topics."

The FGIA Safety Library features presentations on topics like cut-resistant apparel, the impacts of mental health and substance use in the construction industry and the real-world benefits of trauma response training. The page will be updated as new safety presentations become available. An additional subpage of Safety Resources provides links to online tools, including information on skylight fall prevention, IGMA TM-5000, Do's and Don'ts of Glass Safety, window safety for consumers and more.

For more information about FGIA and its activities, visit FGIAonline.org.
Your trusted industry resource, setting the standards for fenestration and glazing.
###
---
Filed under: FGIA
---
Story Resources
Word document
Request high res photographs for publication