Client News: New Louisville library begins another chapter with Tubelite systems
Posted on September 17th, 2015 by Heather West
* Tubelite will be exhibiting at GlassBuild America booth #2306 and CSI CONSTRUCT #907 *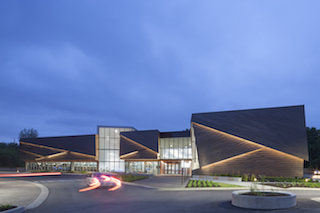 Louisville's new Southwest Regional Library recently opened its doors, which were provided by Tubelite Inc. along with its curtainwall and storefront framing. This new 40,000-square-foot, $10.2 million library boasts more than 120,000 books and materials, 100 public computers and the largest children's library in the system. With respect to long-term environmental and economic sustainability, the project is pursuing LEED® Gold certification.
Southwest Regional Library is part of a master plan developed in 2008 by Minneapolis-based Meyer Scherer & Rockcastle (MSR). It is the first of three new buildings planned by the Louisville Free Public Library (LFPL) system. "The master plan really set the vision for the service to the entire community. It included how to deal with their existing facilities, but also to be able to expand the service into areas and communities that are under reached," explained MSR's principal and architect, Matthew Kruntorad, AIA, LEED AP.
JRA Architects of Louisville collaborated with LFPL and MSR on Southwest Regional Library's design. Sullivan Cozart served as the project's construction manager and glazing contractor Koch Corporation specified and installed Tubelite's entrance, curtainwall and window wall systems.
Kruntorad elaborated, "It's essentially a one-story open floor plan. Tubelite's systems supported one of our overriding goals, which was to bring the children's area up front, expressing the activity within the library and making it directly visible as one approached the building."
The exterior was inspired by the act of discovery, with symbolic metal curtains that are peeled away to reveal greater knowledge within. Kruntorad continued, "The main entrance features two pairs of 9-foot-tall, wide stile doors from Tubelite – two pairs swing in and two swing out. Tubelite's curtainwall also provided a key element for the library's design's daylight and transparency."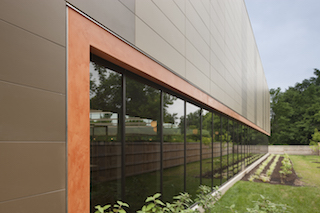 Tubelite's structurally glazed curtainwall allowed the project "to eliminate the exterior metal mullion covers, create an extremely clean exterior appearance and make the curtainwalls appear as open as possible," added JRA's project architect, Colin Drake, AIA, LEED AP. "Overall, the façade is like a village of buildings, set side by side. The building takes on a much more personal scale than the overwhelming monolithic façades common with the surrounding suburban context."
Multiple concepts were reviewed during the project's design planning phase. Drake remembered, "Originally, we had a much more monolithic building to try and compete with the scale of much larger nearby buildings. Then, we decided to break up the façade, pushing and pulling the pieces in plan and elevation to express the interior planning more clearly on the exterior, as well as creating opportunities for visitors to discover nuances about the building as they approached. The central curtainwall, which was dubbed the 'beacon bay,' stands above the rest of the building to draw sunlight deep into the building during the day and use the interior lighting to glow outward in the evening."
The beacon bay features glazing frosted on the exterior and interior in offset, vertical stripes. From a distance, it appears to be a solid frost, but up close is revealed to allow clear views through the glass at certain angles. "In a truly progressive modern library, lighting is everything," said Drake. By incorporating clerestories on the beacon bay, as well as in other strategic spots, the abundance of natural light in the space allows artificial lighting to be reduced in real time to minimize energy consumption.
Further supporting energy-efficiency criteria, both the curtainwall and window wall incorporate low-e insulating glass to reduce solar heat gain in the summer and heat loss in winter, thus ensuring year-round comfort for Louisville library users. "The storefront framing design allows for economical, on-site fabrication. It also virtually eliminates the transference of frost and condensation with industry-standard thermal breaks, providing framing members to incorporate the library's entrance doors," said Jim Oberlin, Tubelite's Eastern regional sales manager.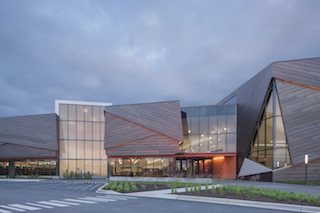 Complementing the doors and window wall, Tubelite's 400 Series curtainwall proved ideal for the scale and metallic aesthetic of the new library. To ensure a precise installation, Koch's glazing team conducted field measurements prior to Tubelite manufacturing it. An eight-person crew handled the on-site installation, which was completed in October 2014. Koch's project manager, Edwin Penna, noted, "We have a long-term relationship with Tubelite. We know how to work well together to meet the unique requirements of each project."

Tubelite's 400 Series curtainwall features 2.5-inch sightlines and an overall 6-inch system depth. Its durable framework provides exceptional structural performance, reducing the need for steel reinforcing. The aluminum used to produce Tubelite systems was extruded using EcoLuminum™, a high recycled-content aluminum billet composition with eco-friendly finishes.
Enhancing the project's environmental attributes, longevity and metallic appearance, the recycled aluminum framing was finished by Linetec using clear anodize on the interior and bronze anodize on the exterior. Because anodize is an integral part of the substrate, the coating delivers excellent wear and abrasion resistance with minimal maintenance. Anodize process by-products are recyclable and anodized aluminum is 100 percent recyclable.
Recognizing Southwest Regional Library's exceptional design with metal, the project was named the overall winner in the 2014 Metal Construction News Building and Roofing Awards.
**
Southwest Regional Library, 9725 Dixie Highway, Louisville, KY 40272, http://www.lfpl.org/branches/southwest.htm
* Owner: Louisville Free Public Library; Louisville, Kentucky; http://www.lfpl.org
* Architect: Meyer, Scherer & Rockcastle, Ltd.; Minneapolis; http://msrdesign.com
* Architect: JRA Architects; Louisville, Kentucky; http://jrarchitects.com
* Construction manager: Sullivan Cozart; Louisville, Kentucky; http://www.sullivancozart.com
* Glazing contractor: Koch Corporation; Louisville, Kentucky; http://kochcorporation.com
* Curtainwall, window wall and entrance systems – manufacturer: Tubelite Inc.; Walker, Michigan; http://www.tubeliteinc.com
* Curtainwall, window wall and entrance systems – finisher: Linetec; Wausau, Wisconsin; http://linetec.com
* Photographer: Lara Swimmer Photography
About Tubelite Inc.

Tubelite was established in 1945 and is part of Apogee Enterprises, Inc. The company's headquarters, distribution, warehousing and assembly operations are in Walker, Michigan. Its facility in Reed City, Michigan, houses the company's aluminum extrusion operation. In 2011, the company expanded with an additional facility in Dallas/Fort Worth, Texas, and offices in Rockhill, South Carolina, to better serve clients working in the southern states.
Tubelite and its staff are members of the American Architectural Manufacturers Association (AAMA), the American Institute of Architects (AIA), the Construction Specifications Institute (CSI), the Glass Association of North America (GANA), and the U.S. Green Building Council (USGBC).
###
---
Filed under: Events, FGIA, Linetec, Projects, Tubelite
---
Story Resources
Word document
Request high res photographs for publication