Client News: Appleton Coated debuts new identity to represent its full product offering, capabilities
Posted on April 22nd, 2015 by heatherwestpr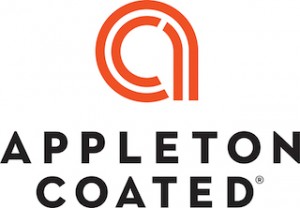 Appleton Coated unveils a new identity to better represent its comprehensive capabilities and extensive product offering. "Simply put, today's Appleton Coated is about more than just 'coated,'" explained Ferkó Goldinger, Appleton Coated's marketing manager. "As our product offerings expand into inkjet, offset, opaques and specialty products, 'coated' is becoming less descriptive of our full breadth of capabilities. We wanted our new identity to reflect this evolution."
Working closely with Goldinger and Appleton Coated's marketing team, Planet Propaganda of Madison, Wisconsin, created the new identity in 2014. Appleton Coated's of-record strategic design partner, Geneva, Illinois-based Rule29 Creative is implementing the identity across all platforms and projects in 2015.
"The fresh approach introduces a friendly, forward-looking system highlighting the quality of Appleton Coated's ever-expanding cabinet of offerings," continued Goldinger. The unique mark prominently features an "A" — an homage to the company name, along with a roll of paper ready for printing. Housed within the mark is a scaled-down "C" nodding to the mill's heritage of coated solutions.
"Long-associated as the mill behind superstar paper line, Utopia, Appleton Coated steps into the spotlight with a new identity that's as bold as it is approachable," described Kevin Longino, Planet Propaganda's art director. "And, of course, the new identity also looks great on all of Appleton Coated's materials."
Agreeing and expanding on this, Goldinger added, "At Appleton Coated, we push paper to become far more than the sum of water and fiber. Here, paper is equal parts obsession and art. It's why we formulate brighter and whiter. It's what propels us to make paper more reliable. It's what pushes us to make paper more environmentally responsible. Working tenaciously as one, we transform pulp and passion into potential."
"Appleton Coated puts the same passion into relationships," noted Dana Lytle, Planet Propaganda's principle and design director. "It doesn't matter if it's 10 tons of U1X, a rush order of Utopia Two Web, or a carton of Curious cover stock. They always listen and never under deliver. They provide peace of mind by the truckload and equip us with products we won't find from another mill. Above all else, they never, ever, stop caring — about what they make, and the people they make it for."
Appleton Coated is a manufacturer and distributor of coated, uncoated, specialty and technical papers sold under the Utopia®, Curious Collection® and Altima® brand names. The company's products are used in high-end commercial printing, textbook publishing, label papers, transactional printing and a variety of specialty and custom applications. Selling through a chain of highly respected paper distributors, the company serves corporations, publishers, printers, converters and graphic designers in North America. Since 1889, Appleton Coated has been headquartered in Combined Locks, Wisconsin.
###
---
---
Story Resources
Request high res photographs for publication