Client News: Linetec wins Wisconsin Corporate Safety Award
Posted on April 19th, 2018 by Heather West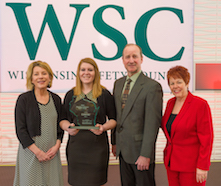 Wisconsin Safety Council (WSC) honored Linetec, one of the largest finishing companies of architectural aluminum products in the U.S., with a 2017 Wisconsin Corporate Safety Award. WSC says this award recognizes companies that "value their employees and take pride in ensuring their safety."

Rick Marshall, Linetec's president, shared the achievement and his appreciation with the entire company. He says, "We would like to thank each of our employees for earning this honor. We are fortunate to have developed a very safety-focused culture at Linetec, where our employees suggest and implement safety improvements on a daily basis, and even coach and recognize their peers on their safety behaviors."

Mike Schauls, Linetec's vice president of operations, adds, "The #1 core value at Linetec is safety. Each and every meeting throughout the hierarchy of our business begins with safety."

Linetec's safety manager Brian Stratton, safety coordinator MacKenzie Lambert and occupational health coordinator Colleen Hruska, R.N., accepted the award on April 18 during the 76th Annual Wisconsin Safety & Health Conference.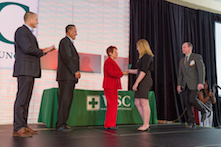 Stratton elaborates, "Striving for excellence, Linetec is continuously improving our already solid safety program. Our efforts and the commitment of our associates not only allows our company to maintain better than industry average safety performance, but also to achieve a world-class safety level by manufacturing industry standards."

For metal finishing and coating businesses, the U.S. Occupational Safety and Health Administration reports a three-year industry average injury incident rate of 5.0. Linetec reported an incident rate below 1.0 for the 2017 calendar year.

"The single most important factor to our success is our associates," says Lambert. "They do an exemplary job of reporting injuries, working with the nurse, and following safety policies and procedures."

Linetec was one of 12 winners selected by an independent panel of 30 judges including safety, insurance and human resource professionals. Each nomination was evaluated for organizational safety and health leadership, training and implementation programs, employee participation, as well as safety accomplishments and goals.
 
"This year's winners embody the success stories that make Wisconsin one of the safest states to work," said Janet Metzger, WSC's executive director. "We would like to congratulate the winning companies along with all the finalists as they are true models to businesses across the state of what it means to make the safety of their employees a priority each and every day."
 

About Wisconsin Safety Council
Wisconsin Safety Council (WSC) is the state's leading provider of safety training and products, serving members of all sizes and every sector of the economy. WSC provides scheduled training programs across Wisconsin, in addition to private, customized training for your individual company. It is also the number one resource for safety products ranging from first aid training materials to emergency defibrillators. WSC is the official state chapter of the National Safety Council and is a proud program of WMC Foundation.
About Linetec
Located in Wisconsin, Linetec serves customers across the country, finishing such products as aluminum windows, wall systems, doors, hardware and other architectural metal components, as well as automotive, marine and manufactured consumer goods. The company is a subsidiary of Apogee Enterprises, Inc. (NASDAQ: APOG).
Linetec is a member of the Aluminum Anodizers Council (AAC), the American Architectural Manufacturers Association (AAMA), the American Institute of Architects (AIA), the Association of Licensed Architects (ALA), the Glass Association of North America (GANA), the U.S. Green Building Council (USGBC) and the Window and Door Manufacturers Association (WDMA).
###
---
---
Story Resources
From left to right: Colleen Hruska, R. N., Linetec's occupational health coordinator; MacKenzie Lambert, Linetec's safety coordinator; Brian Stratton, Linetec's safety manager; and Janet Metzger, WSC's executive director
Photo 2: Linetec accepts award from Janet Metzger, WSC's executive director
Word document
Request high res photographs for publication