Client News: Integral to the new MUNCH Museum's visitor experience, 500+ works fitted with new frames, keeping with Munch's style
Posted on November 12th, 2021 by Heather West
The MUNCH Museum moved from its long-time home to a newly constructed building located along the Olso waterfront. The doors to the new MUNCH Museum opened to the public for the first time on Oct. 22, 2021. The museum houses and displays the works of Edvard Munch, the Norwegian painter who lived from 1863 to 1944. While Munch produced a large and complex body of work, he is most well-known for his iconic painting, "The Scream."
Edvard Munch, The Scream. Tempera and oil on paper, 1910. © Munchmuseet.
Photo: WERNER MURRER RAHMEN.
Two leading framers, WERNER MURRER RAHMEN and HALBE Rahmen of Germany, were chosen to complete the formidable task of creating and building the more than 500 frames that complement, rather than distract form, Munch's works. "WERNER MURRER RAHMEN is very experienced in creating frames that work with the aesthetic of the original artist," said Tru Vue director of fine art and museums, Dr. Jennifer Booth.
For hundreds of Munch's paintings and graphics, Tru Vue® Optium Museum Acrylic® glazing is used to protect the world-famous artworks. "Optium® is a true all-rounder," said Werner Murrer, owner of WERNER MURRER RAHMEN. "It meets all the specifications and requirements of a museum glass, but is much lighter and therefore easier to handle. As it is lighter and thinner, the frames can be designed narrower. Optium also contributes significantly to the protection of Munch's works. The anti-reflective acrylic is almost invisible and protects the artworks 99 percent against UV radiation."
Johan Øvergård, art technical manager at MUNCH, said, "The advantage of using Tru Vue Optium Museum Acrylic compared to laminated glass is the reduced weight, which eases handling, transporting and installing the artworks."
New frames based on historical research
The new, decorative frames were to be based on the historical framing of Munch's paintings, with each hand-made for the artwork it frames. To achieve this challenging goal, Murrer conducted an intense art historical research, including reviewing nearly 1,000 photos of original picture and frame combinations by Munch and his contemporaries. The photos are part of WERNER MURRER RAHMEN's vast archive of more than 100,000 photos of original picture and frame combinations from all eras, from the 15th century to today.
Murrer's research found that Munch had his own idea of the optimal framing for his artwork. Munch had moved away from the traditional gold frame of the time, and framed his work in a simple profile of round bars and flat frames in plain white or brown. The artist frequently left his artwork outside to directly interact with nature resulting in a unique patina.
Edvard Munch, Girls on the Bridge. Oil on canvas, 1899. © Munchmuseet.
Photo: WERNER MURRER RAHMEN.
"During our research we discovered original frames on tourist photos on Instagram," shared Murrer. They were shown in the artist's studio and in the attic of his summer home in Åsgårdstrand, Norway. On site, Murrer personally verified the frames' authenticity.
In addition to being historically accurate and aesthetically pleasing, each frame must adhere to strict conservation requirements to ensure the framing materials will not cause damage over its lifespan. The framing also must contribute to security by deterring theft, and protecting the artwork during exhibition, transportation and storage.
The decision to use Tru Vue Optium Museum Acrylic for the irreplaceable artwork was made by the MUNCH Museum and supported by both WERNER MURRER RAHMEN and HALBE Rahmen. "We've been working with the MUNCH Museum for several years in an advisory capacity while they've been using our products," said Booth. "It was important that visitors to the new MUNCH Museum could get as close as possible to the artist's work, to really feel and experience it; all while keeping the works protected."
"It is my duty to make sure that everything comes safely together," emphasized Barbara De Haan, the MUNCH Museum's relocation project leader. She explained that until the artwork is ready to be displayed in the new museum's galleries, it is stored securely within HALBE Rahmen's inner framing system and then connected with WERNER MURRER RAHMEN's decorative outer frames for exhibition.
Edvard Munch, Workers in the Snow. Oil on canvas, 1913. © Munchmuseet.
Photo: WERNER MURRER RAHMEN.
"It's just a beautiful system," praised De Haan. "Frames are extremely important." Observing one of Munch's pieces with its new frame and Optium Museum Acrylic, she commented, "It's perfect. You see how the work comes alive. It speaks to you."
Tru Vue: Connection without reflection
While Tru Vue Optium Museum Acrylic contributes to protecting Munch's works in multiple ways, the most immediate is the intimate viewing experience.
"The glazing that is in between the artwork and the visitor is very important," said David Halbe, executive partner of HALBE Rahmen. "It should protect the painting without disturbing the view of the painting. This is what Optium does perfectly – it fulfills many expectations."
Optium protects the artwork without the public knowing it's there. Optium's anti-reflective properties make the glazing almost invisible and allow the viewer to interact with the artwork itself, as the artist intended.
Edvard Munch, Madonna. Oil on canvas, 1894. © Munchmuseet.
Photo: WERNER MURRER RAHMEN.
"We don't want them to notice our product," said Booth. "We want them to get lost in the artwork, to see the texture of the paint, to be carried away in the emotion of the piece, rather than having that barrier."
Murrer agreed, adding, "Every art conservator would say that glass is absolutely necessary. If you would ask a curator or an art lover, they would say it is better without glass. With Optium Museum Acrylic, it is like you are close to the canvas with no glass in front. Glazing is necessary, but it is perfect if you don't see it."
Tru Vue: Protection
The anti-reflective acrylic protects paintings and graphics to 99 percent against UV radiation. Although the artwork is hung in the MUNCH Museum's interior and away from windows and sunlight, UV protection is important as some of the works may travel to other museums. The security and protective qualities of the new frames and Optium Museum Acrylic glazing allows for many of Munch's artworks to be loaned internationally, a first for many.
Tru Vue Optium Museum Acrylic also helps to protect the artwork from people who may want to touch it. Munch's work is known to elicit strong emotions, and may move people to act in ways that could unintentionally harm the work. "Optium is protective and shatter resistant," noted Halbe. "Even if a visitor would fall against the glazing, it would not break and damage the painting."
For the framers: The opportunity of a lifetime
WERNER MURRER RAHMEN
Murrer was notified in 2016 that his company had been selected to reframe Munch's works. For the last 20 years, WERNER MURRER RAHMEN had amassed a very large photo archive that documented how Munch framed. "When we got the order, we of course intensified our research, reviewed all our photographs in our archive and revisited the original frames on site," said Murrer. "Munch had his very own idea of the perfect frame for his works."
Murrer's thorough research included examining a massive number of historical documents, writings and testimonies of the artist, reviewing and searching photos that show the originally framed paintings, and looking at Munch's original frames across Europe.
The historical frame profiles served as models for the reconstructions, which needed to include the MUNCH Museum's complex specifications. The complete framing system solution was produced with an outer, decorative, wood frame crafted by Murrer; and an inner, concealed, metal and magnetic frame engineered by HALBE Rahmen. Within the inner frame, Optium Museum Acrylic further protects the artwork. The dual-framed system also is theft-mitigating, supported by three independent security systems.
"The principle is simple and safe, but at the same time very complex, to meet all conservational requirements and the highest safety standards," described Murrer. "The artwork is completely self-sufficient within this sealed box."
"Besides Tru Vue's high-quality products, we appreciate their reliability and competence," said Murrer. "We have already realized other projects together."
HALBE Rahmen
Kirchen-based HALBE Rahmen was selected to create the vault-like, inner framing for the MUNCH Museum's artwork, hidden inside the historically accurate, visible outer frames. When viewing the exhibited artwork, HALBE's slim, aluminum framing profile is essentially indiscernible beneath its elegant overlay.
Preparing the complex construction involved rendering a three-dimensional model of each frame to ensure its fit was secure and undetected. The resulting HALBE framing system incorporates a magnetic locking mechanism to open and close. The magnetic closure allows the artwork to be "front-loaded," or accessed from the front of the frame, which reduces the handling of an artwork.
Magnetic tape holds the inner aluminum frame in place. The wooden frame is fastened with bolts. This allows the outer portion to be removed and replaced in just a few seconds, keeping the inner frame, glazing and picture locked. According to Halbe, "The framing itself is super fast. The decorative frame is put on late after hanging as a last step, so the risk of damaging the outer frame is lower."
MUNCH Museum's dual-frame system. Image: Sammler und Jäger Filmproduktion GmbH.
Tru Vue Optium Museum Acrylic sheets were cut to precise measurements and installed within each interior frame. The acrylic, metal and magnet enclosure also minimizes the artwork's exposure to dust and other particles.
"For the highest conservation requirements, Optium Museum Acrylic is the perfect glazing," said Halbe. "It is unbreakable and anti-reflective and has high UV protection. We also like the product's availability and its high-level quality."
Tru Vue: Art and science
Tru Vue coats Optium Museum Acrylic at its 300,000-foot U.S. facility in Faribault, Minnesota. "The coating process is a combination of a lot of science and a touch of art from our technical teams," said Nate Soukup, Tru Vue vice president of operations.
"What we're preserving might be thousands of years old, but the technology we use is some of the most advanced in the world," explained Booth. "What we do, very few places can do. It's highly advanced and it's constantly evolving. We're always looking for new ways that we can both protect and create a brilliant aesthetic experience."
To improve its current and future product offerings, Tru Vue's research and development team continuously improves upon their existing products and pursues new innovations in anticipation of customers' future needs.
For example, Tru Vue engineers and staff used a lab-based technique to test their products through simulated, accelerated aging. The coatings are bonded to the glass and acrylic at an atomic level and this testing shows that there are no notable changes to the coating and glazing substrate for what would be an estimated 100 years of exposure. The long-term effects on materials that surround artwork is important to museum curators, conservators, and collectors throughout the world.
In conclusion, Soukup added, "We've worked tirelessly to perfect the production of Optium over the last 20 years. We've developed the ability to produce acrylic in high volume, large sizes and with extremely tight quality specifications that our customers, like the MUNCH Museum, require."
**
Read online and watch documentary film at: https://tru-vue.com/2021/11/new-frames-fitted-with-optium-museum-acrylic-at-munchmuseet/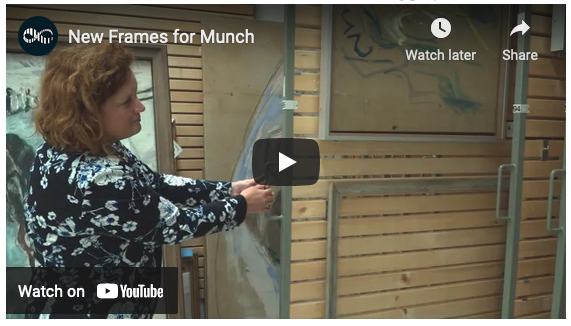 ###
---
---
Story Resources
Word document
Request high res photographs for publication