Client News: ROCKFON breaks ground on its first North American acoustic ceiling panel manufacturing facility
Posted on March 16th, 2016 by Heather West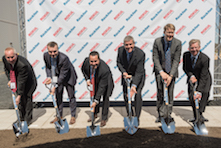 From left to right, those pictured are:
* Keith Taylor - President of Marshall County Board of Supervisors
* Thomas Kähler - Senior Vice President, Head of Systems Division, The ROCKWOOL Group
* John Medio - President of Americas, ROCKFON
* Philip Gunn - Speaker of the Mississippi House of Representatives
* Jens Birgersson - President and CEO, The ROCKWOOL Group
* Trent Ogilvie – President, ROXUL
On March 16, ROCKFON® LLC hosted a celebration event for the groundbreaking of its first North American acoustic ceiling panel manufacturing facility, under construction in Marshall County, Mississippi. ROCKFON is the leading supplier of stone wool acoustic solutions, a subsidiary of Denmark-based ROCKWOOL® International A/S and an affiliate to ROXUL® Inc.

Company leaders from ROCKFON, ROCKWOOL and ROXUL were joined at the construction site by Speaker of the Mississippi House of Representatives, Philip Gunn, in addition to ROCKFON customers, and other leaders from the community, company and industry.

The Mississippi facility will be ROCKFON's fifth manufacturing facility in the world, extending global capacity and meeting the growing demand for ROCKFON's stone wool acoustic ceiling products in North America. The new facility represents an initial investment of approximately $40 million U.S. dollars (€36 million) by ROCKWOOL.

"The investment in this new facility demonstrates the strong commitment of our company to support the North American market, and of the State of Mississippi and Marshall County to support economic development in the area," said John Medio, ROCKFON's president of the Americas.

"Today is a great day for Marshall County as ROCKFON prepares to begin construction of its new acoustic ceiling tile facility. Once complete, the company's significant investment and creation of 90 new jobs will have a strong positive affect on the local community and economy," said Mississippi Governor Phil Bryant. "I congratulate the ROCKFON team and everyone involved in bringing this great company to Mississippi on this milestone event."

Located approximately 31 miles (50 km) from Memphis, Tennessee, the new ROCKFON facility in Marshall County will span 130,000 square feet (12,000 square meters) with room for future expansion. Production is expected to begin mid- 2017. ROCKFON's new manufacturing facility in Mississippi, and its strategically positioned U.S. distribution centers, will provide for comprehensive coverage and servicing of the North American market.

In North America, ROCKWOOL operates under the name ROXUL. ROXUL has been in North America since 1988. ROCKFON's new facility will be adjacent to ROXUL's existing facility in Marshall County, which manufactures its full line of residential, commercial, industrial and roof board products.

ROCKFON has been operating in North America since Jan. 2013. With the acquisition of Chicago Metallic® in Oct. 2013, ROCKFON provides customers with a complete ceiling system. Its product offering combines ROCKFON stone wool and specialty metal ceiling panels with Chicago Metallic suspension systems.

The new facility in Mississippi will manufacture ROCKFON stone wool acoustic ceiling products. ROCKFON will continue to manufacture its specialty metal ceiling panels and Chicago Metallic suspension systems in its Chicago and Baltimore facilities. Chicago Metallic suspension systems also are manufactured in Belgium, Malaysia and China. ROCKFON's other stone wool manufacturing facilities are located in the Netherlands, Poland, France and Russia.

ROCKWOOL has more than 11,000 employees in 35 countries and is listed on the NASDAQ OMX Nordic Exchange Copenhagen. ROCKWOOL International confirmed plans for its North American acoustic ceiling panel manufacturing facility in the U.S. on the Copenhagen stock exchange on Nov. 19, 2015.
###
---
---
Story Resources
Request high res photographs for publication