Association News: AAMA launches newly redesigned website, will host webinar on new features and tools
Posted on June 5th, 2017 by Heather West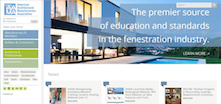 The American Architectural Manufacturers Association (AAMA) has launched a new website intended to increase ease of usability for members and other visitors. The site's address has not changed, and can still be located at aamanet.org. Join AAMA for a short, complimentary webinar to learn more about the site's new features on July 18.

Updates to the site were based upon usability testing, which identified several strategic improvements, including creating a seamless experience for members, updating the look and feel to be consistent with current branding and providing for responsive design, making the site easily accessible on all devices. The site also features a stronger search function, which was how most users accessed information on the site, according to usability testing conducted at the beginning of the project.

"We had two major goals with the new site. First, it had to function beautifully on all devices. And just as important, we wanted it to serve as a one-stop shop for everything a member needs. We've accomplished both. Once members log in, they will be able to join committees, access education offerings and see content exclusive to members. The new site makes our members' experience on the site even more beneficial," says Angela Dickson, AAMA marketing manager.

During the July 18 webinar, taking place 11:30 a.m.-12:15 p.m. Eastern, Lori Benshoof, senior coordinator, web services, will review these new features and how to use them. Register for the free webinar today to learn how best to utilize all of the site's new features.

Additional features will be rolled out over the next few months, including access to open ballots and frequently asked questions (FAQs), with more improvements planned for the future, including a new Certified Products Directory (CPD) and online store. This plan will allow site visitors, especially members, to gradually become familiar with different areas/functions.
About the Speaker
Lori Benshoof serves as the senior coordinator, web services for AAMA. Her primary function is website development and maintenance. She also works on other council marketing-related projects and provides creative support using Photoshop and other image and video editing tools. Benshoof joined AAMA in 2005 as the executive assistant to the executive vice president, and in 2007 she moved into the marketing department. Prior to working for AAMA, she worked for a magazine publisher as the marketing promotions manager developing in-house ad copy. Benshoof has experience working in a marketing capacity since 1994.
AAMA is the source of performance standards, product certification, and educational programs for the fenestration industry.SM
###
---
---
Story Resources
Image 1
Word document
Request high res photographs for publication