Client News: Locomotive facility improves appearance and functionality of 10 buildings by replacing aging windows with EXTECH's systems
Posted on April 16th, 2020 by Heather West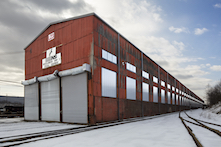 One of the nation's premiere transportation companies, Norfolk Southern Corporation and its Norfolk Southern Railway Company subsidiary operate approximately 19,500 route miles in 22 states and Washington, D.C. Its Juniata locomotive shop in Altoona, Pennsylvania, celebrates a history stretching back to 1850.
Through the decades of technological advancements, the Juniata shop became one of the most modern and advanced in the railroad industry, but its many building structures were showing signs of age and wear. Pennsylvania-based EXTECH/Exterior Technologies, Inc. played a key role in improving the appearance, performance, functionality, comfort and sustainability of the Juniata facility.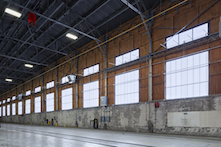 As part of a multi-phased, planned energy rehabilitation program, EXTECH worked closely with Norfolk Southern's energy and facilities services team to replace and upgrade the existing window systems on 10 buildings. Meeting all of the project's requirements, EXTECH supplied its fully fabricated, fixed LIGHTWALL 3440® interlocking wall system and its operable TECHVENT 5300® window systems. EXTECH manufactured both systems with structural cellular polycarbonate glazing and extruded aluminum framing.
"We worked with Norfolk Southern for a number years developing a replacement glazing system for the old fixed and operable, steel sash units at the Juniata facility in Altoona," said EXTECH's product application and development director, Kevin Smith, RA. "We understand that the facilities management group is very pleased with the product we supplied. As our most popular products, LIGHTWALL 3440 and TECHVENT 5300 offer a beautiful, durable and economical solution for building envelopes."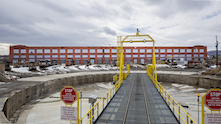 He continued. "Structural cellular polycarbonate glazing (SCPG) has been used in Europe for many years as the preferred material for translucent wall systems. It is rapidly replacing fiberglass reinforced panels (FRP) as the material of choice for daylighting systems on industrial and transportation facilities in the U.S. Unlike FRP, our SCPG products cannot fiber-bloom or delaminate and has an attractive, modern appearance."
Along with their durability and contemporary aesthetic, EXTECH's operable TECHVENT 5300 windows feature a robust, continuous hinged, self-flashing, integral head frame. Smith elaborated, "Our patented, innovative design allows the unit to remain open during normal rainfall, keeping the interior dry, while maintaining natural ventilation and daylighting for a more comfortable and healthy work environment."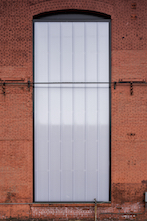 Smith emphasized, "TECHVENT and LIGHTWALL systems both provide high light transmission, thermal efficiency, fast-track installation and reliable operation in even the most challenging industrial environments." These numerous attributes are recognized by green building professionals as contributing to employees' productivity, accuracy and job satisfaction, as well as to buildings' energy efficiency.
Ensuring energy-efficient operations and reducing CO2 emissions are among Norfolk Southern's sustainability goals. According to the company's 2019 Corporate Social Responsibility Report, Norfolk Southern reduced CO2-equivalent emissions by more than 32,600 metric tons from 2017 to 2018. During the past four years, the company also reduced electricity use by nearly 70 million kilowatt hours, while saving about $6.8 million in energy costs.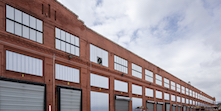 Norfolk Southern's team in Juniata regularly recycles locomotives into more efficient machines, further benefiting both customers and the environment. It is said they can strip a locomotive down to the bare frame and completely rebuild it, including the engine, alternator, wiring, cab, trucks, combos and running gear—all in just 6.5 days.
In addition to the efficient and successful upgrades at the Juniata facility's 10 buildings, EXTECH's team also has contributed to numerous daylighting and ventilation retrofit projects for Norfolk Southern, BNSF Railway Company, the U.S. Navy, and hundreds of light and heavy industrial manufacturing plants throughout North America.
EXTECH/Exterior Technologies, Inc.'s mission is to improve lives through innovation in daylighting systems, natural ventilation and other unique building envelope systems. Redefining the intersection between the natural and built environments, EXTECH manufactures and designs wall, window, skylight, canopy and custom façade systems.
Learn more by calling 800-500-8083, emailing info@extechinc.com or visiting https://extechinc.com.
###
---
Filed under: Projects
---
Story Resources
Word document
Request high res photographs for publication