Client News: Kolbe's VistaLuxe Collection continues to expand, offering unique solutions for maximum glass
Posted on June 14th, 2018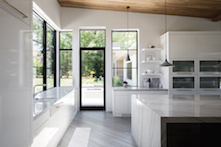 Kolbe Windows & Doors showcases its highly innovative and award-winning VistaLuxe® Collection at the AIA Conference on Architecture in booth #4755. This industry-leading collection is an ideal choice for contemporary projects that require large expanses of glass with clean lines, while maintaining energy efficiency.
"The VistaLuxe Collection was designed in collaboration with architects to provide creative solutions for maximum viewing with minimal obstruction, and to form large mull combinations with consistent alignment across different product types," states Cindy Bremer, vice president of marketing at Kolbe Windows & Doors.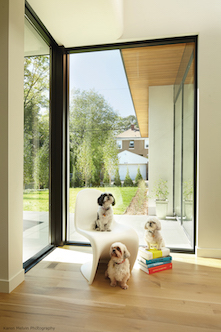 Mull units are showcased in various configurations in booth #4755. In the center, a casement and awning featuring the proprietary Evo operator form a custom mull unit with a direct set window. The Accent style exteriors are finished in Roma, and the Pine interiors are finished in Bright White. The slim, streamlined hardware complements the clean lines of the VistaLuxe Collection, and allows window operation without a crank handle for unobstructed viewing.
Bremer explains, "In addition to style and functionality, narrow frames and unobtrusive hardware contribute to a larger daylight opening that allows an enhanced viewing experience through large panes of glass and multiple units."
A VistaLuxe inswing entrance door is mulled to a direct set with floor sill. The Midnight exterior, clear-coated Pine interior, tempered glass and 5/8-inch performance divided lites provide neat frames for unimpeded views. A Baldwin® Lakeshore handle set in Matte Black and a Dark Bronze anodized sill coordinate with the exterior.
"VistaLuxe is quite versatile, and can be an alternative for steel windows. The narrow frames with a dark finish give the same appearance, but offer greater energy efficiency at a lower cost," Bremer adds.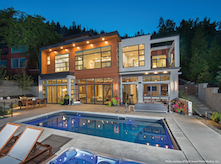 A more complex mull unit features two stacked 90-degree direct set corner windows mulled to an outswing door, direct sets, casements and awnings. The Flush style exteriors are finished with a fluoropolymer coating in Steel Gray, while the interiors have a Graystone painted finish. The upper awning is equipped with a Marvel™ electronic operator for convenient ventilation, allowing it to be opened and closed with the flip of a switch. Satin Nickel PVD Dallas hardware, a Dark Bronze anodized sill, and Pine wrap screens complete the unit.
"Our comprehensive line of contemporary windows and doors offers sophisticated solutions for enhancing the aesthetic and blending environments, with custom shapes, corner units and unique configurations," offers Bremer.
For complete information and specific product details on Kolbe's VistaLuxe Collection windows and doors, please visit www.KolbeWindows.com or the 2018 AIA Conference on Architecture in booth #4755.
What began in 1946 as a two-brother team has grown into an internationally respected manufacturing company. Kolbe & Kolbe Millwork Co., Inc. is one of the nation's leading manufacturers of windows and doors for residential and commercial markets. After more than 65 years, Kolbe products are best known for superior quality, custom craftsmanship, attention to detail, as well as innovative and unique designs.
###
---
Filed under: Events, Kolbe Windows & Doors, Products
---
Story Resources
Word document
Request high res photographs for publication