Client News: Linetec's spattercoat finish on display in Silicon Valley
Posted on March 18th, 2022 by Heather West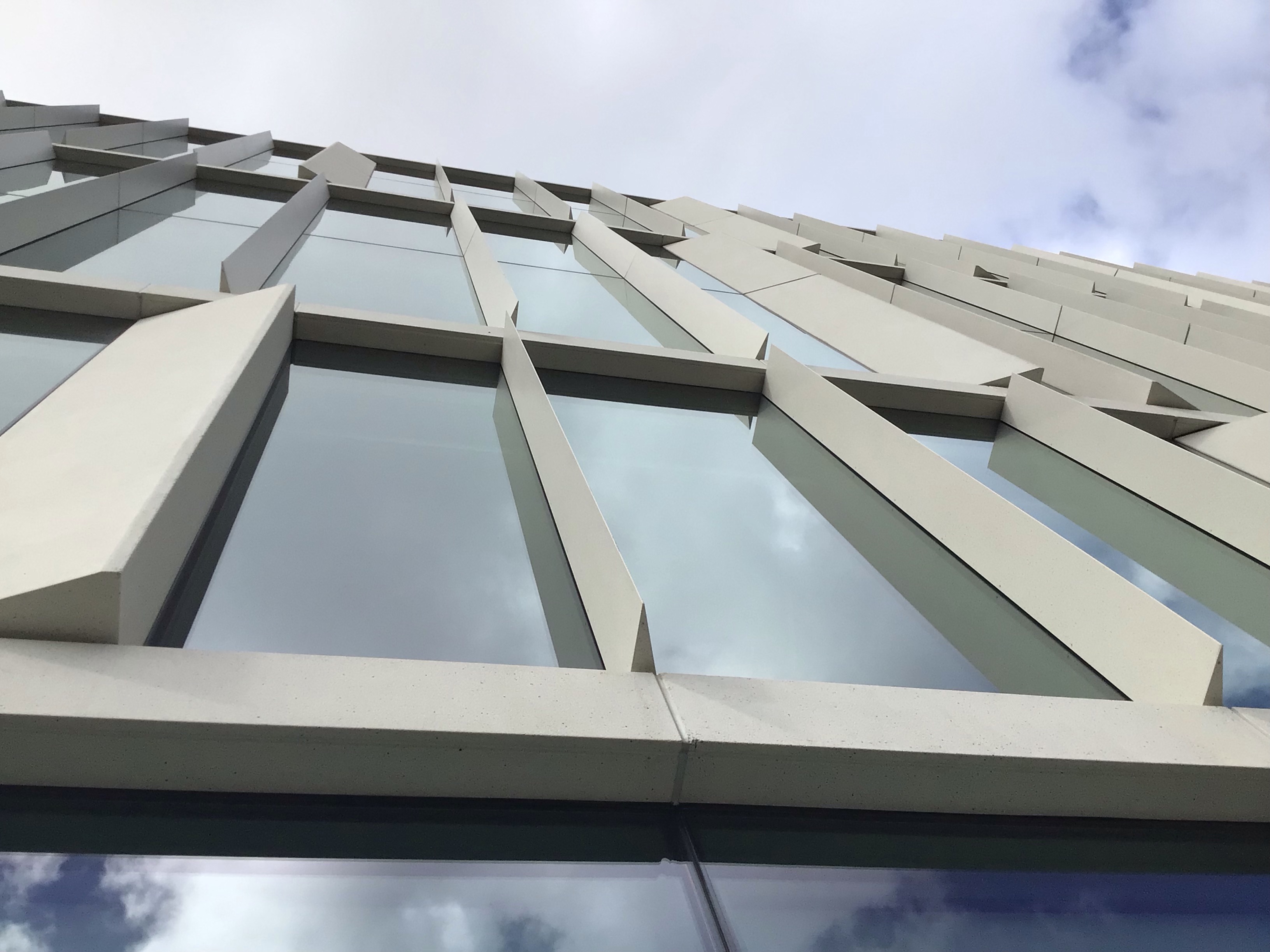 Reflecting the creative, innovative and unique brands of Silicon Valley's high-tech businesses, the new 1199 Coleman office building showcases a one-of-a-kind spattercoat finish by Linetec. Designed by Gensler with design-build contractor Devcon Construction, the high-profile project is pursuing LEED® certification through the U.S. Green Building Council.
In anticipation of the project's completion in 2020, media and technology company Yahoo! signed a long-term lease on the eight-story, 603,363-square-foot property. Paired with the adjacent amenities facility, the buildings are intended to serve an estimate 3,400 employees as its new innovation hub.
Part of the new multi-building Coleman Highline corporate complex still under construction, the development is named for the outdoor, third-floor pedestrian walkway connecting the buildings known as the "highline." The 1199 Coleman building, campus welcome center and amenity pavilion were acquired in December 2021 by AGC Equity Partners. The $780 million purchase, approximately $1,185 per square foot, was reported as a record-breaking price for a single office property in the city.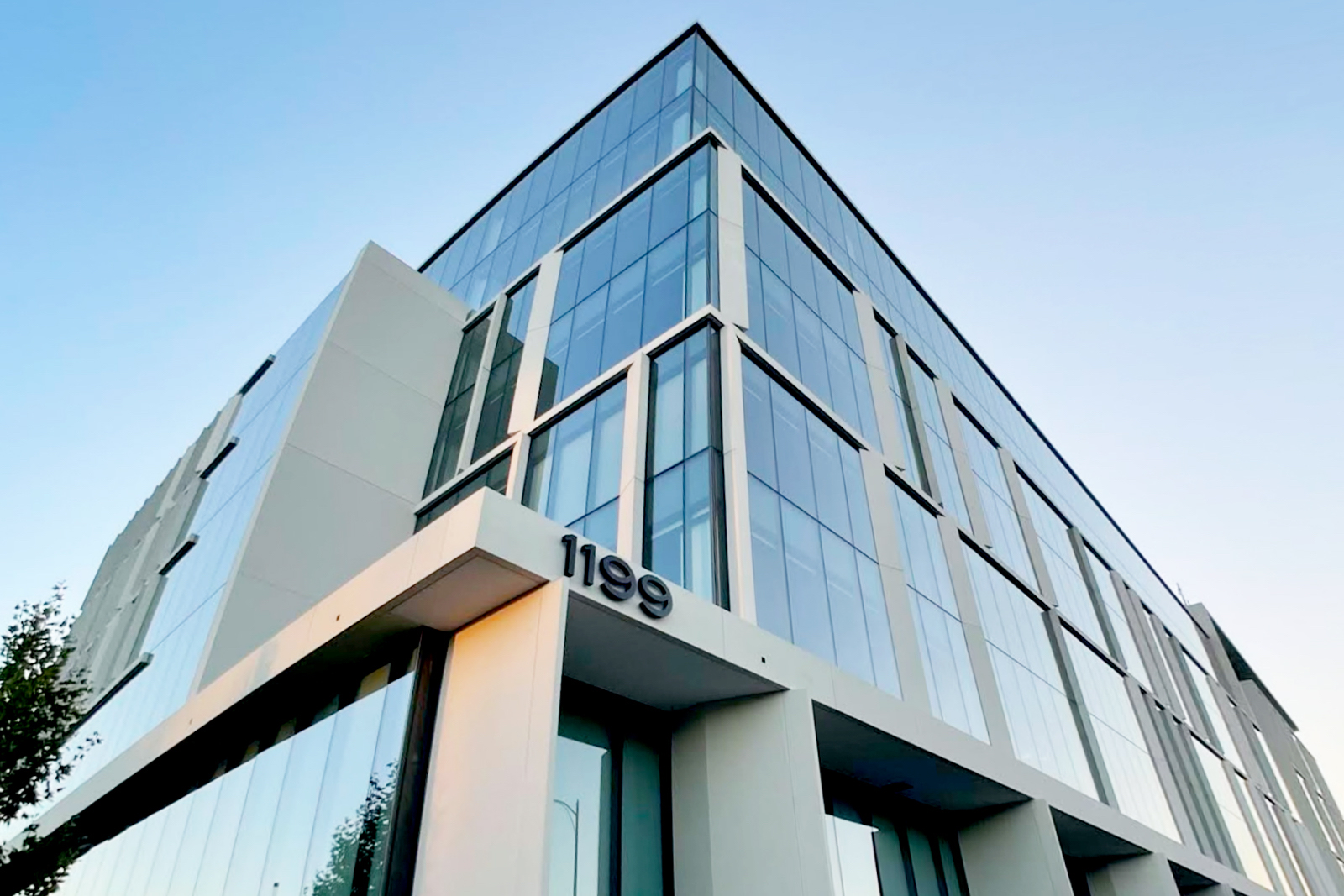 Contributing to the building's value and respecting its architectural vision, Architectural Glass & Aluminum (AGA) designed, engineered and installed the entire façade system on 1199 Coleman's L-shaped structure. Hundreds of articulated, vertical sun shades compose a signature exterior. AGA's project executive, Jason Gillard, DBIA, noted, "It's both decorative and functional."
Bringing the project from concept to construction, AGA worked closely with Linetec to visually harmonize the aluminum sun shades on the upper stories and the glass fiber reinforced concrete (GFRC) that clads the ground-level podium and glazing system junction points. Mimicking the GFRC's color and pattern, Linetec created a precise palette and handcrafted spattercoat finish for the sun shades.
To meet the architect's expectations for a seamless appearance across the building envelope's components, numerous finish samples were provided by Linetec and AGA. Linetec's proprietary spattercoat process combines computer-matched custom colors with hands-on artistry to determine the exact mix and texture to achieve the desired look and feel.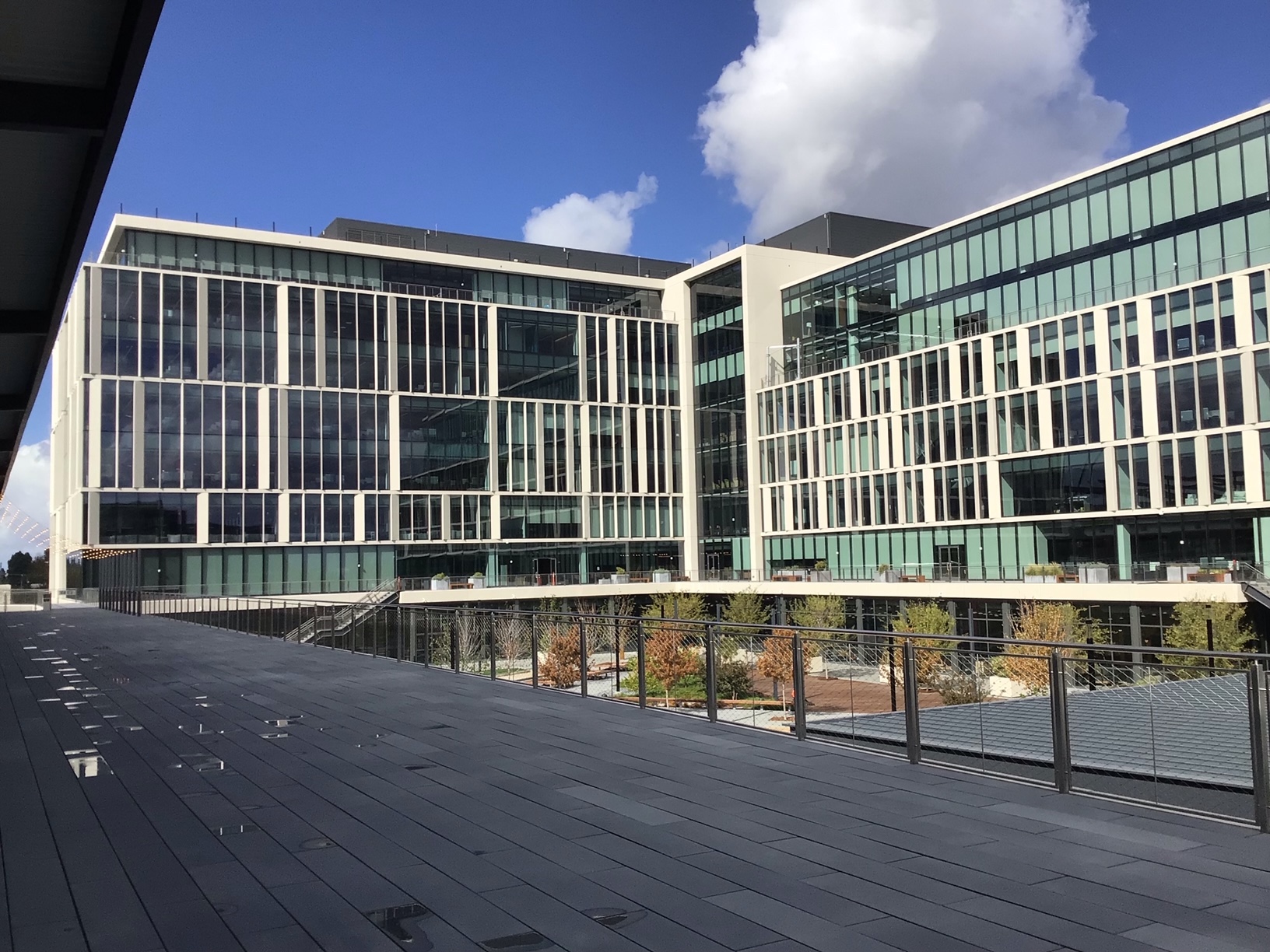 Gillard complimented Linetec's work saying, "They matched the GFRC perfectly. If you're standing 2 feet away, you can't tell the difference."
Aluminum not only offers versatile finishing options, but is easy to fabricate into the sun shades' narrow profiles. Its light weight also make it more convenient for shipping and installing. In addition to the sun shades, Linetec finished the wall panels near the floor line and the fascia panels near the roof line in matching spattercoat. Finished to resemble masonry on 1199 Coleman, it conveys a perception of substantial heft, permanence and solidity to the mostly glass and metal building.
Highlighting the metal, Linetec also finished aluminum wall panel accents in a Silverstorm color and an internal backpan system in a dark gray. All of the architectural aluminum products finished by Linetec were manufactured by Americlad and installed by AGA on 1199 Coleman. In total, AGA installed 92,000 square feet of Linetec-finished material.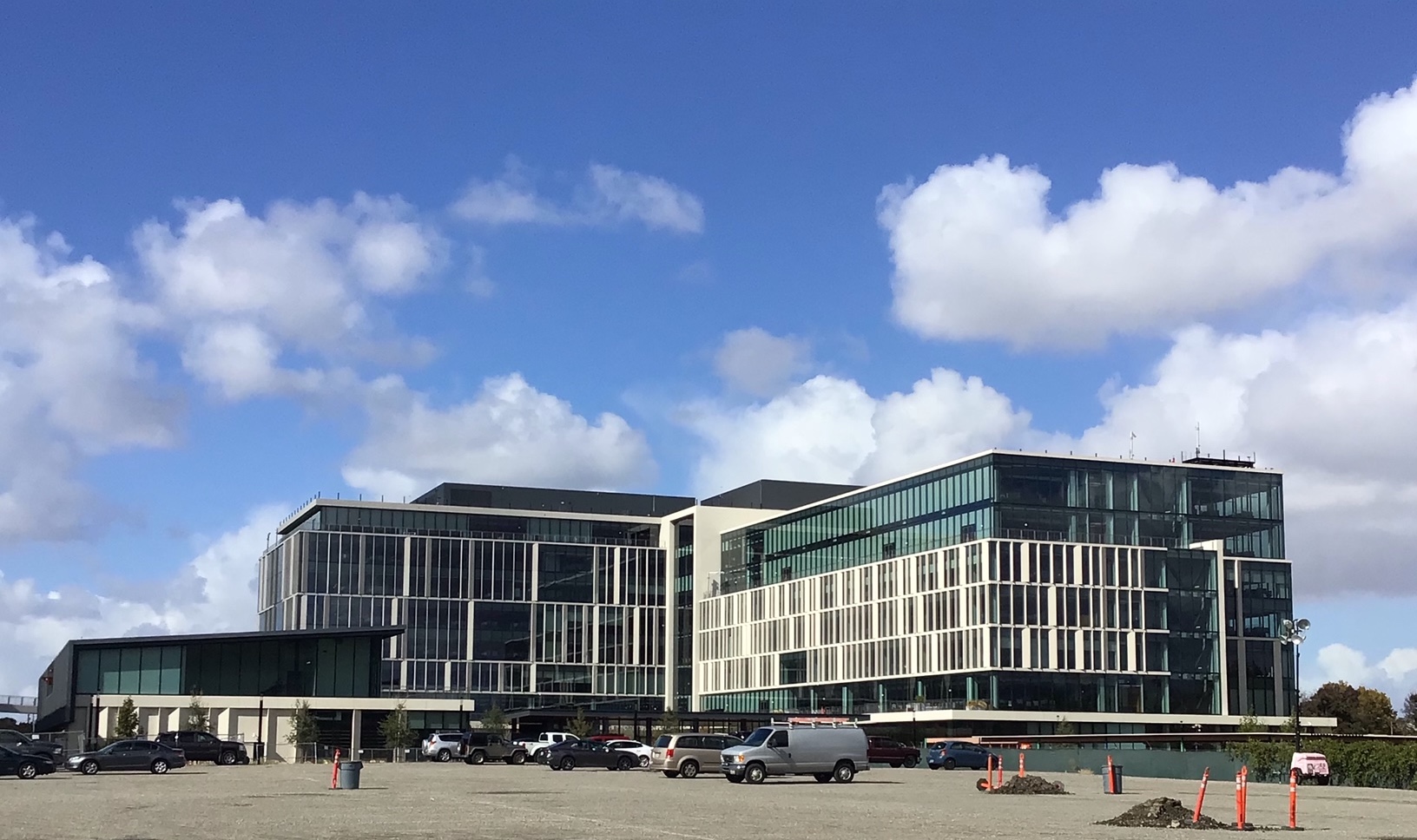 Once the spattercoat color, pattern and texture was approved by Gensler and AGA, Linetec applied the spattercoat under quality-controlled factory conditions to the 0.125-inch-thick aluminum. A 70% PVDF resin-based coating system was selected for the high performance needed for California's climate, coastal conditions and surrounding environment.
Coleman Highline is adjacent to the San Jose International Airport and a 20-minute drive from the San Francisco Bay. This transit-oriented development also is located near I-280, I-880 and Hwy. 87, and is a short walk to Santa Clara transit center with connections to Caltrain and other public transportation options. The surrounding area includes Santa Clara University, restaurants and PayPal Park, home of Major League Soccer's San Jose Earthquakes.
Along with the high-traffic neighborhood, exposure to direct sunlight, salt spray and pollution were considerations for the spattercoat finish's performance. Ensuring the required performance was met, if not surpassed, Linetec applied the 70% PVDF resin-based coating to meet AAMA 2605 specification, the most stringent in the industry. Following this standard, these architectural coatings are proven to withstand 4,000 hours of accelerated testing for humidity and salt spray, and resist chalking, gloss loss and chemicals. They also exhibit outstanding color retention and UV-resistance, which is needed in sunny Silicon Valley.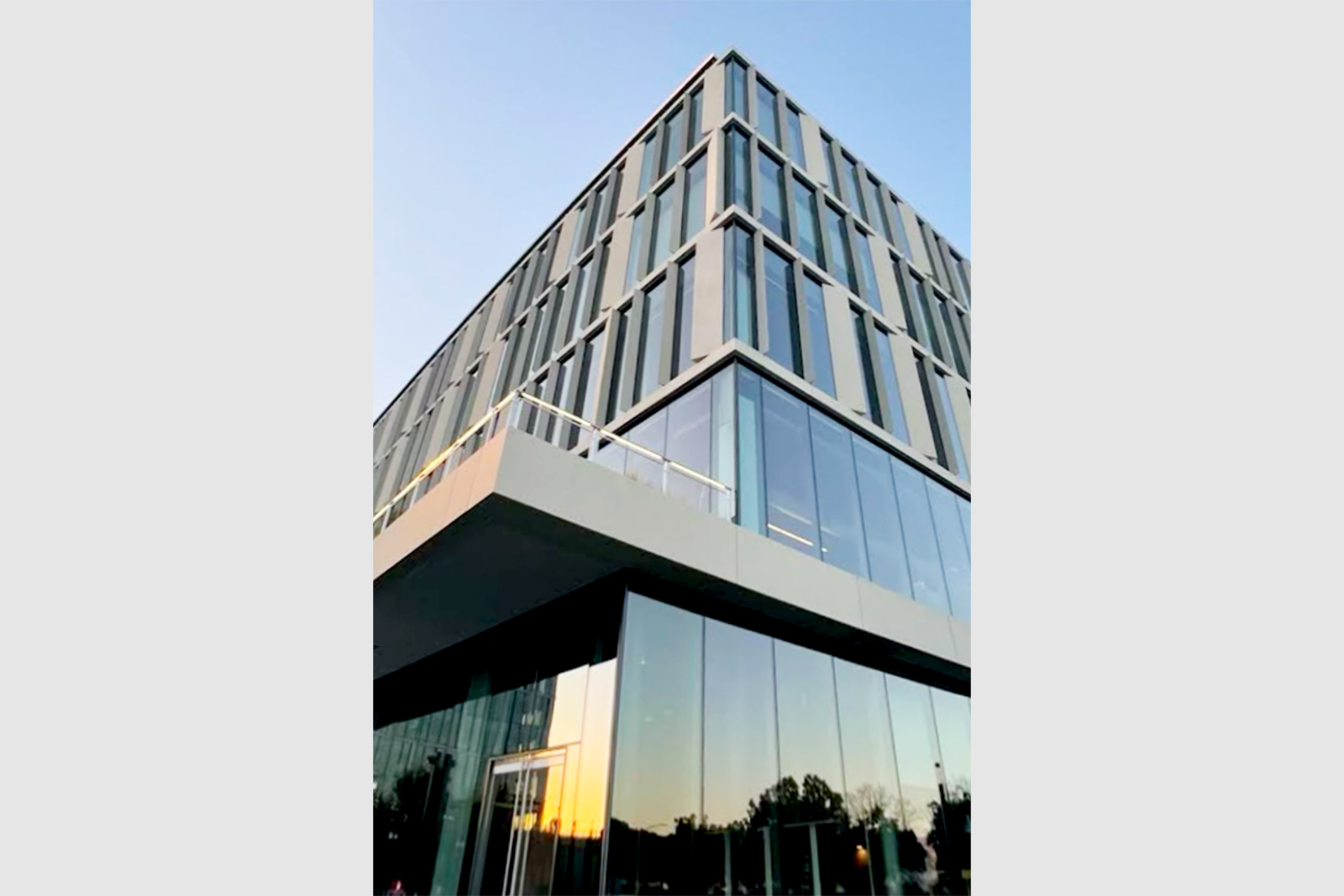 Shading the 1199 Coleman building and its occupants is the primary function of the 250 triangular-shaped fins. The greatest concentration of these shading devices are installed on the southeast elevation looking onto the courtyard. Each fin is oriented either left- or right-facing and placed asymmetrically across the glass and metal façade. The different orientation and placement exemplifies the building envelope's visual variety, while the congruous appearance in building materials and finishes form an attractive overall aesthetic.
The beige-based concrete color of the lightly textured, spattercoat finish on the aluminum fins and panels complements the dark, smooth glass and metal that dominates the façade. As an environmentally responsible finisher, Linetec uses a 100% air capture system and regenerative thermal oxidizer to safely remove the VOCs in the liquid paints' solvents. By managing this in its quality-controlled facility, there is no adverse environmental impact either at Linetec or on the jobsite.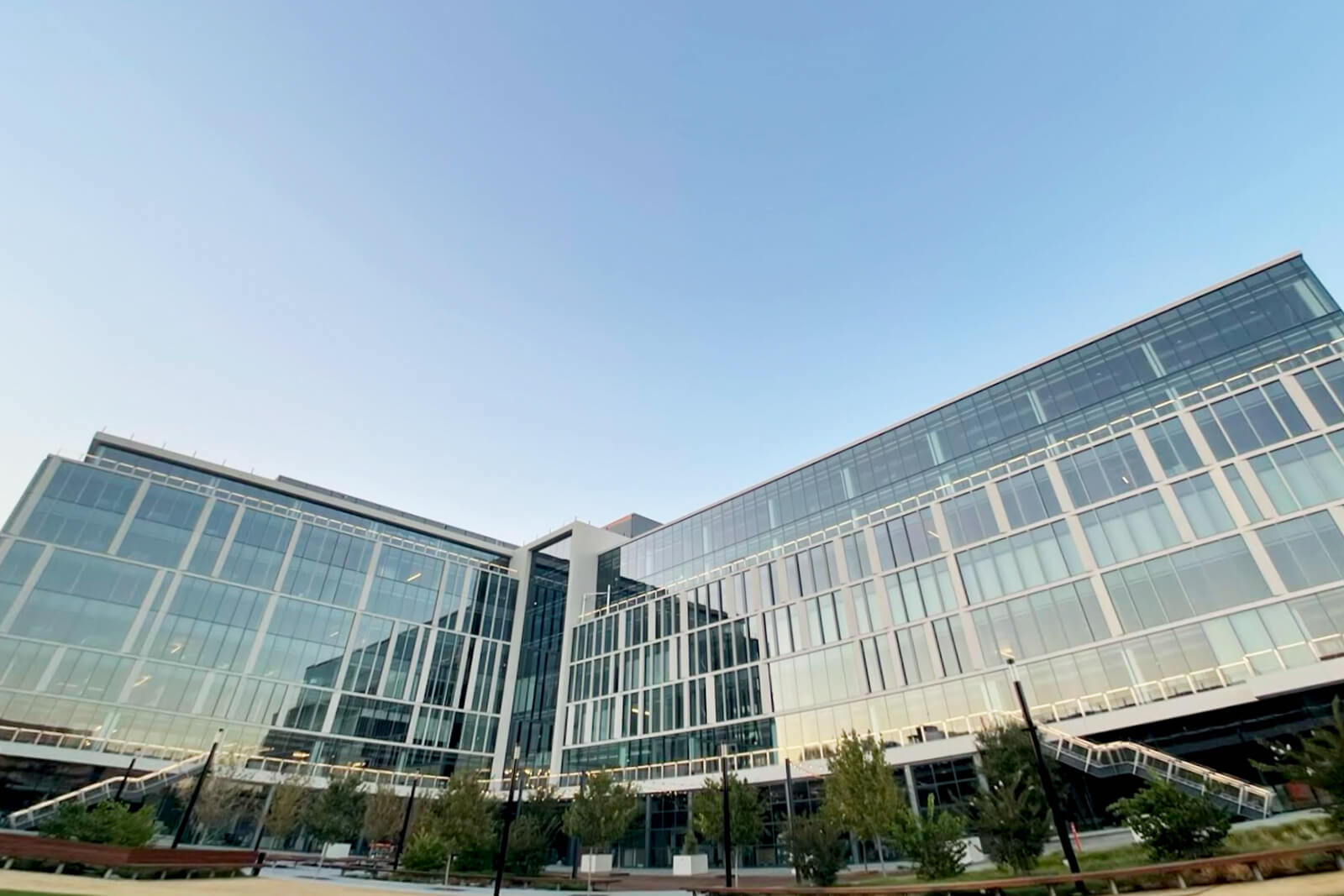 On the middle levels, the daylight openings are framed to emphasize their vertical orientation, making it seem even taller than its eight stories. On the top two floors, the all-glass expanse is inset to provide an elevated outdoor deck. Access and views to the outdoors, proximity to public transit, interior comfort through shading and daylighting, and thoughtful material and finish choices also support the project's green building goals and LEED criteria. According to the property's website, "The open and modern atmosphere includes plenty of gathering spaces that invite employee interaction, which leads to collaboration and great ideas."
**
1199 Coleman Ave., San Jose, CA 95110, http://www.colemanhighline.com
• Developer: Hunter Properties, Inc./Hunter Storm; Cupertino, California; http://www.hunterproperties.com
• Owner: AGC Equity Partners; London; https://agcequitypartners.com
• Architect: Gensler; https://www.gensler.com
• Design-build contractor: Devcon Construction, Inc.; Milpitas, California; https://www.devcon-const.com
• Façade system – design, engineering and installing contractor: Architectural Glass & Aluminum (AGA); Livermore, California; https://www.aga-ca.com
• Façade system – GFRC contractor: Willis Construction Co. Inc.; San Juan Bautista, California; https://www.willisconstruction.com
• Façade system – aluminum sun shade and wall panel manufacturer: Americlad, LLC; Rogers, Minnesota; https://www.americlad.com
• Façade system – aluminum sun shade and wall panel finishing service provider: Linetec; Wausau, Wisconsin; https://linetec.com
• Photos provided by: Architectural Glass & Aluminum (AGA)
About Linetec
Located in Wisconsin, Linetec serves as a single source solution for architectural finishing. The company works with customers across the country, finishing such products as aluminum windows, wall systems, doors, hardware and other architectural metal components, as well as automotive, marine and manufactured consumer goods.
Linetec is a member of the Aluminum Anodizers Council (AAC), the American Institute of Architects (AIA), the Fenestration & Glazing Industry Alliance (FGIA), the National Glass Association (NGA) and the U.S. Green Building Council (USGBC). The company is a subsidiary of Apogee Enterprises, Inc. (NASDAQ:APOG).
###
---
Filed under: FGIA, Linetec, Projects
---
Story Resources
Photo: Sample of spattercoat by Linetec
Word document
Request high res photographs for publication