Client News: California middle school showcases indoor/outdoor learning spaces with EXTECH's skylight system
Posted on April 13th, 2021 by Heather West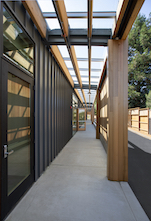 The Spring Hill School's new campus in southern Sonoma County, Petaluma, California welcomed its first middle school class for the 2019-20 academic year. EXTECH/Exterior Technologies, Inc.'s skylight systems expand the school's learning spaces beyond the building's walls, making the most of the fresh air and sunshine.
Designed by DMARC Studio and constructed by Advanced Building Solutions, the new middle school showcases a contemporary exterior and a flexible interior with capacity for up to 120 students.
Designed for Daylight
The independent, private Spring Hill middle school encourages students to connect with nature and practice sustainability as part of their personal wellness and education. The newly constructed building encompasses a learning center/conference room, math center, idea lab, makerspace studio with a 3-D printer, and indoor and outdoor classrooms with edible gardens.
Extending and connecting the students' outdoor learning spaces, EXTECH engineered and fabricated the covered walkway's skylight system. Increasing natural daylight, ventilation and views, the middle school's classroom windows and doors typically remain open when students are on campus. The skylight shelters the openings and the students from California's occasional rain and intense sunshine.
Helping create Spring Hill School's indoor-outdoor learning environment, EXTECH's SKYGARD 2500 Series monumental glass skylight system spans approximately 168 feet long by 6 feet wide. The system is single slope, at a 1:12 slope over the entire span.
Shop-fabricated by EXTECH, the SKYGARD 2500 system is butt-glazed in the horizontal direction, and at the head and sill, without the need for intermediate purlins. Installed on site, the skylight's rafter members attached directly to the walkway's beams with clip angles. Cover caps were secured over the rafter pressure plates.
Proven to Perform
Each of the 55 panels that compose the skylights vary in size from 29 to 39 inches wide and up to 71 inches long. The laminated glass for each panel is 9/16 inches thick and framed in durable, clear anodized aluminum. Contributing to project performance and sustainable goals, EXTECH's skylight systems use recycled aluminum as standard. After its useful life as part of the skylight, the metal is 100% recyclable.
EXTECH engineers and manufactures its daylighting products at its facility in Pittsburgh to ensure performance as specified. To control condensation and leakage, SKYGARD 2500 skylights are engineered with a proprietary, separate gutter system. The skylight system has passed industry-standard testing for water infiltration per ASTM D-331 to 15 psf and air infiltration per ASTM E-283 to 12 psf. Structural performance testing demonstrated the EXTECH's SKYGARD 2500 system can meet or exceed ASTM E-330 deflection of less than L/250 at 60 psf.
"Our skylights not only support sustainable, daylighting designs, but also provide a cost-effective choice for fabrication, installation and maintenance," said Jim Leslie, general manager of EXTECH. "Backed with a 10-year warranty, our skylight system continues to add value for school districts, building owners and facility managers for years to come."
STEAM-driven Success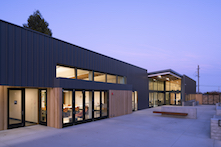 The Spring Hill School, founded on a Montessori-based curriculum in 1975, has long offered pre-kindergarten through 4th grade education on its nearby campus on 825 Middlefield. Hands-on, global service, English-Spanish bilingual education is central to its coursework. Parents, staff and students also wanted a middle school that would provide a continuation of this learning model and small, multi-age classes.
The new campus allows students to advance in a new, yet familiar setting for grades 5-8. Teachers engage students in a research-based, integrated program with a focus on humanities, science, technology, engineering, arts and math (STEAM) to prepare them to meet the challenges and opportunities of the 21st century.
DMARC's architectural team noted that the design challenge for the Spring Hill School was to provide an efficient, flexible and inspiring facility with STEAM curriculum-specific instructional space at a reasonable cost. "This challenge was approached by utilizing a unique structural system that not only provides flexibility for the instructional spaces within the building, but also provides a design aesthetic inspired by the STEAM curriculum when exposed," stated DMARC. "The classrooms connection to the outdoors provides unique educational spaces for the students and maximizes usable space."
At the school's opening in 2019, Shaharazad Hamidi, head of The Spring Hill School, told the Petaluma Argus-Courier: "Today, we celebrate the culmination of many hopes, dreams, pure hard work and determination in offering an independent school with bilingual and science middle school programs."
Recognizing the school's design achievements, DMARC Studio's received multiple awards from the American Institute of Architects (AIA) Redwood Empire, including a 2020 Honor Award and Committee on the Environment (COTE) Award.
**
The Spring Hill School - Middle School, 705 N. Webster St., Petaluma, CA 94952; https://thespringhillschool.org/middle-school
• Owner: The Spring Hill School; Petaluma, California; https://thespringhillschool.org
• Architect: DMARC Studio; San Rafael, California; https://www.dmarcstudio.com
• General contractor: Advanced Building Solutions, Inc.; Petaluma, California; https://www.absconstruct.com
• Skylight manufacturer: EXTECH/Exterior Technologies, Inc.; Pittsburgh; https://extechinc.com
• Photographer: Ethan Kaplan, Kaplan Photo
EXTECH/Exterior Technologies, Inc.'s mission is to improve lives through innovation in daylighting systems, natural ventilation and other unique building envelope systems. Redefining the intersection between the natural and built environments, EXTECH manufactures and designs wall, window, skylight, canopy and custom façade systems.
Learn more by calling 800-500-8083, emailing info@extechinc.com or visiting https://extechinc.com.
###
---
Filed under: Projects
---
Story Resources
Word document
Request high res photographs for publication