Association News: Dan Lavrich dispels myths, presents reality pertaining to wind, water damage at AAMA Fall Conference
Posted on October 18th, 2017
Dan Lavrich dispels myths, presents reality pertaining to wind, water damage at AAMA Fall Conference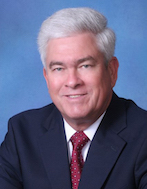 The timely topic of wind and water-related codes was addressed at the American Architectural Manufacturers Association (AAMA) 2017 National Fall Conference. Dan Lavrich, P.E., and owner of Lavrich & Associates Consulting Engineers in Florida, presented "Wind, Water, Codes, Coverage: Myths & Realities." Lavrich is active in building code development in Florida and currently is performing inspections in the aftermath of Hurricane Irma, which hit Florida last month just after Hurricane Harvey hit Houston.
Lavrich's presentation covered his experience with how wind and water damage happens, why it happens and even the important question of, did it really happen? He says determining the answer to the last question can get complicated.
More damage was caused during Hurricane Andrew and others due to breach of the envelope rather than direct building damage, stated Lavrich. Great attention must be paid to the installation of assemblies, and more attention is needed related to the design of building envelopes, to resist water intrusion.
"Identification of point of entry and cause of water intrusion is essential," said Lavrich. "Talk is cheap. You have to prove it."
Lavrich's role involves working with adjusters who are inspecting damage from water and wind impact.
"When I look at an insurance issue, I'm out there to tell the adjusters what happened and why," said Lavrich. "Adjusters then decide whether to pay."
According to Lavrich, insurance companies will generally pay for storm-related damage to fenestration caused by failure of the assemblies to withstand wind or impact, but they will not pay for entry of wind-driven rain unless a breach has been caused by wind, impact or another externally applied force. Common causes of structural failure of assembly include wind, impact, or failure of the attachment due to wind or impact.
"Most insurance companies won't pay for an issue related to wind-driven rain. And, we all know that wind-driven rain during a high-wind event will probably happen," said Lavrich.
An example in which insurance companies will pay is if a frame is bent by debris. If windows have no damage except for water intrusion, the policy that covers the building will typically not pay, he said. However, homeowner's insurance may cover damage in this scenario.
In terms of hurricane season, some tides are literally changing. Lavrich said there have been places recently that never thought they would get hurricane force winds that have been experienced them this hurricane season.
"I'm a firm believer in impact-resistant products in building codes on the coast [due to this reason]."
It is important for fenestration manufacturers to keep up to date with codes and regional conditions according to Lavrich, because one never knows when they could be faced with a complaint.
"If you're called as a manufacturer to defend your product, remember what I've talked about today or it will come back to haunt you," concluded Lavrich.
More information about AAMA and its activities can be found via the AAMA website, https://aamanet.org/.
AAMA is the source of performance standards, product certification and educational programs for the fenestration industry.SM
###
---
---
Story Resources
Portrait: Dan Lavrich
Word document
Request high res photographs for publication