Association News: AAMA keynote speaker addresses psychological blind spots, how to avoid them at Annual Conference
Posted on March 4th, 2019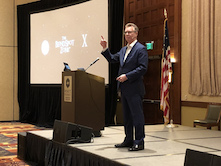 A former real estate leader turned white collar inmate delivered a keynote address at the American Architectural Manufacturers Association (AAMA) Annual Conference (Feb. 25-28). Kevin McCarthy, now a professional speaker who advises on how to avoid "blind spots" in making judgement calls, spoke to AAMA conference participants about the motivations behind choices and how to avoid poor decision making both at work and at home. He also hosted a roundtable discussion about understanding what makes different personality types "tick."
"It's important to know how to uncover the blind spots in your own decision-making abilities," said McCarthy, who then told the story of when, in 2002, the FBI entered his home with a search warrant looking for anything related to his then-boss and company. This ultimately led to him serving a 33-month prison sentence for crimes he did not commit.
"I worked 15 months for this employer and never once saw prison coming," he said. "Everyone here has a blind spot."
Physical blind spots, McCarthy explained, exist in a small part of the human eye, which cannot receive light. However, human beings also have psychological blind spots.
During his time in prison, McCarthy dedicated himself to learning as much as possible about human psychology to understand his own thinking and to improve his life.
"I learned that we all deal with influences and the impact of all our decisions," he said. "We'd like to think we are in full control of our minds, but our minds play tricks on us. We really don't know what we don't know."
One of these tricks, said McCarthy, is to justify our choices to ourselves despite any possible red flags or doubts.
"When we bring information into our minds, we need to create narratives, and a self-serving bias helps us look better than we actually are, in all the decisions we make," McCarthy said.
McCarthy encouraged those at the conference to think about the following when at work and at home: behaviors, beliefs and perceptions.
Implicit bias, and other internal biases, play a large role in the existence of psychological blind spots, McCarthy said.
"We have unconscious biases that run contrary to what we think we believe," said McCarthy, citing a Harvard project about the subject. "We don't like to think we have stereotypes, but we all deal with them."
From his own life experience, McCarthy said when he was in prison, he was there with more than 500 other inmates, about 40 percent of whom were also there as a result of white collar crime.
"That went against the stereotypes I was imagining," he said. "Your perception is your reality in the moment."
McCarthy had some advice for how to work with others closely to avoid blind spots at work, suggesting that workers allow themselves to be open to new evidence that might allow them to change their positions, increasing their own self-awareness. It is also important, he said, to remember that it is wrong to assume everyone processes information the same way.
"We are all wired in different ways," he said. "Just because you think someone understood something you said doesn't mean they actually did."
More information about AAMA and its activities can be found via the AAMA website, https://aamanet.org.
AAMA is the source of performance standards, product certification and educational programs for the fenestration industry.SM
###
---
---
Story Resources
Photo: AAMA keynote, Kevin McCarthy
Word document
Request high res photographs for publication