Hamilton Wood Type acquires rare archive of circus posters, plates, type and correspondence from Enquirer Printing
Posted on November 20th, 2015 by Heather West
The museum now holds one of the world's largest collections of wood type and historic printing plates, doubling its repository since the 2006 acquisition of the Globe Printing plate collection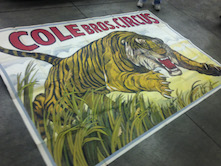 Hamilton Wood Type and Printing Museum has acquired Enquirer Printing's collection of nearly 500 rare circus, fair and carnival posters, plus approximately 1,500 hand-carved printing plates; more than 5,000 pieces of large wood type; and related correspondence. The Anderson family of Cincinnati founded Enquirer Printing in 1895 and continuously has archived the extensive collection. As the company no longer provides letterpress printing, the family agreed to sell the collection to Hamilton. Terms of the sale were not disclosed.

John and Robyn Horn, The West Foundation, Mark Simonson and other friends of the museum generously donated funding for this acquisition.

"It is exceptionally unusual to have such a complete collection of historic, beautifully printed, excellently preserved materials remain in the hands of a single, original owner for 120 years. The level of craftsmanship required to care these plates is extremely rare, as is their importance to an intact collection," explains museum artistic director Bill Moran, who helped negotiate the terms of the sale.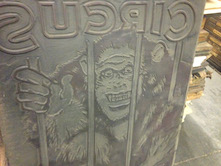 Enquirer Printing's co-owner and fourth-generation printer, Mike Anderson, adds, "We're excited to see our family's printing legacy preserved at Hamilton Wood Type and Printing Museum. Our great-grandfather Harry Anderson would be proud to know our story will continue to be told."

The acquisition from Enquirer Printing doubles the number already in the museum's vast collection of 1.5 million pieces of wood and thousands of printing plates. "Every day as we accelerate into a screen-saturated society, items from our past that celebrate process will be as important as the product, and must be preserved. Hamilton is doing its part with the acquisition of the exquisite collection of type and unique woodblocks from Enquirer Printing in Cincinnati," says Jim Sherraden, master printer at Nashville's Hatch Show Print.

In 2006, Hamilton acquired the Globe Printing plate collection from Chicago-based Frank Zimmermann. The mostly mid-20th century type and 2,000 one-of-a-kind, hand-carved printing plates arrived at the museum on 32 pallets, which were carefully unpacked and catalogued. The first images from the collection were available for sale nearly three years following the acquisition in 2009.

"Once available, the Globe Printing collection had an immediate impact that drew diverse local and global audiences to the museum. It also led Target Corporation to enlist us in a licensing agreement to create the 'Cool Never Fades' clothing campaign in 2012," notes Moran.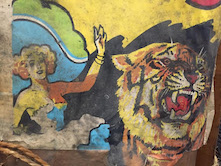 Anticipating a similar, positive response and widespread attraction to the Enquire Printing acquisition, Hamilton's staff plans to share examples of the circus posters as soon as possible. Moran continues, "We intend to immediately begin printing with these plates and creating restrikes of these rare blocks. This job will be made significantly easier because the thousands of previously printed samples from Enquirer Printing's archive provides us with an invaluable documentation of the printing process and the artistic considerations that went into advertising art of the early 20th century."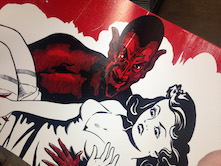 Poster art themes range from monkeys and tigers on exhibit, to performance acts under the big top, to "Believe It or Not" world-famous oddities. Along with the collection of plates, type and posters, the museum also now will be responsible for approximately 600 pieces of incoming correspondence from Enquirer Printing customers dating back to the 1900s. Moran elaborates, "These letters provide a unique insight into the day-to-day operations of a commercial print shop, as well as the logistics related to traveling circuses and the costs of promoting these shows."

Major circuses, including Ringling Brothers, Clyde Beatty and Cole Brothers are represented in this correspondence. Hamilton has partnered with the Newberry Library in Chicago, which will house the correspondence in the John M. Wing Printing History Collection.



About Hamilton Wood Type and Printing Museum

The Hamilton Wood Type and Printing Museum is the only museum dedicated to wood type preservation, study, production and printing. With 1.5 million pieces of wood type and more than 1,000 styles and sizes of patterns, Hamilton's collection is one of the premier wood type collections in the world. In addition to wood type, the museum is home to an amazing array of advertising cuts from the 1930s through the 1970s, all of the equipment necessary to make wood type and print with it, as well as equipment used in the production of hot metal type, tools of the craft and rare type specimen catalogs.

Hamilton Wood Type began producing type in 1880 and within 20 years became the largest provider in the United States. Today, volunteers of the Two Rivers Historical Society preserve this legacy and host educational demonstrations, field trips, workshops and offer opportunities with this vast wood type collection.

Follow Hamilton Wood Type and Printing Museum on Twitter at @hamiltonwoodtyp, on Facebook, on Flickr, on Instagram or on YouTube, or visit www.woodtype.org.
###
---
---
Story Resources
Image 1
Image 2
Image 3
Image 4
Word document
Request high res photographs for publication