Client News: State Employees' Credit Union (SECU) branch office features Rockfon ceiling systems in contemporary, comfortable financial service facility
Posted on October 13th, 2022 by Heather West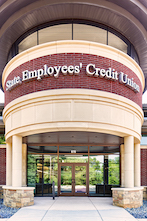 The State Employees' Credit Union (SECU) is a not-for-profit financial cooperative owned by its members. Because SECU serves state employees, its locations are considered both financial and government facilities. Accuracy, clarity and privacy are essential expectations of banking and financial service providers. Thoughtfully designing spaces with high-performance acoustic ceiling systems can enhance these valuable attributes as well as foster staff productivity and satisfaction, and create less stressful environments for clients and more welcoming facilities for the community.
As SECU's architect of record, Summit Design and Engineering Services has designed new construction and renovations for at least 45 branch offices. For eight locations, including the new Granite Quarry branch office, Summit selected and specified Rockfon's high-performance acoustic stone wool and metal ceiling panels for the interiors, durable metal ceilings for the exteriors, and suspension ceiling systems for both.
CBH General Contracting managed construction and renovation for many of SECU's locations, coordinating with local installing contractors for each project. Acousti Engineering Company of Florida's Charlotte office installed approximately 9,800 square feet of Rockfon's products on SECU's Granite Quarry branch office.
Consistent Quality, Positive Experience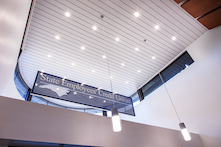 Providing consistent quality across multiple applications, Rockfon's complete ceiling solution creates a contemporary and comfortable financial service facility for SECU's staff and member clients.
As more people turn to online banking, visiting a physical branch office can be an event. Choosing the right materials can make a difference in providing a positive, comfortable experience.
Historically, financial institutions were constructed of heavy masonry to imply a sense of stability and security. Modern architecture trends veer toward metal and glass to convey reliability and transparency.
SECU's branch offices are classically composed in straight lines and half circles. A turret-like main entry supported by thick columns, a façade of brick and stone, and a low-slope metal roof present a sturdy profile. Large groundfloor windows for offices and clerestory windows let natural light stream into the bank without compromising the building's secure presence. The simple solid forms of the exterior continue inside, softened by a neutral palette of white and gray, accented with rich bronze and brown wood tones. High, vaulted ceilings accentuate the feeling of openness.
In large, open spaces, stone, metal and glass are hard surfaces that reflect sound and generate reverberating echoes. This can make it difficult to communicate and understand important financial advice. It also may allow someone to overhear personal details, potentially compromising privacy and security.
Attractive, Productive, Comfortable Spaces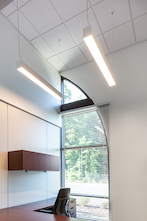 Ceiling panels with a Noise Reduction Coefficient (NRC) of 0.90 or higher are categorized as the best performance for decreasing reverberation and echoes and increasing speech intelligibility in a room. Quiet spaces also allow staff to better concentrate on focused tasks and conversations, improving accuracy and clarity. Reducing distractions and unwanted noise also lessens physiological responses to stress, supporting healthier spaces and contributing to the well-being of both employees and clients.
Optimizing acoustics to create a comfortable experience had been a challenge for at least one of SECU's older branch offices. Summit's architects were in the process of designing a renovation when they attended a continuing education course on acoustic ceiling designs presented by Rockfon.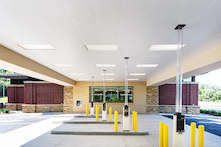 Rockfon's Architectural & District Sales Manager, Kelly Frame, explained, "The design team shared that the existing ceiling specification consisted of solid metal, linear ceiling panels with a 0.70 NRC on the interior and a vinyl-coated gypsum on the exterior canopy in the drive-through bays. The staff had complained about their previous offices being too noisy inside. Also, some of the older drive-through's canopies were starting to show signs of aging and possible deterioration. We knew that Rockfon could improve the appearance, performance and durability."
In several of SECU's renovated and newly constructed facilities, Rockfon's ceiling systems helped Summit create more attractive, productive and comfortable spaces. "Rather than feeling like you have to shout in a noisy lobby, you can now have a conversation speaking at a normal volume," elaborated Frame. "The credit union's staff loves having products that work and appreciates the result."
Sound-absorbing, Light-reflective Ceilings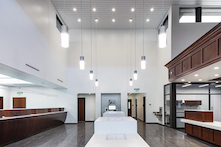 Working with Summit, CBH and Acousti on SECU's Granite Quarry branch office, SECU's interiors feature two ceiling systems from Rockfon. Both systems achieve up to a 0.90 NRC and match the credit union's welcoming, contemporary design.
Rockfon® Alaska® acoustic stone wool 2-by-2-foot, white, ceiling panels were installed in Chicago Metallic® 1200 Series 15/16-inch suspension grid plus Rockfon® Planar® Macroplus® 8-inch, perforated, linear metal panels with white Acoutex™ backing. Combining perforated metal with the sound-absorbent backing improved the panels' acoustic performance and the specially requested white material coordinated with the ceiling panels' white finish.
The white ceiling panels in the branch office present a clean, neat appearance. They also function as reflective surfaces for carrying the daylight more deeply into the interior. Rockfon Alaska reflects up 86 percent of light from its smooth surface. Respectful of the state government's funds, this makes more effective use of natural light and more efficient use of electricity.
Sustainable, Long-lasting Materials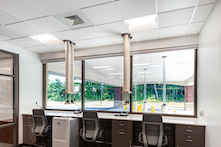 Electrical light fixtures, HVAC returns and security cameras are integrated within the interior ceiling grid pattern with wiring and other equipment concealed above the panels. Rockfon's modular format makes its systems quick to install and easy to remove single or multiple panels to access the plenum for future building upgrades.
Stone wool and metal also are sustainable, long-lasting materials that require minimal maintenance. Both are made with natural and recycled materials, are resistant to moisture, humidity and mold without the use of added antimicrobials. Supporting healthy indoor air quality, Rockfon's stone wool ceiling panels are UL® Environment GREENGUARD® Gold certified for low-emitting products.
Further promoting thoughtful product selection and material transparency, Rockfon Alaska has earned the International Living Future Institute's Declare Label 2.0 as Living Building ChallengeSM Red List Approved and is supported with a health product declaration (HPD). Both Rockfon's stone wool and metal ceiling panels also have UL-verified environmental product declarations (EPDs).
For exterior use, metal provides added durability and resiliency. Above the main entrance to SECU's Granite Quarry branch office, Rockfon Planar Macroplus 8-inch, solid, linear metal panels finished in bronze present an elegant and approachable first impression to new and returning members.
Sheltering drive-up visitors, the canopy above the outdoor service area incorporates Rockfon® Planostile™ Snap-in 2-by-2-foot metal panels installed using the same Chicago Metallic 1200 Series 15/16-inch grid as on the interior. The ceiling panels are finished in a silver color that reflects the ambient light keeping the drive-through area bright and inviting.
Local Partners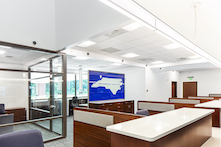 A ribbon-cutting event opening SECU's 8,500-square-foot Granite Quarry branch office was held in May 2022.
"We are very pleased to have this new location to offer our membership," said SECU vice president and city executive, Lori Cinkmani. "More accessibility and convenience. Members who have lived and worked in the Granite Quarry area have been looking forward to this branch for a long time. We want everyone to know that we are thrilled to be here to serve them in our own community."
"Rockfon proved that gaining acoustic performance does not mean having to compromise on aesthetics, material choices or long-term value," concluded Frame. "We are proud to be a preferred supplier for Summit and a regular supplier to SECU's branch offices."
SECU has been providing employees of the state of North Carolina and their families with consumer financial services since 1937. In 2022, its 7,000+ employees service over 2.6 million members through 1,100 ATMs, phone and online member services, and more than 270 branch offices.
**
State Employees' Credit Union (SECU), Granite Quarry branch office
970 North Salisbury Ave., Granite Quarry, NC 29146
• Owner: State Employees' Credit Union (SECU); Raleigh, North Carolina; https://www.ncsecu.org
• Architect: Summit Design and Engineering Services; Hillsborough, North Carolina; https://summitde.com
• General contractor: CBH General Contracting, LLC; Port Orange, Florida; https://www.cbhcontracting.com
• Ceiling systems – installing contractor: Acousti Engineering Company of Florida; Charlotte, North Carolina; https://acousti.com/locations/charlotte
• Ceiling systems – manufacturer: Rockfon; Chicago; https://www.rockfon.com
• Photos by: Joe Ciarlante
About Rockfon
Rockfon is part of the ROCKWOOL Group and is offering advanced acoustic ceilings and wall solutions to create beautiful, comfortable spaces.
At the ROCKWOOL Group, we are committed to enriching the lives of everyone who experiences our product solutions. Our expertise is perfectly suited to tackle many of today's biggest sustainability and development challenges, from energy consumption and noise pollution to fire resilience, water scarcity and flooding. Our range of products reflects the diversity of the world's needs, while supporting our stakeholders in reducing their own carbon footprint.
Stone wool is a versatile material and forms the basis of all our businesses. With approximately 11,500 passionate colleagues in 39 countries, we are the world leader in stone wool solutions, from building insulation to acoustic ceilings, external cladding systems to horticultural solutions, engineered fibers for industrial use to insulation for the process industry, and marine and offshore.
###
---
Filed under: Projects, Rockfon
---
Story Resources
Word document
Request high res photographs for publication