Client News: Linetec hires Darrin Hoffmann as senior buyer
Posted on May 21st, 2019 by Heather West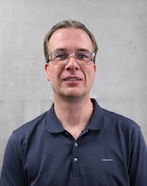 Darrin Hoffmann has been hired as a senior buyer in the purchasing department at Linetec, the nation's largest architectural aluminum finishing services provider. Reporting to the vice president of finance, Hoffmann applies Lean principles to support company-wide procurement needs and initiatives by working with suppliers from across the U.S.
Hoffmann brings more than 30 years of experience in management and purchasing to Linetec. For the majority of his career, he has worked in Shopko Stores Inc.'s corporate offices in Green Bay, Wisconsin. His most recent role was as a category manager leading the team responsible for buying and promoting merchandise within more than 360 stores. Hoffmann's leadership skills are matched with his logistical, analytical and financial planning skills.
A graduate of Mid-State Technical College in Wisconsin Rapids, Wisconsin, Hoffmann also is proficient in Lean principles and a proponent of continuous improvement.
Learn more about joining Linetec's growing team of associates by visiting https://linetec.com and clicking "Careers" at the top of the page.
About Linetec
Located in Wisconsin, Linetec serves customers across the country, finishing such products as aluminum windows, wall systems, doors, hardware and other architectural metal components, as well as automotive, marine and manufactured consumer goods. The company is a subsidiary of Apogee Enterprises, Inc. (NASDAQ: APOG).
Linetec is a member of the Aluminum Anodizers Council (AAC), the American Architectural Manufacturers Association (AAMA), the American Institute of Architects (AIA), the Association of Licensed Architects (ALA), the National Glass Association/Glass Association of North America (NGA/GANA), the U.S. Green Building Council (USGBC) and the Window and Door Manufacturers Association (WDMA).
###
---
---
Story Resources
Portrait: Darrin Hoffmann, Linetec's senior buyer
Word document
Request high res photographs for publication