Client News: Curved and tapered RHEINZINK panels create futuristic look for Canadian subway station entrance pavilion
Posted on March 5th, 2020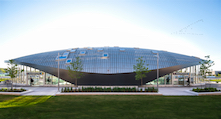 One of six new facilities on the Toronto Transit Commission's Spadina Subway Extension route, the Vaughan Metropolitan Centre Subway Station provides intermodal transit services and rapid subway connection to downtown Toronto. The 143,160-square-foot station's futuristic design was a collaboration of Grimshaw Architects and Adamson Associates Architects, in conjunction with ARUP Canada. The main entrance pavilion's curvilinear exterior features a RHEINZINK-clad standing seam roof.
Approximately 12,000 square feet of RHEINZINK CLASSIC® bright rolled panels clad the curved roof of the impressive building. The roof offers high solar reflectance, a long lifespan and is 100% recyclable at the end of its useful life on the building. The station exceeds Canada's National Energy Code requirements for energy performance by 40% and meets sustainability standards comparable to those required for LEED Silver certification.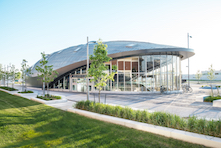 More than 1,000 uniquely tapered panels were fabricated by RHEINZINK distributor Agway Metals, Inc. at its Exeter, Ontario facility. "No two panels are alike," said Paul MacGregor, Agway Metals' estimator. "Each panel had an individual taper and length. We fabricated the panels using our CNC turret, which was key to achieving the exact taper for each panel right down to the millimeter."
Installing contractor Bothwell-Accurate of Mississauga, Ontario, provided the precise panel specifications to Agway Metals. It was a demanding process, according to Trevor McGrath, Bothwell's estimating manager for cladding.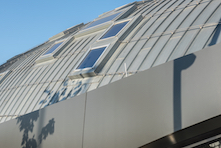 "We used a 3-D scanner on the roof structure and then utilized Radius Track Corporation to design the curved framing system that went on top of the roof structure," explained McGrath. "The RHEINZINK panels were then applied on that. Radius Track confirmed the skin model of the 3-D structure for us and then computer-flattened it so that we could begin doing sheet design and layout. The flattened model gave us critical dimensions regarding panel lengths and widths."
The RHEINZINK panels were in 10- and 12-foot lengths, and were curved on-site by Bothwell-Accurate using Agway's Schlebach machine. McGrath elaborated, "We did a sheet stagger at the beginning of the installation with the two panel lengths, which then allowed us to stagger all of the joints, which is recommended."
Bothwell-Accurate has considerable experience in installing zinc. "We're very familiar with how to form and work with the natural metal," said McGrath. "The architects wanted an 'old school' appearance with hammered seams and the manner in which the flashings and counter-flashings were done. There was a painstaking amount of detailing done around the 46 skylights in the roof. Each one required custom attention. We had production crews on the job getting the panels down and then finishing crews crafting the detail work."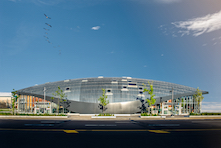 Inside, the domed entrance pavilion showcases a column-free environment with bright open spaces for daylight to penetrate deeply into the station. A mirrored ceiling art installation by Paul Raff Studio captures the drama of changing light conditions and moving passengers. Encouraging greater use of public transportation, the station also supports the pedestrians' experience with accessible paths, intuitive wayfinding for onward travel and efficient transfers between modes of transportation.
The Vaughan Metropolitan Centre is a robust, elegant interchange, according to Juan Porral, partner at Grimshaw Architects. He said, "We are always looking for opportunities to create high-quality places with real character. By elevating a functional building to something artful and full of life that people will remember and enjoy, we can have a greater impact on urban space and user experience."
**
Vaughan Metropolitan Centre Subway Station; 3150 Highway 7, Vaughan, ON L4K 4R6, Canada, http://www.ttc.ca/Subway/Stations/Vaughan_Metropolitan_Centre/station.jsp
* Owner: Toronto Transit Commission; Toronto; https://www.ttc.ca
* Design architect: Grimshaw Architects; New York; https://grimshaw.global
* Architect of record: Adamson Associates Architects; Toronto; http://www.adamson-associates.com
* Engineer of record: ARUP Canada; Toronto; https://www.arup.com/offices/canada
* Installer: Bothwell-Accurate; Mississauga, Ontario; https://www.bothwell-accurate.com
* Distributor/fabricator: Agway Metals, Inc.; Exeter, Ontario; http://www.agwaymetals.com
* Material supplier – zinc material: RHEINZINK America, Inc.; Woburn, Massachusetts; https://www.rheinzink.us
* Photos courtesy of RHEINZINK
RHEINZINK America, Inc. led the introduction of architectural zinc in North America and continues to offer one of the industry's most reliable, trusted brands. Architects and contractors are supported by unparalleled customer service and technical assistance. RHEINZINK is readily available through an established network of qualified distributors and systems partners across the United States, Canada and Mexico. Ideal for roofing, façade, gutter and interior applications. RHEINZINK is environmentally friendly, 100% recyclable and offers a potential lifespan of 100 years or more.
For more information on RHEINZINK, call 781-729-0812 or visit https://www.rheinzink.us.
###
---
Filed under: Projects, RHEINZINK
---
Story Resources
Word document
Request high res photographs for publication