Client News: Sculptor's unique residential retreat relies on Kolbe windows for natural views and light
Posted on January 20th, 2016 by Heather West
* Kolbe is exhibiting at IBS in booth #C2608 *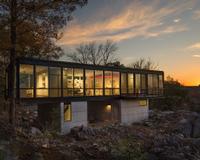 Perched on a cliff that overlooks the Potomac River, Hawk's Nest is a one-of-a-kind residence. Referred to by neighbors in Falling Waters, West Virginia, as "the glass house" due to its expansive span of Kolbe windows, the rectangular structure was conceived and designed by Greg Wiedemann, AIA, and Barbara Sweeney, AIA, of Wiedemann Architects. The homeowner, Lorie Strait, is an artist from Paris who chose this particular site because of its sweeping views in all directions.
"Lorie and I walked the site first; it was a wooded site at the time," says Wiedemann. "We walked to the edge of the cliff, and we were taken by the sweep of the Potomac River. That was what inspired us."
Similarly, Strait's focus was on communion with nature. "I'm a sculptor, so I think a lot about space and I think a lot about light. I just wanted to be in the space that's already here. There's energy here that speaks to me," says Strait. "I saw this land, and I knew good things could happen here. It was just exactly like the picture I had in my mind."
Wiedemann, Sweeney, and Strait worked together to bring this vision to life. "I think calling Greg was one of the best decisions I ever made," Strait says.
A One-of-a-Kind Retreat
Strait's home sits at the edge of a limestone quarry used in the late 19th century. Abandoned 60 years ago, unused quarried boulders have since been enveloped by nature. These boulders became an important part of the design of the home.
"Our goal was to create a simple form that was simultaneously separate from and intertwined with nature," states Wiedemann. "When we have the opportunity to build on a site like this, the natural beauty of the place should inform the design."
Two simple, cast concrete volumes rise seamlessly from the boulders, creating a framed view of the landscape beyond and a perch for the steel and glass structure above. The addition of Ipe wood as an auxiliary material provides an organic contrast to the steel, and connects the home to the forest surrounding it. "I think it was very important to keep the site as natural as possible," adds Sweeney.
Wiedemann continues, "Lorie, being an artist, was a major inspiration in just thinking about the house. Lorie casts things from clay, and she works in metal. The idea of working with something similar that could be molded, like concrete, was a way of making a connection both to Lorie, as well as to the site."
Strait agrees. "We intended to use the most basic materials, the closest to nature as possible. So, we chose concrete, steel, and of course, glass. These materials speak to me – they are the basic skeleton of things that are constructed. Everything is as close as possible to the way it came into the world."
Panoramic Views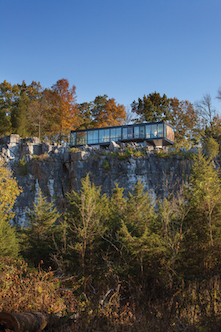 Wiedemann and Sweeney chose Kolbe's VistaLuxe® Collection windows and doors for this project because of their narrow sightlines and large expanses of glass. Mulled units were as large as 8-feet-wide by almost 9-feet-tall. "We've worked with Kolbe on many traditional projects," states Wiedemann. "When the VistaLuxe Collection became known to us, it was an absolute perfect fit."
The project uses multiple window types as well as sliding doors, and Wiedemann was impressed with the consistency across the entire product line. "One thing that's nice about the VistaLuxe Collection is that the profiles of the fixed and the awning windows are very seamless together. There's a sense of continuity from ceiling to floor. These glass walls allow you to be connected to this site in a way that another solution would not."
The VistaLuxe Collection offers different exterior styles, as well as numerous wood species, finishes and countless configurations. This makes the possibilities nearly limitless. To help navigate through all the options, the design team turned to Tom Sanders, general manager of Shenandoah Sash & Door. He provided guidance in specifying the perfect combination of VistaLuxe products and options for this home.
"Tom and his team were instrumental throughout the whole process, from the early stages of the design to the follow-through during the construction phase," credits Wiedemann.
Continues Sweeney, "We got great technical support from Kolbe, both from their headquarters in Wisconsin, and from Shenandoah Sash & Door. Shenandoah worked very diligently with us to come up with many options of door and window configurations to see how we could most effectively achieve our design. Working with Kolbe and the team at Shenandoah was, honestly, from start to finish, a very good experience."
For Lorie Strait's home, the Wiedemann team used VistaLuxe direct sets and awnings with a Flush style exterior in Coal Black, which is one of Kolbe's 32 standard exterior color choices. "I'm particularly enamored by the flush detailing on the outside; it works very well with the lines of this particular house. We didn't see a comparable product," says Wiedemann.
As is common in many contemporary designs, windows comprise a huge portion of the façade at Hawk's Nest, meaning energy performance was a major consideration for all involved. "There was a need to create a good energy envelope, and Kolbe was a major player in achieving that in this house," says Wiedemann.
Insulated, dual pane glass with LoE coatings provide a comfortable living environment in every season. "Kolbe windows met the energy requirements easily," confirms Sweeney.
The Influence of Windows
"Windows are, by their nature, the threshold between inside and outside," states Wiedemann. "The relationship of interior space to exterior space is largely orchestrated by the decision about windows. The VistaLuxe Collection allows us, as architects, to make that connection between inside and outside so that it disappears."
"It's clear to me when looking at the VistaLuxe Collection that it was developed with architects," he continues. "There's an attention to detail that is true of every aspect of the product."
Strait says she thinks a lot about space and light; the numerous windows in her home allow her to connect to the natural beauty of her surroundings in her living spaces and in her in-home studio. "I think all artists are driven by the light," she says. "The windows are beautiful inside as well as outside. They're really structurally lovely."
Wiedemann agrees: "This house is a composition of materials that not only speak to the site, but they speak to the art that Lorie makes here." He continues, "The play of light in a home, and how it changes over time, is really celebrated here."
**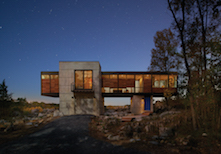 Hawk's Nest; Falling Waters, West Virginia
* Owner: Lorraine Strait; Paris, France and Falling Waters, West Virginia
* Architect: Wiedemann Architects, LLC; Bethesda, Maryland; http://www.wiedemannarchitects.com
* Builder: Carl Petty Associates, Ltd.; Washington, D.C.
* Windows and patio doors – distributor: Shenandoah Sash & Door; Purcellville, Virginia; http://www.sashanddoor.net
* Windows and patio doors – manufacturer: Kolbe Windows & Doors; Wausau, Wisconsin; http://www.kolbe-kolbe.com
###
---
Filed under: Events, Kolbe Windows & Doors, Projects
---
Story Resources
Word document
Request high res photographs for publication