Client News: EXTECH's LIGHTWALL 3000 curtain wall accepts both IGUs and CPG panels in the same framing system
Posted on July 23rd, 2018 by Heather West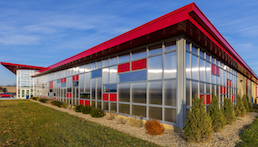 The LIGHTWALL 3000® curtain wall from Exterior Technologies, Inc. (EXTECH) accepts both insulated glass units (IGUs) and cellular polycarbonate glazing (CPG) panels in the same extruded aluminum, thermally broken, framing system.
"Our LIGHTWALL 3000 is one of the few curtain walls that properly accommodates both CPG and IGUs within the same system," says EXTECH Director of Product Application and Development Kevin Smith, R.A. "This is accomplished by using deep glazing pockets, low-friction gaskets and controlled gasket pressure that allow for the thermal movement of polycarbonate, while still providing superior water and air infiltration resistance."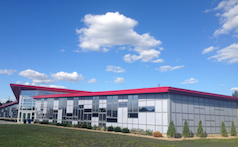 Supporting energy-efficient performance, the LIGHTWALL 3000 system's 3-inch-wide extruded aluminum framing is thermally broken to help maintain comfortable interior temperatures for occupants, and to contribute to reduced HVAC loads for building owners.
The system meets additional demanding performance specifications for structural strength, and internal water control. Directing water to weep holes, end dams are placed on each horizontal mullion.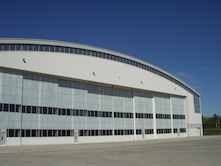 Optional, shallow vertical mullions enable the curtain wall to integrate with an existing structure. Large vertical spans can be achieved with deep, vertical mullion options. Aluminum caps also may be requested to cover pressure caps and provide a finished architectural appearance.
The framing system uses 38.95 percent recycled aluminum as standard and may be specified in a broad choice of finish types and colors. After its useful life as part of a curtain wall, the metal is 100 percent recyclable.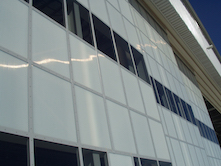 EXTECH engineers and manufactures LIGHTWALL 3000 at its facility in Pittsburgh to ensure performance as specified. "As part of our shop drawing and fabrication process, we ensure a weather-tight building envelope by pre-fabricating all the corner miters and sloped head/sill/jamb conditions to exact angles before shipping to the job site. This is a quality control measure to guarantee each piece fits precisely without the need for field measuring and cutting," explains Smith. "This substantially accelerates the installation process for construction teams and provides greater peace-of-mind for building owners."

To order a sample and learn about EXTECH's LIGHTWALL 3000, please visit the product webpage. For more information on EXTECH's products and services, please call 800-500-8083, email info@extechinc.com or visit https://EXTECHinc.com.
 
Exterior Technologies, Inc. (EXTECH) is an award-winning manufacturer and designer of wall, window, skylight, canopy and custom façade systems. The company delivers solutions for a variety of industries and applications, and are committed to collaboration, innovation and exceptional engineering.
###
Top two photos by Andy Spessard
---
Filed under: Products
---
Story Resources
Word document
Request high res photographs for publication