Historic St. Petersburg High School modernizes with Rockfon ceiling systems, updates for a 21st century learning environment
Posted on February 6th, 2023 by Heather West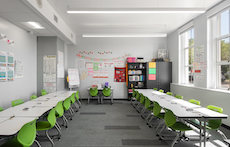 Florida's Pinellas County Schools celebrated the reopening of its updated and expanded St. Petersburg High School (SPHS). The original school, listed on National Register of Historic Places, opened in 1926 and was most recently renovated in the 1980s. Because of its status as an historic landmark, any changes to the school must meet strict guidelines to preserve its architectural style, while continuing to accommodate growing enrollment and to meet students' modern educational needs in the 21st century.

As part of its district-wide, two-year, phased modernization program, Pinellas County Schools and SPHS leaders worked with Rowe Architects and Creative Contractors to ensure an historically appropriate, aesthetically compatible result. The project scope involved renovating 271,000 square feet of interior space including classrooms, the auditorium and the administration offices, and adding a newly built 28,000-square-foot cafeteria.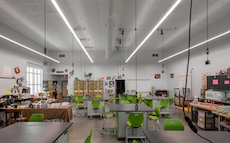 Visually Appealing, Durable Performance
Rowe Architects specified Rockfon Artic® acoustic stone wool panels for the majority of SPHS' interior, and Rockfon® Planar® linear metal ceiling systems for the cafeteria's interior and its exterior extension. Rockfon's metal and stone wool ceiling solutions deliver durable performance with minimal maintenance, contributing to the school district's long-term cost-effective operations.

For the cafeteria, Rockfon Planar metal panels compose a distinctive ceiling design that appears continuous as the ceiling transitions from inside to outside. "On the expansive interior, alternating sizes of 4-, 6- and 8-inch panel widths were used to vary the ceiling pattern. This helps visually break up the room's mass," explained Rockfon's architectural sales manager, Amy Neumann, IIDA, NCIDQ, RID, Allied AIA, CSI, NEWH.

She elaborated, "Extending this alternating pattern to the building's exterior was a challenge because the overhang wasn't flat. It has peaks and valleys to it, which required the multiple sizes of Rockfon Planar to be installed at different angles. To ensure a cohesive look, our Technical Services team worked from field measurements of the structure's elevations to create a 3-D building model. This rendering allowed the team to determine the slopes and interacting planes prior to installation on SPHS."

Following the 3-D model's plan, Acousti Engineering Company of Florida installed 13,000 square feet of Rockfon Planar for the cafeteria's indoor-outdoor ceiling. "Acousti's team was able to move quickly and confidently because they knew which width needed to be installed where and at what angle," said Neumann. "It turned out great!"

Safe, Supportive, Welcoming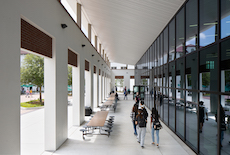 Renovation and construction at SPHS was completed on time for the high school to re-open with the 2021-22 academic year. The mission of St. Petersburg High School is to graduate all of its students with the skills to be successful in a global society by offering a rigorous, safe and supportive learning environment.

Throughout SPHS' classrooms, hallways, administrative offices and communal interior spaces, Acousti installed 30,000 square feet of Rockfon Artic 2-by-2-foot, square lay-in panels using a Chicago Metallic® ceiling suspension system.

Rockfon Artic ceiling panels offer an economical solution with standard sound absorption, Class A fire performance and a high-end aesthetic. The smooth white surface effectively reflects 85 percent of light. The school's large windows provide daylight and energy-efficient electric lighting, supporting the building's ENERGY STAR® certification.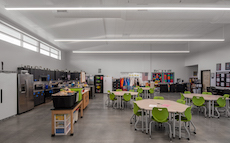 Important to Florida's climate, Rockfon's ceiling products on SPHS are hydrophobic, meaning they resist water and humidity. Without requiring added chemicals, the metal and stone wool material do not support the growth of mold, mildew or other microorganisms.

Like most Americans, children spend the majority of their time indoors. Because their lungs are smaller and still developing, young students are among those most susceptible to pollutants emitted from building materials. Products with low chemical emissions are recognized as contributing to indoor air quality. Rockfon stone wool ceiling products are UL® GREENGUARD® Gold Certified for low emissions in both office and educational environments.

Supporting material transparency and informed product evaluation, a UL Certified Environmental Product Declaration (EPD), a Health Product Declaration (HPD) and a Declare Label are available for Rockfon Artic ceiling panels. These ceiling panels are manufactured with a combination of abundant natural basalt and recycled content. They are easy to clean without harsh chemicals and are backed with a 30-year limited warranty.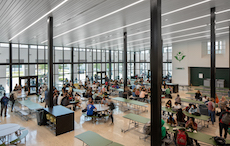 Architectural Landmark, Lasting Impression
William B. Ittner, AIA, designed the original 1926 school building on the current St. Petersburg campus. Considered one of the nation's most influential school architects, Ittner designed more than 500 school buildings across the U.S. His designs typically featured welcoming exteriors, natural lighting, integrated ventilation for healthy indoor air quality, open and interconnected interiors, functionally specific classrooms and purpose-built spaces intended for community use.

At the time of the school's opening, The Florida Education Association Journal and The Palmetto and Pine student newspaper included the following description: "The finest school building in the South ... superb equipment and unique architecture ...makes the three-story building look long, low, impressive ...an inspiration…"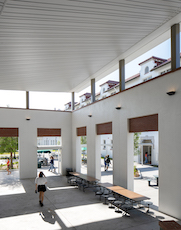 SPHS' National Register of Historic Places nomination elaborated, saying the school
"…is a tangible example of the civic achievement of St. Petersburg during the prosperous 'Boom Era' of the 1920s. It is architecturally the most significant educational building in the city, and an excellent example of the Mediterranean Revival Style. The architect, William B. Ittner, was a nationally recognized architect who specialized in the design of educational facilities. The plan and design of the school was so skillful that it has been little altered over the years and still satisfies the needs of a modern high school."

Through the decades, the historic landmark's architectural style and structure has been maintained with expansions employing respectful, appropriate designs to accommodate growing enrollment. Renovations and repairs have remained aesthetically compatible while incorporating new technologies, enhancing natural daylighting and ventilation, and increasing resiliency to fire, water and wind.

Approaching its 100-year anniversary, SPHS currently serves more than 2,000 students. Pinellas County Schools is the largest employer in Pinellas County, the eighth largest district in the state and the 28th largest district in the nation.
**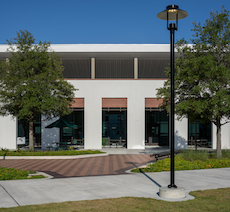 St. Petersburg High School (SPHS), 2510 5th Avenue North, St. Petersburg, FL 33713, https://www.pcsb.org/stpete-hs
• Owner: Pinellas County Schools; Largo, Florida; https://www.pcsb.org
• Original school (1926) – architect: William B. Ittner
• Renovation and expansion – architect/interior designer: Rowe Architects Incorporated; Tampa, Florida; http://rowearchitects.com
• General contractor: Creative Contractors Inc.; Clearwater, Florida; https://creativecontractors.com
• Ceiling systems – installing contractor and distributor: Acousti Engineering Company of Florida; Tampa, Florida; https://acousti.com
• Ceiling systems – manufacturer: Rockfon; Chicago; https://www.rockfon.com
• Photos by: Seamus Payne Commercial Photography
• "Before image (1999): https://www.floridamemory.com/items/show/343368


About Rockfon
Rockfon is part of the ROCKWOOL Group and is offering advanced acoustic ceilings and wall solutions to create beautiful, comfortable spaces.

At the ROCKWOOL Group, we are committed to enriching the lives of everyone who experiences our product solutions. Our expertise is perfectly suited to tackle many of today's biggest sustainability and development challenges, from energy consumption and noise pollution to fire resilience, water scarcity and flooding. Our range of products reflects the diversity of the world's needs, while supporting our stakeholders in reducing their own carbon footprint.

Stone wool is a versatile material and forms the basis of all our businesses. With approximately 11,500 passionate colleagues in 39 countries, we are the world leader in stone wool solutions, from building insulation to acoustic ceilings, external cladding systems to horticultural solutions, engineered fibers for industrial use to insulation for the process industry, and marine and offshore.
###
---
Filed under: Projects, Rockfon
---
Story Resources
Word document
Request high res photographs for publication