Client News: Linetec features Tubelite door with antimicrobial protection at AIA available in 30,000 colors for architectural metal products' high-touch surfaces
Posted on May 17th, 2016 by Heather West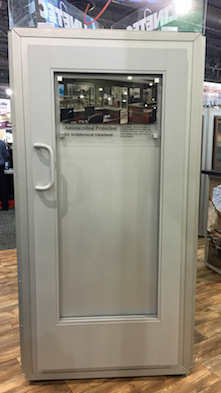 Linetec demonstrates antimicrobial protection for architectural metal products' high-touch surfaces, such as as shown on Tubelite Inc.'s entrance system during the American Institute of Architects (AIA) Convention and Expo in booth #1143. Linetec offers these high-performance coatings in more than 30,000 color choices.
"Linetec provides architectural coatings in nearly any imaginable color with protection that exceeds other conventional finishes on metal building products' interior and exterior surfaces," says Jon Close, Linetec's vice president of sales. "Antimicrobial protection can be specified for high-touch, architectural metal products' exterior and interior surfaces, such as hand rails, doors, windows, curtainwall, entrances, light shelves, panels and column covers "
Close adds, "Anywhere the growth of stain and odor-causing bacteria is a concern, projects can benefit from this extra level of protection. We understand that this is especially important for those working on health care facilities, educational campuses and other public building projects."
Providing further description of the uses and advantages of antimicrobial coatings, Linetec co-authored a white paper titled, Antimicrobial Protection for Public Building Applications. According to the paper, "The need for microbial control stems from the fact that there are an estimated 4.5 million bacterial and fungi species throughout the planet, many of which travel and migrate via the constant ebb and flow of human foot traffic through an ever-changing population of people visiting public buildings. Under the right conditions, some microbes can double in number every 30 minutes or faster."
Antimicrobial protection is infused into select polyvinylidene fluoride (PVDF) finishes to inhibit the growth of stain and odor causing bacteria on the coating of aluminum surfaces. Linetec relies on a fluoropolymer finish containing 70 percent Kynar 500® Fluorosurfactant Free (FSF) PVDF resin-based SHER-NAR™ 5000 Superior Performance Architectural Coating with antimicrobial protection. This three-coat system meets requirements of AAMA 2605, the most stringent specification for architectural coatings.
An environmentally responsible finisher, Linetec safely captures and destroys the volatile organic compounds (VOCs) present in liquid paints at the factory before arrival on the building site. These industry-leading practices complement other health-conscious and green building choices such as maintaining indoor air quality (IAQ) guidelines, using recycled aluminum content, and ensure a long-lasting, durable and sustainable finish.
The white paper is available free for download at www.linetec.com/PAINT/Antimicrobial-Protection-Whitepaper.pdf.
###
---
Filed under: Events, FGIA, Linetec, Products, Tubelite
---
Story Resources
Photo
Word document
Request high res photographs for publication