Client News: Technoform celebrates 50th anniversary
Posted on June 25th, 2019 by Heather West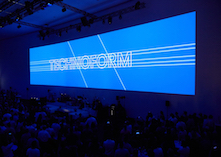 Technoform's global team of associates are celebrating the company's 50th year in business.
Founded in 1969 and based in Kassel, Germany, Technoform now has more than 1,400 associates in 45 production and distribution centers located across five continents. Its North American operations were established in 2005 and are headquartered in Twinsburg, Ohio.
"It's exciting to celebrate another milestone in our success that has been achieved as a result of the relationships with our customers, the partnerships with our suppliers and the entrepreneurial thinking and actions of our employees. We look forward to the next milestone as we continue to grow by adding value for our customers through our innovative products and services," said Milind Jhaveri, of Technoform North America.
Chad Ricker, also of Technoform North America, agreed and added, "We're proud to work at a family-owned, and financially independent organization that values its employees and its customers. Through this relationship-driven approach, we look forward to many more decades of success."
Technoform supplies a wide range of custom-made solutions and precision-engineered, standardized plastic products for a wide range of industries worldwide. The company provides designs and components for numerous markets, such as automotive and aircraft manufacturing industries, electrical engineering, heat recovery, and the fenestration and building industries.
In North America, Technoform is recognized for its high-performance insulating profiles for façades, cladding and fenestration systems. These products help save an estimated 1.5 million kWh of energy each year, significantly reducing the global level of CO2 emissions.
Approximately 1 billion meters (3.2 million feet) of profiles every year make Technoform the world's leading manufacturer in this specialized market. "We are specialists, and we will remain specialists," said Technoform's global managing partner Andreas Caprano. "The specialized extrusion process developed by Technoform allows us to create very complex geometries, with a wide variety of material compositions and properties, and exceptionally high precision."
Technoform's breadth of solutions and expertise can be seen on its global website, Technoform.com, which reflects its new, uniform corporate identity. For additional information about Technoform and its solutions for the North America market, please email info.us@technoform.com or call 330-487-6600.
Technoform provides high-performance insulative solutions for façades, cladding and fenestration systems. Its best-in-class building envelope products are developed through collaboration with its customer partnerships to boost thermal performance of windows, curtainwall and opaque façades. The relative low cost and high performance of Technoform's components help building designs to balance energy efficiency with occupant health and comfort without compromising aesthetics.
###
---
Filed under: Technoform
---
Story Resources
Photo
Word document
Request high res photographs for publication