Event News: Hamilton hosts Wayzgoose, unveils "Mardell" a new typeface designed by Louise Fili
Posted on October 1st, 2015 by Heather West
Now in its seventh year, Hamilton Wood Type and Printing Museum hosts its annual Wayzgoose Type Conference on Nov. 6-8. Participants may register online at http://woodtype.org.
Featured speakers for Wayzgoose 2015 include: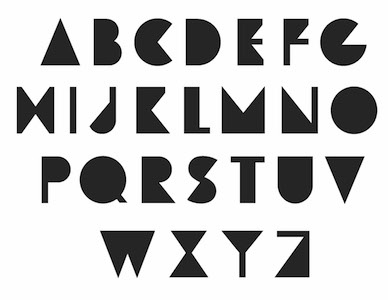 * Louise Fili – principal of Louise Fili Ltd., specializing in food packaging and restaurant identities. Formerly senior designer for Herb Lubalin, she was art director of Pantheon Books for 11 years, where she designed more than 2,000 book jackets. She is a member of the Art Directors Hall of Fame and is a recipient of the AIGA Medal for Lifetime Achievement. A best-selling monograph of her work, Elegantissima, was published in 2012.
In addition to her Friday night lecture, Fili's first typeface design will be unveiled during the Wayzgoose. Named "Mardell" for retired Hamilton type cutter, Mardell Doubek, this typeface will be available in both digital and wood type formats in early 2016.
"This was a wonderful opportunity to celebrate two of my favorite subjects: women and Italy," said Fili. "The bold, lively angularity of Italian futurist letterforms made it a natural choice for wood type. And since it is rare to find a typeface named after a woman, I was particularly pleased to know that this would pay tribute to veteran type cutter Mardell Doubek."
* Steven Heller – co-chair of the M.F.A. Design/Designer as Author + Entrepreneur program and the School of Visual Arts Masters Workshop in Rome. He writes a weekly column for The Atlantic online and The Daily Heller/Imprint online. He has written more than 170 books on graphic design, illustration and political art.
* Marian Bantjes – typographer, designer, artist and writer. Her work is included in the permanent collection of the Cooper-Hewitt National Design Museum. Thames & Hudson published her book titled, I Wonder, and a monograph of her work titled, Pretty Pictures. She is a member of Alliance Graphique Internationale (AGI).
* Daniel Rhatigan – Monotype's type director of Type Libraries. He works on custom type development projects and consults on typographic issues.
Other speakers and practitioners sharing their knowledge and insights during Wayzgoose 2015's three-day conference are:
* Judith Berliner – owner of Full Circle Press
* Laurie Corral – owner and director of Asheville Book Works
* Doug Clouse – designer, writer, partner of The Graphics Office, and a teacher at Fashion Institute of Technology at the State University of New York
* Amanda Degener – sculptor, co-proprietor of Cave Paper Inc., and a founder of the Minnesota Center for Book Arts
* Eva De La Rocha – printer and founder of Familia Plómez, a non-profit printing co-op
* Dan Elliott – designer, educator and letterpress printer based in North Carolina
* Paul Gehl – curator of the Newberry Library's collections on the history of printing
* Tracy Honn – artist, educator, curator, printer and the director of Silver Buckle Press; also serves on Hamilton Wood Type and Printing Museum's artistic board of advisors
* Bridget O'Malley – master papermaker, co-proprietor of Cave Paper Inc., and a teacher at Minneapolis College of Art and Design
* Judith Poirier – professor at the École de design, Université du Québec à Montréal
* Dan Schneider – industrial archaeologist, whose master's degree thesis addressed worker skill in wood printing type manufacture at the Hamilton Wood Type & Printing Museum
* Mark Simonson – independent type designer based in St. Paul, Minnesota
* Melanie Stockwell – owner of The Calico Press, director of the Villages Folk School, and county representative for the Southeast Iowa Artists Studio Tour
* Eric Woods – owner and founder of The Firecracker Press
"Wayzgoose brings together designers, printers, typographers and letter geeks of all stripes from across the globe," says museum director Jim Moran. "To keep a personal, hands-on approach, attendance is limited to 200 and filling quickly." Capacity is full for the Nov. 6 workshops, but attendees may request that their names be added to a waiting list.
Conference rates are $200 for students, $200 for members and $250 for non-members. Lodging is not included. Local hotel recommendations are available on Hamilton's website. Wayzgoose 2015 will be held in Hamilton's museum at 1816 10th St., Two Rivers, Wisconsin, across the road from Lake Michigan. The museum relocated to this 85,000-square-foot building in Nov. 2013. The move was made possible thanks to hundreds of volunteers and donors.
"A handful of amazing companies have stepped up to support us as Wayzgoose sponsors this year. We couldn't do this without them," added Hamilton's assistant director, Stephanie Carpenter.
Wayzgoose 2015 sponsors include:
* Event sponsor – Adobe Typekit
* Quarto sponsor – Neenah Paper
* Quarto sponsor – Monotype
* Octavo sponsor – Mohawk
Ongoing support is needed to continue the museum's educational outreach; collection acquisition, curation and exhibition; and facility upgrades. Please visit http://www.woodtype.org/support to make a donation.
About Hamilton Wood Type and Printing Museum
The Hamilton Wood Type and Printing Museum is the only museum dedicated to the preservation, study, production and printing of wood type. With 1.5 million pieces of wood type and more than 1,000 styles and sizes of patterns, Hamilton's collection is one of the premier wood type collections in the world. In addition to wood type, the museum is home to an amazing array of advertising cuts from the 1930s through the 1970s, all of the equipment necessary to make wood type and print with it, as well as equipment used in the production of hot metal type, tools of the craft and rare type specimen catalogs.
Hamilton Wood Type began producing type in 1880 and within 20 years became the largest provider in the United States. Today, volunteers of the Two Rivers Historical Society preserve this legacy and host educational demonstrations, field trips, workshops and offer opportunities with this vast wood type collection.
Follow Hamilton Wood Type and Printing Museum on Twitter at @hamiltonwoodtyp, on Facebook, on Flickr or on YouTube, or visit http://www.woodtype.org.
###
---
Filed under: Events
---
Story Resources
Image: Mardell typeface by Louise Fili
Word document
Request high res photographs for publication