Client News: Rockfon Contour acoustic baffles provide quietness, visual interest in commercial interiors
Posted on April 20th, 2015 by heatherwestpr
* ROCKFON is exhibiting at AIA Expo booth #3122 *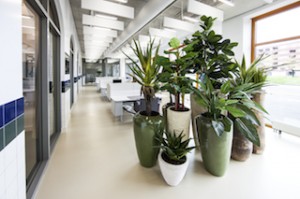 Rockfon® Contour™ frameless, stone wool acoustic baffles provide an alternative, acoustic solution for commercial interiors where suspended ceilings are not suitable. Ideally suited for acoustical corrections in renovations and retrofits, they also offer acoustic comfort and visual interest as a design feature in new restaurants and cafés, museums, call centers, manufacturing facilities and open-plan offices.
 
"With a sharp, minimalistic edge and a subtle, elegant bevel, Rockfon Contour frameless baffles hang vertically to create an aesthetically pleasing acoustic solution in challenging spaces," said Chris Marshall, ROCKFON's vice president of marketing and business development. "In historic buildings, baffles can be installed around high windows, structural beams, pillars, and other obstacles to maintain the existing architecture, while improving acoustic performance. For a contemporary, linear look, baffle systems also can be used in open plenum ceiling designs to mask the structure above it."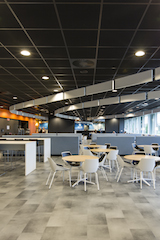 Rockfon Contour features a smooth texture and white color on both sides to optimize light reflection (LR 0.79). High light reflection supports daylighting and energy efficiency. Contributing to buildings' other environmental goals, Rockfon Contour products contain up to 39 percent recycled content. ROCKFON's extensive portfolio of stone wool acoustic ceiling solutions has earned UL® Environment's GREENGUARD Gold Certification for low-emitting products. Stone wool also is water-repellent and provides no sustenance to harmful microorganisms. These attributes are recognized by such programs as the U.S. Green Building Council's LEED® Rating System and the Collaborative for High Performance Schools' Criteria (CHPS).
 
In addition to acoustic, light reflection and environmental performance, Rockfon Contour baffles have a Fire Class A rating and are dimensionally stable even at high humidity levels of up to 100 percent relative humidity. For easy installation, these baffles are designed in a modular format of 1 foot 11-5/8 inches by 3 feet 11-1/4 inches by 2 inches. Providing low maintenance and long-term durability, ROCKFON products supplied in North America are supported with a 30-year warranty.
 
To learn more about Rockfon Contour baffles or other ROCKFON ceiling products, please visit http://www.rockfon.com, email cs@rockfon.com or call 800-323-7164.
###
---
Filed under: Products, Rockfon
---
Story Resources
Word document
Request high res photographs for publication