Client News: University's new aquatics center achieves LEED Gold with Tubelite's high-performance curtainwall, storefront and entrance systems
Posted on April 17th, 2020 by Heather West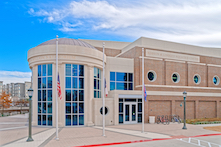 Southern Methodist University's (SMU's) new Robson & Lindley Aquatics Center and Barr-McMillion Natatorium stands as a gateway for the growing east campus and builds on a legacy of proud Olympians, world records and 155 national titles. Earning LEED Gold certification through the U.S. Green Building Council, the project also exemplifies SMU's commitment to sustainability.
To realize the project's aesthetic, performance and sustainability goals, glazing contractor B&B Glass, Inc. installed Tubelite Inc.'s high-performance 400CW Series Curtainwall, T14000 Series Storefront and Wide Stile Entrance systems. Contractor and LEED consultant, The Beck Group, led the project's 20-month construction.
Home to SMU's Dallas-based, internationally recognized men's and women's swimming and diving teams, the 42,000-square-foot center provides facilities for practice and competition. Brinkley Sargent Wiginton (BSW) Architects designed the new Aquatics Center to reflect the traditional Georgian architecture associated with the university.
The center's grand rotunda features a Tubelite's curtainwall in three towering two-story-tall sections to enclose this distinctive, curved corner. Between each curtainwall section, full-height, half-circle Tuscan columns in pale cast-stone add dimensional drama to the façade.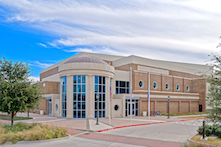 Bridging the light-colored masonry with the dark brown brickwork, round portal-inspired windows punctuate the walls that bookend the rotunda and extend along one wall as clerestory units. Along the street level of both walls, the center showcases more traditional, rectangular-shaped Tubelite storefront and entrance systems.
According to SMU's Office of Facilities Planning and Management, "occupants in more than 90% of all regularly occupied spaces have a direct line of sight to the outdoors, which enables them to maintain a visual connection to the surrounding environment."
Tubelite's high-performance window systems also played a key role in the integrated strategies to reduce the building's energy usage, while providing for greater comfort level of occupants. A computer simulated model predicted the potential for 31% energy use reduction overall.
The building team also made a conscious effort to use products that have a high recycled content and low volatile organic compound (low-VOC) content levels. Tubelite's aluminum framing members can be manufactured with recycled content and finished in low-emitting paints and coatings. For SMU's Aquatics Center, the aluminum contains up to 70% recycled content and was finished by Linetec in Class 1 Clear Anodize.
Linetec's no-VOC, eco-friendly anodize produces a frosty, matte finish that helps hide small imperfections sometimes seen in recycled aluminum. These qualities have helped Linetec's anodize earn a Declare Label as Living Building Challenge™ Red List Free, which is recognized by LEED and other sustainable building programs.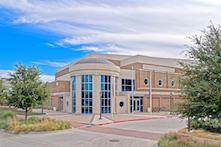 Because anodize is the most durable finish available, Tubelite's aluminum-framed curtainwall, storefront and entrance systems further support SMU's goals of creating "attractive, low-maintenance spaces."
At the end of its useful life on the building, Tubelite's aluminum framing can be reused and recycled. The Aquatics Center's building materials totaled more than 27% of recycled content by cost, and over 90% of all construction waste was recycled.
Further supporting its LEED Gold certification, the project is convenient to transit and pedestrian paths, uses low-flow plumbing fixtures, and employs high-efficiency mechanical and lighting systems. SMU also has purchased green power to help offset its energy use and completed enhanced commissioning to ensure all systems ran as designed.
Meeting or exceeding expectations, the Aquatics Center features an Olympic-sized, eight-lane indoor pool with a platform diving area, including four springboards and a 10-meter tower for training and competition. Coaches' offices; men's, women's and visitor locker rooms; and a classroom and meeting area are located adjacent to the pool. Spectator seating for 800 is on the mezzanine level.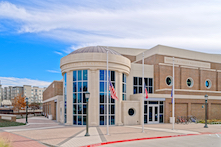 A permanent exhibit in the Aquatics Center honors former swimmers, divers and coaches who have built SMU's program and reputation. The building's name honors the leading donors, Emily and Bruce Robson, Hannah and Joe Robson, and Shelli and Steve Lindley. The natatorium also pays tribute to two of SMU's most recognized coaches: A.R. "Red" Barr and George "Coach Mac" McMillion.
Since 1952, SMU men's and women's swimmers have qualified for 91 Olympic appearances, winning eight gold medals, eight silver and four bronze. Current swimming and diving head coaches have continued the Mustang legacy. SMU women's coach Steve Collins has led the national teams of Slovakia and Bulgaria. Men's coach Eddie Sinnott served as the head coach for Haiti in 1996 and assistant manager of the U.S. team in 2008.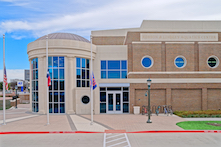 "SMU swimmers and divers have a legendary record of success, both in the pool and in the classroom," said SMU President R. Gerald Turner. "The facilities at the Aquatics Center will help student-athletes continue the Mustang swimming legacy, and enable fans to enjoy the highest levels of competition at a premier venue."
**
Southern Methodist University, Robson & Lindley Aquatics Center and Barr-McMillion Natatorium, 5550 SMU Blvd., Dallas, TX 75206; https://smumustangs.com/facilities/robson-lindley-aquatics-center-and-barr-mcmillion-natatorium/29
* Owner: Southern Methodist University; Dallas; https://www.smu.edu
* Architect: Brinkley Sargent Wiginton (BSW) Architects; Dallas; https://www.bsw-architects.com
* Contractor and LEED consultant: The Beck Group; Dallas; https://www.beckgroup.com
* Curtainwall, storefront, entrance systems – glazing contractor: B&B Glass, Inc.; Dallas; http://bbglasstx.com
* Curtainwall, storefront, entrance systems – manufacturer: Tubelite Inc.; Walker, Michigan; https://www.tubeliteinc.com
* Curtainwall, storefront, entrance systems – glass: Tristar Glass, Inc.; Catoosa, Oklahoma; http://www.tristarglass.com
* Curtainwall, storefront, entrance systems – finishing: Linetec; Wausau, Wisconsin; https://linetec.com
* Photographer: Joe Hernandez
About Tubelite Inc.
For 75 years, glazing contractors have counted on Tubelite's dependable service, fabrication and distribution of architectural aluminum products. Part of Apogee Enterprises, Inc., the company is an industry leader in eco-efficient storefront, curtainwall and entrance systems, and recognized for its fast, reliable and consistent delivery.
Tubelite's corporate office, fabrication, warehouse and shipping operations are located in Walker, Michigan. Its Dallas location provides additional fabrication, warehouse and shipping operations. Its facility in Reed City, Michigan, houses the company's aluminum extrusion operation. The company also has an office in Warwick, Rhode Island.
Tubelite and its staff are members of the American Architectural Manufacturers Association (AAMA), the American Institute of Architects (AIA), the Construction Specifications Institute (CSI), the Fenestration and Glazing Industry Alliance (FGIA) , the National Glass Association/Glass Association of North America (NGA/GANA), the National Fenestration Rating Council (NFRC), the Society of Military Engineers (SAME) and the U.S. Green Building Council (USGBC).
To learn more about Tubelite's products, please visit www.tubeliteinc.com.
###
---
Filed under: Linetec, Tubelite
---
Story Resources
Word document
Request high res photographs for publication