Client News: D.C.'s Atlantic Plumbing residences features industrial-inspired design with Wausau's windows and terrace doors
Posted on June 20th, 2017 by Heather West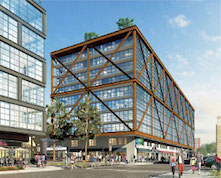 Welcoming new residents, Atlantic Plumbing sits at the north end of Washington, D.C.'s Shaw neighborhood on the corner of 8th and V streets. Developer The JBG Companies tapped New York-based Morris Adjmi Architects, which teamed with local architect Eric Colbert and Associates, to design the Class A project as two new industrial-style buildings.
At 2112 8th Street, a 310-unit, 11-story, 281,195-square-foot rental building features a cantilevered glass and aluminum box framed in a steel truss exoskeleton. At 2030 8th St., the six-story building's exterior is composed of brick, aluminum and glass accented with vertical gardens, enclosing 62 residential units and 4,700 square feet of thoughtfully curated, ground-level retail.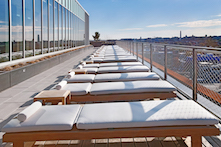 Both buildings reflect the Shaw neighborhood's history and enhance its current position at the center of D.C.'s arts, entertainment and cultural landscape. Signage, bricks and steel salvaged from the former Atlantic Plumbing Supply Co. building that once occupied the site have been incorporated into Atlantic Plumbing's lobby. The buildings feature contemporary interior finishes, 9-foot-tall ceilings, and panoramic views of the city and private terraces framed by an assortment of high-performance products from Wausau Window and Wall Systems.
Wausau worked closely with the project's glazing contractor, Service Glass Industries, Inc., as guided by the design team and general contractor HITT Contracting. HITT noted the project's contract value at $78 million.
Shared Vision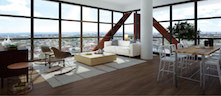 "Our vision is to design an original project with a modern, industrial vibe that feels as though it has always been an integral part of the neighborhood," said JBG's James Nozar.
Selected to communicate this vision, Morris Adjmi, founder and principal of Morris Adjmi Architects, has a passion for industrial architecture that has inspired a movement to revitalize and restore life to historic neighborhoods. The firm draws from history and looks to the future, creating work that is both contemporary and timeless. Inspired by the artist lofts of New York City's Meatpacking District, Atlantic Plumbing's design stands apart from many of the cookie-cutter apartments available in northwest D.C.
Adjmi told The Washington Post, "We wanted a large glass building, yet one that fits in with the language of the neighborhood where there are a lot of brick homes. The metal structure has channels set in to resemble factory walls."
High-Performance Durability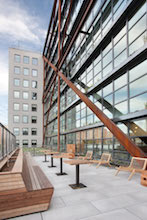 Bringing the developer and architect's shared vision to life, Wausau provided Service Glass Industries with more than 600 INvent Retro™ windows units with true muntin grids for 2030 8th Street's condominiums and approximately 2,130 INvent Retro windows, 30 Terrace Doors and 4,300 square feet of factory-glazed INvision™ HRX window wall for 2112 8th Street's apartments.
Beveled glazing rebates enhanced the historically influenced appearance of both fixed and operable windows. Weather permitting, the operable windows allow tenants to enjoy fresh air, in addition to year-round daylight and views. These seasonal opportunities for natural ventilation also help reduce the demand on HVAC systems and associated energy use.
All of Wausau products on Atlantic Plumbing's two buildings incorporate extra-wide polyamide thermal barriers, which contribute to the building's thermal performance, condensation resistance and energy efficiency. To achieve this performance, Linetec provided the thermal improvement services for all of Wausau's aluminum products, as well as the finishing.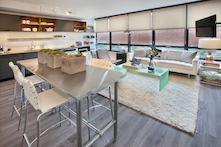 All of the aluminum framing members and muntin grids for the window, door and window walls were finished in a four-coat, 70 percent polyvinylidene fluoride (PVDF) resin based, liquid paint. On the first and second floors and penthouse units, a Duranar® Sunstorm® Silver color was applied. On the rest of the floors, Duranar XL Charcoal Grey was used. Applied under Linetec's stringent factory-controlled processes, these durable finishes meet the AAMA 2605 industry standards, as well as minimize buildings' maintenance costs and maximize long lifecycles.
Verifying their functionality and reliability, all Wausau INvent Retro windows on Atlantic Plumbing were tested to meet AW-100 Architectural Performance Class requirements set by the North American Fenestration Standard AAMA/WDMA/CSA 101/I.S.2/A440-11 (NAFS). The standard includes stringent criteria for air, water and structural performance, including AAMA 910-16 lifecycle testing to 4,000 operating cycles.
Amenities and Awards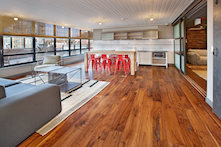 Opened in April 2015, most of Atlantic Plumbing's units are occupied with a few studios and one- to two-bedroom units currently available for rent. Along with the fine finishes and views, Atlantic Plumbing residences enjoy such building amenities as a full-service concierge, a fitness center, a resident lounge, private garden plots, rooftop pool, and the convenient proximity to the Shaw neighborhood's many dining and entertainment options.
Honoring Atlantic Plumbing's accomplishments in concept, design and execution, the project team has received honors from the Associated Builders & Contractors (ABC) Excellence in Construction Honorable Mention, Residential / Multifamily High Rise, Engineering News Record Mid-Atlantic 2016 Best Project Award of Merit for Residential Hospitality, the National Association of Industrial and Office Properties (NAIOP) D.C. and Maryland 2015 Award of Excellence for Best Multifamily Project, the Urban Land Institute (ULI) of Washington with a 2016 Excellence in Housing Development Award, and the Washington Building Congress (WBC) 2016 Craftsmanship Award.
**
Atlantic Plumbing, 2112 and 2030 8th St. NW, Washington, D.C. 20001; http://atlanticplumbingdc.com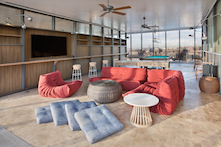 Developer: The JBG Companies®; Chevy Chase, Maryland; http://www.jbg.com/#2030-8th-Street-property-gallery
Architect: Morris Adjmi Architects; New York; http://www.ma.com
Architect of record: Eric Colbert and Associates; Washington, D.C.; http://www.eca-pc.com
General contractor: Hitt Contracting Inc.; Falls Church, Virginia; http://hitt.com
Glazing contractor: Service Glass Industries; Frederick, Maryland; http://www.serviceglass.com
Glazing systems - manufacturer: Wausau Window and Wall Systems; Wausau, Wisconsin; http://www.wausauwindow.com
Glazing systems - glass fabricator: Oldcastle BuildingEnvelope with PPG Solarban 60
Glazing systems - finisher: Linetec, Wausau, Wisconsin; http://www.linetec.com
Photos courtesy of: The JBG Companies®, http://atlanticplumbingdc.com/gallery/
Penthouse tour: https://my.matterport.com/show/?m=GcvDxbGqN1g//?utm_source=UrbanTurf_article_08-09-16
ULI Washington's Award video: https://vimeo.com/164411641

Nationally recognized for its innovative expertise, Wausau Window and Wall Systems is an industry leader in engineering window and curtainwall systems for commercial and institutional construction applications. For 60 years, Wausau has worked closely with architects, building owners and contractors to realize their vision for aesthetic beauty, sustainability and lasting value, while striving to maintain the highest level of customer service, communication and overall satisfaction. Wausau is a part of Apogee Enterprises, Inc., a publicly held, U.S. corporation.

Wausau and its staff are members of the American Architectural Manufacturers Association (AAMA), the American Institute of Architects (AIA), the APPA – Leadership in Educational Facilities, the Construction Specifications Institute (CSI), Glass Association of North America (GANA), the National Fenestration Ratings Council (NFRC) and the U.S. Green Building Council (USGBC).
---
Filed under: FGIA, Linetec, Projects, Wausau Window and Wall Systems
---
Story Resources
Word document
Request high res photographs for publication