Client News: 19th century carriage house transformed for 21st century living with RHEINZINK-GRANUM zinc roofing and wall cladding
Posted on September 14th, 2021 by Heather West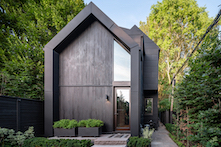 Transforming a 140-year-old carriage house for the next century, Steven Fong Architect reinvented the Woodlawn residence of southern Ontario with contemporary style and resilient materials using RHEINZINK-GRANUM architectural grade zinc. Now called the "House of Four Gables," the 1,205-square-foot, two-story home maximizes the floorspace inside within the lot's tight borders.
"This small structure is by necessity something of a bespoke garment. However, the owner has happily discovered that the copious well considered storage and open loft-like spaces have admirably performed to make this a very livable home," said architect Steven Fong. "Imagining an urban pied-à-terre, our client wanted a restful retreat; a secluded place set apart from, yet in the midst of, the city. Also envisioned at the outset were evocations of a cherished wilderness cabin; and, just beyond the doorstep, an abundant entourage of favored perennials."
Built by Den Bosch + Finchley, Novak Cladding custom-fabricated and installed 5,500 square feet, approximately 3 tons, of RHEINZINK-GRANUM material. Supplied by Agway Metals, the large, flat-lock tiles wrap the exterior walls, columns and steeply pitched roof.
To give the Woodlawn residence its distinctive appearance, Fong specified RHEINZINK-GRANUM with a dark gray basalte matte finish. The metal roof and wall tiles were set in a horizontally oriented, staggered pattern that resembles the prior brickwork base and wood-clad siding. Beyond the modern interpretation of its vintage aesthetic, portions of the original framing and foundation were preserved. The historic structure's extensive renovation needed to observe the Heritage Conservation District's guidelines, adhere to the established zoning requirements and retain the setbacks.
"The malleable skin of zinc allowed us to twist, turn and shape this volume, successfully navigating between the zoning bylaw's idiosyncratic prescriptive morphology and our interest in creating a legible architectural form," described Fong.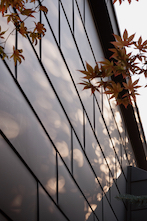 He added that the material presence of the RHEINZINK-GRANUM dark gray basalte zinc; the stained, heavy timber, white pine; the sapele mahogany frames; and the local limestone "transcends an abstraction to make an engaging experiential typology."
"The House of Four Gables is one of the first projects in North America to feature our new RHEINZINK-GRANUM material," said Richard Strickland, RHEINZINK America's regional sales manager. "The basalte finish option provides an immediate dark gray matte appearance that pairs well with the project's different exterior wood species, clear and frosted glass, and other building materials."
For centuries, European homes and buildings have relied on zinc building materials. Founded in 1966 in Germany, RHEINZINK is one of the world's leading producers of architectural grade zinc. RHEINZINK-CLASSIC bright zinc and RHEINZINK-prePATINA blue-gray and graphite-gray zinc were among its first products introduced to North America in the early 1990s. Last year, it expanded the product offering to include RHEINZINK-GRANUM in basalte and skygrey.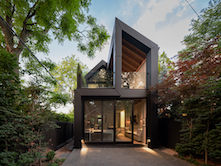 "Over time, the dynamic qualities of the finish and the zinc alloy naturally patinate to a blue-gray tone. The ever-changing, unique coloration and character will continue to evolve throughout the decades," explained Strickland.
Fong added, "One neighbor voiced appreciation for the quiet presence of this house, sited unobtrusively in the middle of the block. He noted how the light plays off the cladding, casting different tones at different times of the day; and that this mutability makes it compatible with the natural setting of trees and vegetation in the area."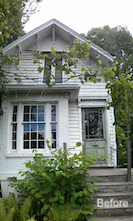 The Woodlawn residence originally served as a carriage house for James Avon Smith's lake-area country estate. A professional architect, Smith not only owned the structures, but also designed them. According to the Heritage Conservation District Study, "By the mid-1800s, Toronto's wealthiest and most prominent families established country estates on the Hill; this elevated enclave was prized for both its views of the city and its healthier atmosphere."
Located in the Summerhill neighborhood, the former carriage house is now a single-bedroom residence in Ontario's Saint Clair community. The town sits east of the St. Clair River, which serves as the international border between Ontario, Canada and Michigan. The river connects to Lake Huron on the north and Lake St. Clair to the south, where it flows into the Detroit River and eventually, to Lake Erie.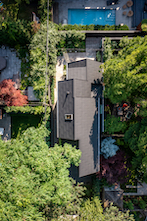 Even with the Great Lakes' windy, winter conditions, RHEINZINK-GRANUM maintains its self-healing, low-maintenance, corrosion-resistant performance with a potential lifespan of up to 100 years. Strickland elaborated, "This long-lasting, weather-resistant and sustainable zinc material is ideal for resilient roofing, façade and wall cladding systems. At the end of its useful life on the roof or wall façade, it remains 100% recyclable."
"We wanted a non-combustible, low-maintenance cladding that could readily conform to the shape of the massing," summarized Fong. "With RHEINZINK panels, we were able to achieve these objectives, while at the same time benefiting from the added-bonus of a material that would patina and looks better and better with age."
**
House of Four Gables - Woodlawn residence, St. Clair, Ontario, Canada
• Architect: Steven Fong Architect; Toronto; https://fongarchitect.com
• Designer/builder: Den Bosch + Finchley; Toronto; https://www.denbosch.ca
• Zinc roofing and cladding systems – installer and fabricator: Novak Cladding Ltd.; Mississauga, Ontario; https://novakcladding.com
• Zinc material – distributor: Agway Metals Inc.; Brampton, Ontario; http://www.agwaymetals.com
• Zinc material – manufacturer: RHEINZINK; Woburn, Massachusetts; https://www.rheinzink.us
• "Before" images: Steven Fong
• "After" images – photographer: Scott Norsworthy
RHEINZINK America, Inc. led the introduction of architectural zinc in North America and continues to offer one of the industry's most reliable, trusted brands. Its portfolio of products includes RHEINZINK-CLASSIC® bright rolled, RHEINZINK-prePATINA® blue-gray and graphite-gray, RHEINZINK-artCOLOR® in an array of colors, RHEINZINK-GRANUM® basalte and skygrey; and RHEINZINK-PRISMO® color-pigmented, architectural-grade zinc options.
Architects and contractors are supported by unparalleled customer service and technical assistance. RHEINZINK is readily available through an established network of qualified distributors and systems partners across the United States, Canada and Mexico. Ideal for roofing, façade and wall cladding systems, gutter and interior applications. RHEINZINK is environmentally friendly, 100% recyclable and offers a potential lifespan of 100 years or more. For more information on RHEINZINK, call 781-729-0812 or visit https://www.rheinzink.us.
###
---
Filed under: Projects, RHEINZINK
---
Story Resources
Word document
Request high res photographs for publication