Association News
Posted on December 18th, 2017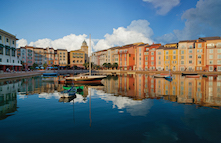 The American Architectural Manufacturers Association (AAMA) has opened registration for the AAMA 81st Annual Conference, to be held Feb. 19-22, 2018 in Orlando at the Loews Portofino Bay Hotel. This is the first-ever conference AAMA is hosting with the association's new Monday through Thursday schedule. A special rate is guaranteed through Jan. 26, and attendees are encouraged to book before this date. The AAMA Southeast Region 2018 Winter Meeting immediately will follow the conference in the same location, and separate registration is required.
The keynote speakers for the event will be two representatives of The Afterburners, giving a presentation called, "Plan, Brief, Execute, Debrief = Win." Afterburner, Inc.'s founder Jim "Murph" Murphy, started the company, which helps organizations "effectively leverage team experience, lessons learned and structure planning processes to achieve new levels of success." The company does this with the help of the Flawless Education® Cycle, a tool Murphy created after being inspired by his work as an F-15 fighter jet pilot. Two speakers closely familiar with Murphy's philosophies will speak at the conference about them and how they can be applied to businesses.
Other speakers will cover a range of industry-specific and professional growth topics:
* Joe Hetzel from the Door & Access Systems Manufacturers Association (DASMA) will present, "Pedestrian Doors & Vehicular Access Doors: Similarities & Differences."
* Dr. Fiona Solomon from the Aluminum Stewardship Initiative (ASI) will give an address called, "Sustainability Standards & Certification in Raw Materials Supply Chains."
* Cristian Barcan from the Vinyl Institute (VI) will give an update on the vinyl industry.
* AAMA Communications Coordinator Meryl Williams will host a workshop entitlted, "The Who, What and Why of Twitter: Better Engage Existing and Potential Customers."
Conference registrants can look forward to the annual awards banquet the night of Feb. 20, which has the theme "Italiana." The dress code is business attire, and a jacket is recommended for photos. Additionally, an optional golf scramble will be held on Monday at Grand Cypress Golf Club, on a new course.
More information about AAMA and its activities can be found via the AAMA website, https://aamanet.org.
AAMA is the source of performance standards, product certification and educational programs for the fenestration industry.SM
###
---
---
Story Resources
Request high res photographs for publication