All-new, all-modern health care campus in Dallas/Fort Worth showcases Rockfon ceiling systems
Posted on December 30th, 2022 by Heather West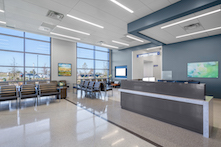 The new Texas hospital rises four stories with initial capacity for 95 beds. Comprehensive services include a 24/7 emergency room, general surgery, women's services, orthopedics, interventional cardiology, gastroenterology, imaging, laboratory and pharmacy. The 38-acre campus also hosts an 80,000-square-foot medical office building offering primary care and specialty practices.
"The Beck Group truly understands the acoustic, infection control and aesthetic benefits that our complete ceiling solutions offer, especially to health care facilities," said Will States, Rockfon's district manager.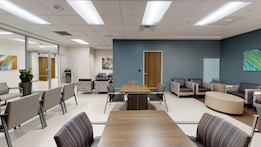 States elaborated, "Stone wool is hydrophobic, meaning that it resists water, humidity and moisture. It also inherently resists fire. No added flame retardant or antimicrobial chemicals are needed to produce these performance benefits. Stone wool naturally resists the growth of mold, mildew or other potentially harmful microorganisms. Our stone wool ceiling panels are durable, easy to clean and support indoor air quality."
All Rockfon stone wool ceiling panels are UL® Environment GREENGUARD® Gold Certified for low-emitting products. This stringent certification process considers safety factors that may impact people who are more vulnerable, such as children, seniors and those with compromised health.
Acoustic comfort is also critical to healing and recovery. Guidelines for the design and construction of health care facilities, published by the Facilities Guidelines Institute (FGI), require that "all normally occupied healthcare facility spaces shall incorporate acoustic surfaces."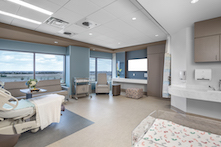 As part of a hospital's optimized acoustic design strategy, Rockfon's sound-absorbing, stone wool ceiling panels achieve noise reduction coefficient (NRC) ratings of 0.90 and higher. This is considered the best NRC absorption category.
Throughout the new hospital in Texas, Rockfon Sonar® acoustic stone wool panels perform at the best noise reduction coefficient (NRC) category, demonstrated with a 0.95 NRC rating. Rockfon Sonar panels in 2-by-2, 4-by-4 and 2-by-6-foot sizes with a square tegular narrow profile were installed in a Chicago Metallic® 4000 Tempra™ 9/16-inch suspension grid to create the ceilings in the lobbies, hallways and patient rooms.
High NRC ceiling panels improve speech privacy and help ensure design complies with HIPAA policies. Further enhancing speech intelligibility, sound-absorbing ceiling panels make communication between staff and patients easier and clearer. Along with the patients' environment, optimized acoustic strategies also support the medical care team's concentration and accuracy, and occupants' and visitors' overall experience.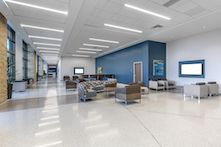 For the Texas hospital's food service areas, The Beck Group specified Rockfon® Hygienic Plus™ 2-by-2-foot acoustic stone wool panels with a 0.90 NRC rating. These square lay-in tiles were installed using Chicago Metallic 1200 Series 15/16-inch exposed suspension system. The panels' edges are sealed to withstand repeated cleanings and enhance the ceiling's resiliency for decades to come.
Dining together provokes a distinct feeling of personal and communal connection. At a hospital, a cafeteria can be an oasis for families, staff and physicians. Balancing privacy and conversation in these spaces, can be almost as essential as in patients' rooms.
The hospital's CEO noted, "We can't push 'pause' for this pandemic because the health care needs of those who depend upon us simply won't wait. In fact, our communities need us now more than ever. …Despite the many challenges that have presented this year, we were able to move forward with this important project."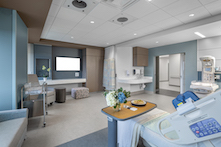 The hospital's leaders shared a vision "to be transformative to people by being holistic, exceptional, connected, affordable and viable. This focus will go beyond just our patients. It's going to include our team members, our physicians, our patient families, our vendors, our community members and any other person who walks through our doors."
New hospital in the Dallas/Fort Worth area, Texas
• Owner: Name withheld as requested
• Architect and contractor: The Beck Group; Dallas
• Ceiling systems – installing contractor: Integrated Interiors, Inc.; Fort Worth, Texas
• Ceiling systems – distributor: T-5 Distributors; Forest Hill, Texas
About Rockfon
Rockfon is part of the ROCKWOOL Group and is offering advanced acoustic ceilings and wall solutions to create beautiful, comfortable spaces.
At the ROCKWOOL Group, we are committed to enriching the lives of everyone who experiences our product solutions. Our expertise is perfectly suited to tackle many of today's biggest sustainability and development challenges, from energy consumption and noise pollution to fire resilience, water scarcity and flooding. Our range of products reflects the diversity of the world's needs, while supporting our stakeholders in reducing their own carbon footprint.
Stone wool is a versatile material and forms the basis of all our businesses. With approximately 11,500 passionate colleagues in 39 countries, we are the world leader in stone wool solutions, from building insulation to acoustic ceilings, external cladding systems to horticultural solutions, engineered fibers for industrial use to insulation for the process industry, and marine and offshore.
---
Filed under: Projects, Rockfon
---
Story Resources
Word document
Request high res photographs for publication