Client News: Technoform Bautec provides customized solution for Wausau's new CrossTrak Sliding Doors
Posted on April 27th, 2017 by Heather West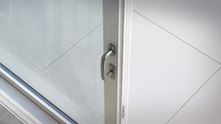 Technoform Bautec assisted its long-time customer, Wausau Window and Wall Systems, with the newly introduced CrossTrak™ Sliding Doors. Developed for high-rise balconies' expansive views and easy operation, these large doors' operable and fixed panels span up to 8 by 10 feet and feature a rigid 5-7/8-inch-deep aluminum frame, insulating glass units and Technoform Bautec customized polyamide insulating profiles.
Customized for CrossTrak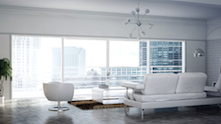 "CrossTrak is different from other sliding glass doors," explained Steve Fronek, P.E., Wausau's vice president of design engineering. "Each panel is an independent, factory-glazed frame that's guaranteed square. These side-stacking frames self-align on an extruded anchor or receptor. An interlocking polyamide channel, fitted with a stainless steel roller track insert, runs continuously across the sill, creating the 'cross track.' Unlike other doors, CrossTrak is easy to install plumb, square and level – even in large openings."
"Working with Wausau, we provided a thermally broken roller track that could handle the oversized CrossTrak door panels, which can weigh up to 880 pounds per panel," said Chad Ricker, Technoform Bautec market team member. "Our solution was to take our traditional roller track profile and redesign it to include a stainless steel insert. The track allows for optimal thermal performance, while meeting the structural requirements for the oversized panels."
Technoform Bautec's high-precision, extruded polyamide, insulating profiles improve thermal performance of aluminum-framed window, door and facade systems. High-performance glazing systems that rely on these polyamide thermal barriers for aluminum separation to lower conductivity, thereby reducing the thermal transmittance (U-Factor), while increasing condensation resistance. Low U-Factors allow broad expanses of vision glass to meet Model Energy Codes and contribute to buildings' energy efficiency, appearance and long-term durability.
Technoform Bautec's catalog contains more than 600 available thermal barrier product designs, known generically as "thermal strip." Ricker elaborated, "Beyond our wide range of standard profiles, there are numerous custom designs we develop exclusively for optimizing and redesigning customers' proprietary window, door and facade systems. We are constantly looking for ways to maximize a system's thermal performance, while maintaining the design aesthetics and performance requirements."
Aesthetic and Economic Advantages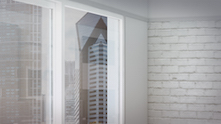 Linetec provides both finishing and thermal improvement services for Wausau, including its new CrossTrak Sliding Doors featuring the Technoform Bautec customized polyamide insulating profile. Because the door panels' interior and exterior components can be finished before assembly of the thermal strip system, dual-color designs, or even dual finishes, can be achieved easily and efficiently. With other thermal improvement systems, dual-color, or "two-tone," finishing involves painting one side of the material one color; then masking it off and painting the other side a different color.
For two-color frame finishing using paint at the interior and exterior, Linetec estimates that Technoform Bautec's thermal strip system painted assemblies are 400 percent less expensive than other thermal barrier methods that require time-consuming masking.
"When the building design calls for different interior and exterior finishes, thermal strip becomes the most economical option," noted Linetec's senior marketing specialist, Tammy Schroeder, LEED® Green Associate. "When a two-tone anodize is specified – or a paint and anodize interior/exterior – it is practically impossible to accomplish with anything other than thermal strip."
High Performance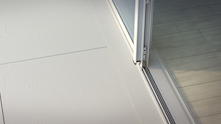 Technoform Bautec's polyamide composition creates a highly effective thermal barrier that helps insulate 500 times better than aluminum. Because it expands and contracts at a rate similar to aluminum, Technoform Bautec's insulating profiles deliver long-term durability and water-tightness in a properly assembled profile. It also resists heat distortion and withstands most chemicals used in the construction industry.
Wausau's new CrossTrak products are offered in a choice of inside track doors for use behind Juliet balconies, or outside track doors with accessible thresholds, operated by either conventional or lift-and-slide hardware. All available options were tested rigorously, to help ensure performance across the broad selection of project-specific configurations.
These Euro-style lift-and-slide doors were tested to withstand high-rise wind loads and achieve ratings up to AAMA AW-100 (Architectural) Performance Class as established by the North American Fenestration Standard AAMA/WDMA/CSA 101/I.S.2/A440-11 (NAFS). The NAFS standard includes stringent criteria for air, water and structural performance, as well as thermal cycling and durability testing to 4,000 operating cycles.
Understanding other key design considerations in high-rise residential projects, Wausau's available battery of test reports on these doors includes acoustic performance, thermal transmittance and condensation resistance. The doors are listed in the National Fenestration Rating Council (NFRC) Component Modeling Approach database for quick access to energy performance values, certification and rating information.
"Our in-house NFRC-certified thermal simulators analyze a product's anticipated thermal values thereby ensuring the product will function as designed," added Ricker.
Beyond performance metrics, Technoform Bautec's insulating profiles also can contribute to building teams' wellness and sustainable project goals, such as the daylighting and material health ingredient criteria detailed in the U.S. Green Building Council's LEED v4. Demonstrating its commitment to these practices, Technoform Bautec's insulating profiles were awarded a Gold Material Health Certificate by the Cradle to Cradle Products Innovation Institute.
To learn more about Wausau's CrossTrak Sliding Doors and other high-performance products, please visit http://www.wausauwindow.com.
To learn more about Technoform Bautec, please email info@technoform.us, call 330-487-6600 or visit http://www.technoform-bautec.us.
A member of Technoform Group, Technoform Bautec North America Inc., specializes in developing and manufacturing high-precision polyamide insulation profiles, as well as special solutions for aluminum windows, doors, and façades. The company globally produces more than 1 billion feet of insulating profiles annually. An innovative, industry leader for nearly 40 years, its worldwide market presence comprises eight production plants on three continents to ensure short lead times, and 22 sites worldwide to enhance close customer support.
###
---
Filed under: FGIA, Linetec, Products, Technoform, Wausau Window and Wall Systems
---
Story Resources
Image 1: Wausau CrossTrak™ Sliding Doors
Image 2: Wausau CrossTrak™ Sliding Doors
Image 3: Wausau CrossTrak™ Sliding Doors
Image 4: Wausau CrossTrak™ Sliding Doors
Word document
Request high res photographs for publication