Client News: Rockfon North America launches new website featuring intelligent search, improved and expanded content, value-added tools
Posted on October 3rd, 2018 by Heather West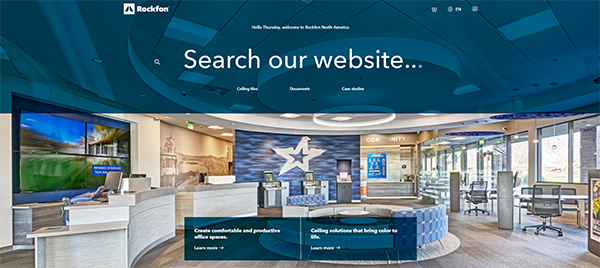 Rockfon North America reintroduces Rockfon.com, providing visitors with intelligent search functionality, responsive design and streamlined navigation to improve their experience and quality across desktop and mobile devices. The site's expanded and improved content can be customized to each visitor's interests as they return and engage with the site.
"Our new website provides quicker, easier and better access to the information our customers need and other visitors are seeking," says John Medio, president of Rockfon North America. "Our new website's expanded, improved and more targeted content creates a better, personalized online experience for every type of customer."
The new web platform was developed by Rockfon's parent company, the ROCKWOOL Group, and localized for the North American market. Medio continues, "We recognize the importance of providing our customers with the information they need – quickly and efficiently – which is why Rockfon, as part of the ROCKWOOL Group, has invested in this ambitious digital strategy."
He adds, "Through this simple, yet sophisticated platform, our fresh content has been created from the ground up and organized in a logical flow to help visitors find the information they need, when they need it." New content includes detailed web pages on product benefits, project applications, case studies, more images and enhanced visualization, videos, audio files, and other online resources.
Rockfon.com's new site structure features:
* Products – comprehensive review of Rockfon's portfolio of acoustic stone wool ceiling products, specialty metal ceiling products and ceiling suspension systems
* Product benefits – detailed benefits for Rockfon's complete ceiling systems, such as light reflection and diffusion, fire and seismic performance, indoor environmental quality (IEQ), mold resistance, hygiene, humidity and water resistance, aesthetic options and design ideas, plus Optimized Acoustics™ with insights on acoustic absorption, sound insulation and background sound levels
* Application areas – showcased building applications, trends and ideas for project categories ranging from offices to education and transportation, healthcare to retail and restaurants, leisure to industry and cleanrooms
* About us, actually is about you – highlighted articles, insights and topics on sustainability, standards and rating systems, and transparency for health and the environment
* Resources and Learning – instant connections to installation instructions, documents, continuing education courses and more
Within and beyond the Resource pages, Rockfon's online value-added tools can assist visitors with their product selections and project designs.
* A new Product Comparison feature allows a user to compare up to three products' attributes, side-by-side, to make a more educated decision.
* A new "Design Your Project" tool walks a user through a three-step process for optimizing acoustics in commercial interior projects.
* New document and video online libraries make Rockfon's content more intuitive to find and more accessible for on-demand downloading.
* A new customized Contact Us section offers more intuitive functionality to connect users with their area sales representatives and offices, and to locate their closest distributors.
Visit Rockfon.com for more articles, insights and product updates.
Watch a video about the new site.
About Rockfon
Rockfon is part of the ROCKWOOL Group and is offering advanced acoustic ceilings and wall solutions to create beautiful, comfortable spaces.
At the ROCKWOOL Group, we are committed to enriching the lives of everyone who experiences our product solutions. Our expertise is perfectly suited to tackle many of today's biggest sustainability and development challenges, from energy consumption and noise pollution to fire resilience, water scarcity and flooding. Our range of products reflects the diversity of the world's needs, while supporting our stakeholders in reducing their own carbon footprint.
Stone wool is a versatile material and forms the basis of all our businesses. With approximately 11,000 passionate colleagues in 39 countries, we are the world leader in stone wool solutions, from building insulation to acoustic ceilings, external cladding systems to horticultural solutions, engineered fibers for industrial use to insulation for the process industry, and marine and offshore.
###
---
Filed under: Rockfon
---
Story Resources
Image
Word document