Client News: Kolbe celebrates 75 years in business, built on family values and a strong work ethic
Posted on February 3rd, 2021 by Heather West

Wausau, Wisconsin (Feb. 2021) – Celebrating its 75th anniversary, Kolbe Windows & Doors began in 1946 as a two-brother team and has grown into an internationally respected window and door manufacturer. Its broad range of product offerings are available through hundreds of distributors and dealers across the United States, Canada and beyond.
In honor of this milestone, Kolbe will share a four-part video series on:
• Its history and growth from two to over 1,000 employees (view video);
• Its many people who work at and with the company;
• Its involvement in supporting both local communities, and the architectural and building communities; and
• Its innovative practices and customizable products that help create personal, inspirational and successful projects.
Watch for these videos and learn more about Kolbe's history of excellence and expertise at https://www.kolbewindows.com.
Founded in Family Values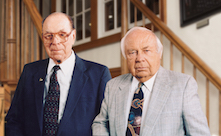 As brothers, Herb and Ervin Kolbe built their business with a strong work ethic and integrity founded in their family's values. They started on their family dairy farm near Marathon, Wisconsin, where they repaired window frames and built sash. In 1948, they purchased a 2,100-square-foot building in Wausau, called the company Kolbe & Kolbe Millwork and hired their first employee – their other brother, Walter.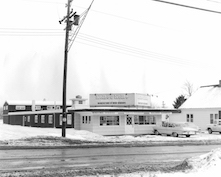 By the 1960s, approximately 35 people were employed at Kolbe. In addition to supplying numerous building materials, including window frames and sash from other companies, Kolbe also provided pre-hung doors. Following its 25th anniversary in 1971, Kolbe launched its own manufactured product offering included hand-crafted wood double hung, sliding, casement and awning windows.
In the 1980s, Kolbe further expanded production to aluminum clad windows. Sales also spread within the United States and into Canada. Soon after the company's 50th anniversary, Kolbe added greater capacity with a manufacturing facility in Manawa, Wisconsin. Its Wausau facility also continued to grow and encompassed 975,000 square feet by 2002.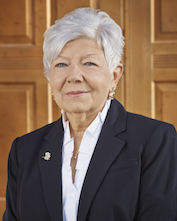 After the passing of Herb and Ervin, Herb's daughter Judy Gorski assumed the role of CEO. Under Judy's guidance, the company rebranded as Kolbe Windows & Doors. For more than 30 years, she has worked closely with Jeff DeLonay. In 2014, he was promoted and named as Kolbe's president overseeing all of its facilities, divisions and operations.
DeLonay shared, "I am thankful to be a part of such a dynamic organization that continues to use the principles on which it was built to shape its future and continue the successes of its founders. As Herb Kolbe said, 'We don't strive to be the biggest, but we do strive to be the best.' This is, and continues to be, our commitment to our team members, business partners and the customers we serve."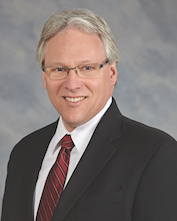 Product Innovation
Drawing from decades of experience, Kolbe has designed its product lines to meet specific architectural goals and styles. Building on its legacy of personalized products and service, Kolbe continues to give architects, builders and homeowners the flexibility to customize each window and door to achieve their project's vision.
For traditional tastes, Heritage Series windows and doors are carefully crafted with a wood interior and exterior, and optional intricate, historically accurate details. Ultra Series mimics the traditional style of wood windows and doors with a warm wood interior and durable, extruded aluminum exterior, complemented with a palette of long-lasting, vibrant colors.
Kolbe continually innovates to respond and anticipate market needs. In 2009, TerraSpan® lift & slide doors and folding doors were introduced broadening its expansive product offering, and helping merge outdoor and indoor spaces.
Working closely with architects, Kolbe launched the VistaLuxe® Collection in 2013 to address the increasing popularity of contemporary designs with products that utilize clean lines and large expanses of glass. Today, Kolbe offers both the VistaLuxe WD LINE with aluminum exteriors and warm wood interiors, and the VistaLuxe AL LINE of thermally broken, all-aluminum windows and doors.
In 2016, Kolbe's Forgent® Series windows and doors made their debut. Manufactured with a proprietary Glastra® material and thoughtful design, these high-performance products are easy-to-install and an increasingly popular choice for new construction and replacement projects.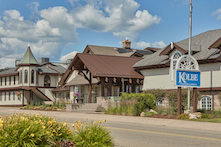 Each of Kolbe's product lines offers distinct advantages, yet remains vastly customizable. Attention to detail, superior quality, many aesthetic choices and numerous performance options help Kolbe windows and doors achieve visionary solutions for architects, builders, contractors and homeowners.
To learn more about Kolbe's history, products and project success stories, please visit www.kolbewindows.com.
What began in 1946 as a two-brother team has grown into an internationally respected manufacturing company. Kolbe Windows & Doors is one of the nation's leading manufacturers of windows and doors for residential and commercial markets. After 75 years, Kolbe products are best known for superior quality, custom craftsmanship, attention to detail, as well as innovative and unique designs.
###
---
Filed under: Events, Kolbe Windows & Doors
---
Story Resources
Image: Kolbe 75th anniversary logo
Photo: Ervin and Herb Kolbe
Photo: Early street view of Kolbe
Photo: Current Kolbe headquarters
Zipped folder: Logo, photos and Word document
Word document
Request high res photographs for publication