Client News: Linetec promotes Phil Hanke to senior buyer
Posted on December 18th, 2019 by Heather West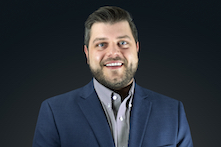 Linetec has promoted Phil Hanke to the position of senior buyer, promoted from the role of buyer. He reports directly to the vice president of finance, Chris Menard.
Working with colleagues in Linetec's purchasing department and suppliers from across the U.S., Hanke applies continuous improvement and Lean manufacturing principles to support company-wide procurement needs and initiatives.
Hanke joined Linetec in 2013, working in the architectural coatings and packaging departments. The following year, he was hired as a purchasing assistant and was later promoted to be a buyer. He has gained an in-depth understanding of Linetec's purchasing policies, procedures and vendor relations. He also has led several successful continuous improvement projects to reduce waste, increase savings and enhance customer value.
Prior to working at Linetec, Hanke held customer service and sales positions in the food service and hospitality industry. In addition to more than a decade of professional experience, Hanke studied business administration at the University of Wisconsin-Marathon County and lives in Weston, Wisconsin.
Learn more about joining Linetec's growing team of associates by visiting https://linetec.com and clicking "Careers" at the top of the page.
About Linetec
Located in Wisconsin, Linetec serves customers across the country, finishing such products as aluminum windows, wall systems, doors, hardware and other architectural metal components, as well as automotive, marine and manufactured consumer goods. The company is a subsidiary of Apogee Enterprises, Inc. (NASDAQ: APOG).
Linetec is a member of the Aluminum Anodizers Council (AAC), the American Architectural Manufacturers Association (AAMA), the American Institute of Architects (AIA), the Association of Licensed Architects (ALA), the National Glass Association/Glass Association of North America (NGA/GANA) and the U.S. Green Building Council (USGBC).

To learn more about Linetec's finishing and value-added services, please call 888-717-1472, email sales@linetec.com or visit https://linetec.com.
###
---
---
Story Resources
Portrait: Phil Hanke, Linetec
Word document
Request high res photographs for publication