Client News: Kolbe's folding and sliding windows offer easy pass-through between indoor and outdoor environments
Posted on January 5th, 2018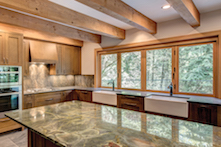 Kolbe Windows & Doors offers options to expand living spaces to the outdoors, showing folding windows and quad sliding windows at the National Association of Home Builders (NAHB) International Builders' Show in booth #W3870.
"The desire for indoor and outdoor living has spurred interest in sliding and folding windows that bridge the gap between indoors and out," states Cindy Bremer, vice president of marketing at Kolbe Windows & Doors. "People want the option to include the outdoor environment as an extension of their living space, and these pass-through windows ease that transition."
Kolbe's sliding window is available in both Ultra Series and VistaLuxe Complementary, while the folding window is offered in Ultra Series, Heritage Series and VistaLuxe Complementary styles. These windows are ideally suited for residential applications and commercial projects requiring pass-through service for indoor and outdoor entertaining.
"When you're looking for an innovative addition to your design project, Kolbe has two great options for pass-through situations. Folding windows and quad sliding windows offer solutions for merging indoor and outdoor living spaces," explains Bremer.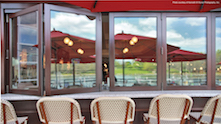 Exhibited in booth #W3870 is a four-wide Ultra Series folding window with Sapele interior wood species finished with Chestnut stain. Featuring a brilliant Mediterranean exterior, a recessed weep sill makes passage to an outdoor counter easy. A pleated, retractable screen is shown as an option to keep insects out and enjoy fresh air in any locale.
Also on display is a VistaLuxe Complementary sliding window in a quad configuration. The Emerald Isle exterior sets off the square interior and exterior details. A Spanish Cedar wood interior is finished with a clear coat, with a Matte Black positive action lock that engages automatically for convenient security. An exterior pull-down retractable screen is hidden from sight when not in use, while a low-profile sill and stiles with matching sightlines complete the sleek look.
"Kolbe's continuous innovation leads us to new solutions for homeowners, architects and builders seeking high-quality products with functional design," says Bremer. "Our pass-through windows provide a sophisticated solution to blend the inside and outside environments, expand your overall space and coordinate with any style from traditional to contemporary."
For complete information and product details on Ultra Series and VistaLuxe Complementary folding and sliding windows from Kolbe, please visit www.kolbewindows.com.
What began in 1946 as a two-brother team has grown into an internationally respected manufacturing company. Kolbe Windows & Doors is one of the nation's leading manufacturers of windows and doors for residential and commercial markets. After more than 70 years, Kolbe products are best known for superior quality, custom craftsmanship, attention to detail, as well as innovative and unique designs.
###
---
Filed under: Events, Kolbe Windows & Doors, Products
---
Story Resources
Photo: Kolbe's folding and sliding windows offer easy pass-through
Word document
Request high res photographs for publication