Client News: York Region Administrative Centre Annex features Rockfon's ceilings - Contemporary civic building fosters a healthy environment for government workers and public services
Posted on December 12th, 2022 by Heather West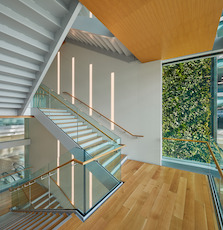 Exemplifying sustainable design and leadership, the York Region Municipality's new Administrative Centre Annex (ACA) at 17150 Yonge Street in Newmarket, Ontario, recently earned LEED® Gold certification by the Canada Green Building Council.
WZMH Architects, working with Figure3 on the interior, designed the ACA as part of a new 15-acre civic campus with a focus on environmental stewardship, occupant comfort and well-being, and an optimal user experience. The design team specified several of Rockfon acoustic stone wool and metal ceiling systems to help achieve the project's indoor environmental quality, acoustic performance and biophilic goals.
"We wanted the building to look as contemporary as possible to reflect the age in which it is constructed," stated WZMH. The eight-story, 422,000-square-foot government facility accommodates 1,500 workers and centralizes numerous public services including eight new courtrooms.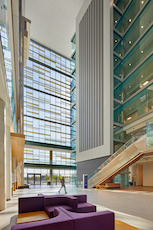 In the ACA's atrium, staff and visitors are greeted by a six-story living "green" wall, bringing the outdoors inside. A Honey Oak finish was selected for the atrium stairwell's metal ceilings to create a natural, wood-look appearance with minimal maintenance. The architects noted that materials were chosen for aesthetics and durability.
The green feature wall also acts as a bio-filter to improve indoor air quality (IAQ). Further supporting IAQ, the design team reviewed and selected interior products and materials with low emissions. All of Rockfon's stone wool products are UL® GREENGUARD Gold® Certified for low VOC emissions.
In addition to IAQ, LEED recognizes a comfortable acoustic experience contributes to a quality, healthy indoor environment. WZMH specified ceiling systems with exceptional sound absorption throughout the ACA. High acoustic performance contributes to clear communication, speech privacy and concentration, which are essential to effective public service.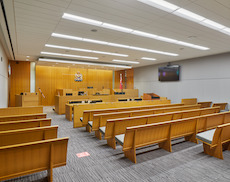 Installed in the courtrooms, collaboration and meeting rooms, office areas and corridors, Rockfon Sonar® stone wool panels have a noise reduction coefficient of 0.95 NRC, among the highest available. The metal baffles were specially engineered and fabricated using Rockfon® Beamgrid® ceiling systems for the ACA, and positioned strategically to reduce noise. Each baffle is perforated and acoustically improved with an insulating backer.
These suspended linear ceiling elements also add visual definition within larger rooms. A white finish was selected for baffles above designated workstation areas to complement the calm, neutral color tones of the office area. In the cafeteria, the Honey Oak woodgrain finish enhances a warm, inviting, communal atmosphere, while helping moderate the noise levels.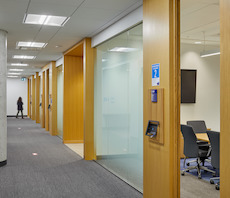 The ACA building's H-shape, open workspace plan, narrow floorplates and glass-clad exterior maximize access to daylighting and views of the river floodplain. Interior glazing allows for views of the atrium's green wall. Rockfon's stone wool ceiling panels help extend the natural light more deeply to the office core. The panels' lightly textured, white surface reflects up to 85 percent of light, whether from the sun or the energy-efficient electric fixtures. At the desktop, this diffused illumination minimizes glare and eye strain, enhancing both health and productivity.
Along with design considerations for people's well-being during the building's lifecycle, additional consideration was given to the recycled composition and post-use recyclability of products and materials. More than 20 percent of construction materials on the ACA were manufactured with recycled content, including Rockfon's ceiling products. After their long lifespan on the building, the metal baffles, perimeter trim and suspension systems also can be locally recycled.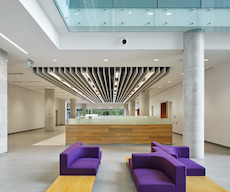 In total, Patene Building Supplies provided 258,000 square feet of Rockfon ceiling products, which Nelmar Drywall Company installed throughout the ACA. As the general contractor, EllisDon kept the multi-phased project on schedule for its 2020 completion. Morrison Hershfield served as the project's LEED consultant, culminating in the project's January 2022 LEED Gold certification.
Other LEED design and construction features include a vegetated and heat-reflective roof, rainwater-harvesting cooling towers, low-flow plumbing fixtures, high-performance glazing, regenerative electric elevators, environmentally responsible landscaping and availability to public transit. The ACA also is fully accessible to serve all the region's residents.
Constructed adjacent to the existing York Region Municipal headquarters building, an enclosed pedestrian bridge connects the two structures. Prior to the ACA's construction, public services were spread across multiple locations in various needs of renovation. Consolidating to a new, single campus realized a plan that not only offered long-term cost savings, but also improved efficiencies, collaboration and convenience.

The ACA now offers Provincial Offences Courtrooms, Public Health Clinics, Social Services, Children's Services, Ontario Works, Housing Services, York Small Business Enterprise Centre and Access York contact center all under one roof.
"We are so pleased to have a green building that reflects York Region's commitment to protecting and sustaining the environment, while providing important regional services to our residents," said Dino Basso, commissioner of corporate services for The Regional Municipality of York.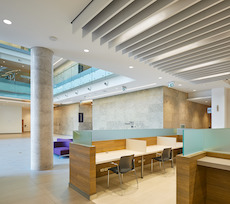 Beyond York Region leaders' and the community's compliments, the ACA's innovative and inclusive design earned a 2021 Architecture MasterPrize, Design of the Year Honourable Mention in the Institutional Architecture Category and a 2021 Global Future Design Award in the Institutional Architecture Category.
**
York Region Administrative Centre Annex (ACA), 17150 Yonge St., Newmarket, ON L3Y 6Z1
• Owner: The Regional Municipality of York; Newmarket, Ontario; https://www.york.ca
• Architect: WZMH Architects; Toronto; https://www.wzmh.com
• Interior designer: Figure3; Toronto; https://www.figure3.com
• LEED® consultant: Morrison Hershfield; Stillwater, Minnesota; https://morrisonhershfield.com
• General contractor: EllisDon Corporation; Toronto; https://www.ellisdon.com
• Ceiling systems – installing contractor: Nelmar Drywall Company Ltd; Vaughan, Ontario; http://www.nelmardrywall.com
• Ceiling systems – distributor: Patene Building Supplies Ltd., Milton, Ontario; https://www.patene.com
• Ceiling systems – manufacturer: Rockfon; Chicago; https://www.rockfon.com
• Photographer: Tom Arban Photography Inc.
• Facility overview video: https://www.youtube.com/watch?v=_ygrMEiG4sI
About Rockfon
Rockfon is part of the ROCKWOOL Group and is offering advanced acoustic ceilings and wall solutions to create beautiful, comfortable spaces.
At the ROCKWOOL Group, we are committed to enriching the lives of everyone who experiences our product solutions. Our expertise is perfectly suited to tackle many of today's biggest sustainability and development challenges, from energy consumption and noise pollution to fire resilience, water scarcity and flooding. Our range of products reflects the diversity of the world's needs, while supporting our stakeholders in reducing their own carbon footprint.
Stone wool is a versatile material and forms the basis of all our businesses. With approximately 11,500 passionate colleagues in 39 countries, we are the world leader in stone wool solutions, from building insulation to acoustic ceilings, external cladding systems to horticultural solutions, engineered fibers for industrial use to insulation for the process industry, and marine and offshore.
###
---
Filed under: Projects, Rockfon
---
Story Resources
Word document
Request high res photographs for publication