Ontario's Place des Arts features award-winning design, Alumicor's high-performance curtainwall
Posted on April 17th, 2023 by Heather West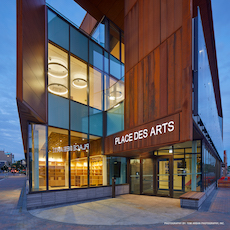 Toronto (April 2023) – Honoured with a 2023 Global Future Design Awards' gold winner for cultural architecture, La Place des Arts du Grand Sudbury (PdA) also celebrates its one-year anniversary serving as Northern Ontario's first multidisciplinary art centre focused on French-Canadian culture and community empowerment.

Helping define the PdA's award-winning appearance and purposeful presence, Alumicor provided the building enclosure's custom, aluminum-framed, high-performance glazing systems. Alumicor's ThermaWall 2600 curtainwall and FlushGlaze BF 3400 storefront were paired with complementary fixed windows. For the PdA's entrances, vestibules and terrace balconies, Alumicor supplied its ThermaPorte T400A swing doors and TerraPorte 7600 terrace doors.

The glazed openings were strategically positioned to optimize the facility's daylighting, views and thermal performance. This helps the PdA to save energy on heating and cooling the building, and to maintain the year-round comfort for staff and visitors.

Culmination of collaboration and creativity
Jointly serving as the PdA's lead design architects, Moriyama & Teshima Architects (MTA) and Bélanger Salach Architecture (BSA) were awarded the project in 2017 by The City of Greater Sudbury. MTA and BSA gathered input from and built consensus among the seven contributing organizations of Regroupement des organismesculturels de Sudbury (ROCS). Drawing from a 400-year Franco-Ontarian history and aligning with the Greater Sudbury Downtown Revitalization Masterplan, the seven distinct organizations agreed to combine efforts, share resources and come together in a centralized common space that benefited all.

While each member of ROCS brought its own perspective, the PdA's resulting design is greater than the sum of its parts. The facility provides space for various cultural and civic uses, flexibility for current and future needs, and contributes to the neighbourhood's surrounding urban context.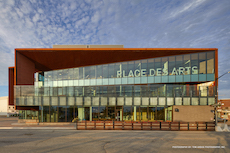 "The team effort of developing Place des Arts represents a culmination of creative professionals with one shared vision, successfully producing something that can be enjoyed for generations to come. The concept was to build a new facility in the same way that one would produce a piece of artwork – to understand, conceive, dream and inhabit the possibilities of Place des Arts as a work of collective and expressive art," explained MTA.

From concept to construction
In May 2018, MTA's associate, Cathy McMahon, M.Arch., B.E.D.S., OAA, MRAIC, LEED GA, contacted Steve Gusterson, FCSC, CTR and vice president of Alumicor's pre-construction design in Canada. "The project at that time was in design development, so we had high level discussions. From that point through to the tender process, we had fairly regular conversations and meetings. We worked extensively with the architectural design team throughout the project stages," said Gusterson.

"Alumicor is almost always the basis of design for Division 8 products in MTA's projects," said Gusterson. "We have had a collaborative relationship for many years and the MTA team knows they can always count on Alumicor for product application assistance and honest, ethical recommendations. Alumicor ensured the lead was provided to all of our most capable dealers, including Barrie Metro Glass (BMG)."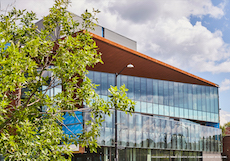 BMG's project manager, estimator and designer, Nelson Vanegas, remembers it was March 2020 when the contract was awarded. He elaborated, "Products were already specified and advised by Alumicor to the consultants during the pre-design of the project. Nonetheless, the assistance of Alumicor was a fundamental part of the project during the production of shop drawings, as well as the installation process."

Bringing the design concept to constructed reality, BMG's four-person on-site team installed Alumicor's systems. The majority of the aluminum framing members was painted in a dark bronze colour, framing Viracon's low-e, VNE-163 high-performance glass. A boom crane was used to lift and install the largest units on the building's West elevation.

"It was a challenging project due to the time it was built," BMG's Vanegas acknowledged. "This project was built during the pandemic, so many challenges came out of that. Fortunately, the project came on budget… Alumicor was a great support during the procurement and commitment to deliveries."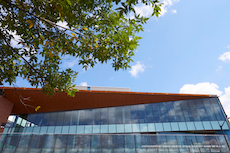 "It was a great partnership with Alumicor," added Vanegas. "The building stands out in the area. It provided a new look to Sudbury west downtown.

Engaging exterior balances design dualities
The three-storey, 3,716-m2 (40,000-ft2) building's varying heights, angular projections and accessible terraces bridge the natural and built environments, reaching beyond its interior boundaries and engaging with the community. The PdA's glass and metal façade balances transparency and strength – inviting staff, visitors and passersby to see themselves inside, while providing a sturdy framework to support the creative and cultural work taking place.

The glass and aluminum's modern aesthetic intentionally contrast with its brick base and historically inspired, weathered steel, wall cladding panels from Agway Metals Inc. The exterior materials convey both permanence and evolution, while the structure's shifting, interlocking volumes represent the intersecting duality of Franco-Ontarian culture.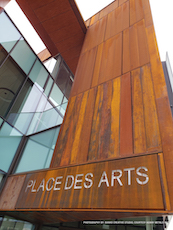 The aluminum-framed fenestration, metal cladding and masonry reflect the area's topographical and geological colours, and mining and industrial heritage. The pre-rusted Corten steel panels' patina changes in response to the community's unique climate, further enhancing the PdA's dynamic appearance and programming.

Inviting interior, inclusive programming
Welcoming visitors, the ground level contains a bistro, bar, café and kitchen; a contemporary art gallery, a boutique gift shop, and a salon with meeting rooms available to the public. The third floor also has meeting rooms and collaborative spaces, a library and archives, and a reception area.

Performing arts areas include a 300-seat theatre, a 120-seat multipurpose black box theatre, rehearsal spaces, green room, costume and dressing rooms, and equipment and control rooms. The second level houses a designated youth studio, areas for children's summer camps and after-school programs, and a daycare with an outdoor terrace. Social spaces also scheduled and reserved for activities for elderly community members.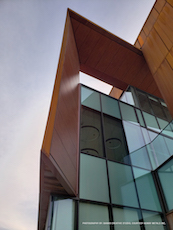 The PdA's upper floors host the staff cafeteria, an outdoor terrace and the administrative offices for the ROCS' seven organizations. In 2022, ROCS members moved from their previous locations scattered throughout the Sudbury region into the PdA's new downtown home and cultural hub.
1. Carrefour francophone de Sudbury is a cultural and community centre.
2. Le Centre franco-ontarien de folklore collects, preserves and enhances Franco-Ontarian oral heritage.
3. Galerie du Nouvel-Ontario is a contemporary art gallery.
4. Éditions Prise de parole is a national publishing house.
5. Les Concerts La Nuit sur l'Étang is an annual music festival.
6. Théâtre du Nouvel-Ontario stages contemporary works.
7. Le Salon du livre du Grand Sudbury promotes literacy, literature and French-language authors.

Award-winning architecture at Arts Square
Stéphane Gauthier, the PdA's former board chair and current executive director of Carrefour francophone, described the project as "crazy beautiful." He added, "It has been a real collaborative effort to bring the idea to reality."


After nearly three years of construction and delays due to the pandemic, the PdA opened its doors on April 29, 2022. During the facility's first year of operation, it presented 125 shows and events, engaging 10,200 attendees and participants. Today, the PdA defines itself as: "A centre of artistic and cultural excellence and a gathering place for Francophones and for the whole community."

Located at the corner of Larch and Elgin Street in downtown Sudbury, the PdA transforms a once vacant city parking lot. Now called "Arts Square," the site now is part of a trio of public amenities along the anticipated Elgin Street Greenway and bike path, linking the western and eastern districts of Sudbury.

Recognizing the PdA's significance, the Members of Provincial Parliament selected the Arts Square project as one of nine outstanding buildings for the Ontario Association of Architects' 2022 annual Queen's Park Picks program announced on World Architecture Day. The project and its team also have earned the 2022 Rethinking the Future – Architecture Construction and Design Awards (ACDA) First Award for the Cultural, Built category, and the Architecture Press Release Awards' 2023 Urban Design & Architecture Award in the Cultural Architecture (Built) category.

La Place des Arts du Grand Sudbury, 27 Larch St., Greater Sudbury, ON P3E 1B7, Canada; https://maplacedesarts.ca/en/
• Owner: The City of Greater Sudbury; Sudbury, Ontario; https://discoversudbury.ca/en/
• Architects, joint venture:
– Moriyama & Teshima Architects; Toronto; https://mtarch.com
– Bélanger Salach Architecture; Sudbury, Ontario; https://belangersalach.ca/
• General contractor: HEIN; Kanata, Ontario; https://hein.ca/
• Steel wall panels, manufacturer: Agway Metals Inc.; Brampton, Ontario, https://www.agwaymetals.com/
• Curtainwall – glazing contractor: Barrie Metro Glass (BMG); Barrie, Ontario; https://bmgglass.com/
• Curtainwall – glass fabricator: Viracon; Owatonna, Minnesota; https://www.viracon.com/
• Curtainwall – aluminum framing systems, manufacturer: Alumicor; Toronto; https://alumicor.com/
• Photographer: Tom Arban Photography, Inc.
• Additional images: Banko Creative Studio, courtesy Agway Metals Inc.; http://photos.agwaymetals.com/
• Video (in French) – history and construction, 2021: https://www.youtube.com/watch?v=0al9s1CyqAg

About Alumicor
Alumicor is a Canadian-based supplier of architectural aluminum building envelope products. With corporate offices in Toronto, Alumicor services the North American market through two manufacturing facilities in Winnipeg, Manitoba; and Toronto.

Founded in 1959, Alumicor has earned respect and recognition for technical competence, responsiveness and integrity. Alumicor joined Apogee Enterprises, Inc.'s family of businesses in 2013, which includes Tubelite, an industry leader in eco-efficient storefront, curtainwall and entrance systems in the United States. In 2020, Alumicor combined with Tubelite. This strengthens Alumicor's ability to provide an unrivalled level of customer support, an expansive product portfolio and dependable service.

Alumicor and its staff are members of numerous construction associations including Construction Specifications Canada (CSC), Ontario Glass and Metal Association (OGMA), and Ontario Building Envelope Council (OBEC).
###
Disponible en français sur https://alumicor.com/fr/
---
Filed under: Alumicor, Projects
---
Story Resources
Word document – English
Request high res photographs for publication