Designed with wildfires in mind, California architect's home features high-performance, long-lasting RHEINZINK roofing and cladding
Posted on February 22nd, 2023 by Heather West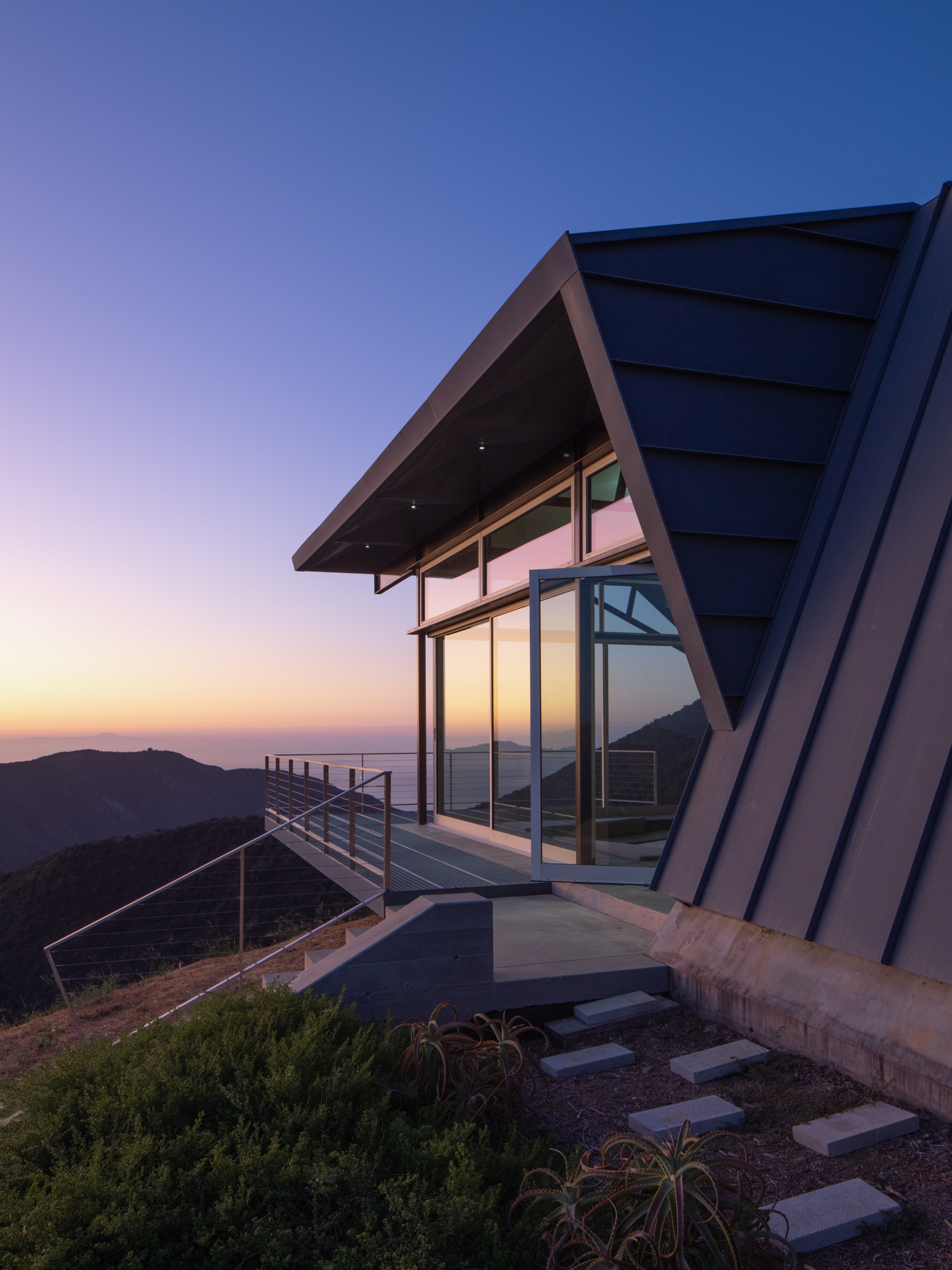 Deegan-Day Design & Architecture designed the 4/Way House as a weekend retreat to maximize natural scenic views, while taking a protective stance against the elements including wildfire. Sitting on 2.5 acres atop a southeast-facing ridge in the Santa Monica Mountains, the 2,250-square-foot single-family home is located in a California community called Skyhawk Lane in Topanga, near Malibu.
Supporting the project's distinctive appearance and climate-specific performance requirements, the architectural team specified RHEINZINK-prePATINA® graphite-grey architectural-grade zinc on its roof and exterior wall cladding. The natural metal responds to its environment with a dynamic patina that evolves through the decades. With minimal maintenance, the sustainable material offers a lifespan of 80 years or more, and is 100% recyclable at the end of its long, useful life.
Inherently and effectively resisting fire and corrosion, RHEINZINK's architectural-grade zinc clad a web of trusses supported by a fire-proof retaining infrastructure. Two standard truss profiles, in two orientations, form a faceted cascade over studio space and kitchen below and living space above.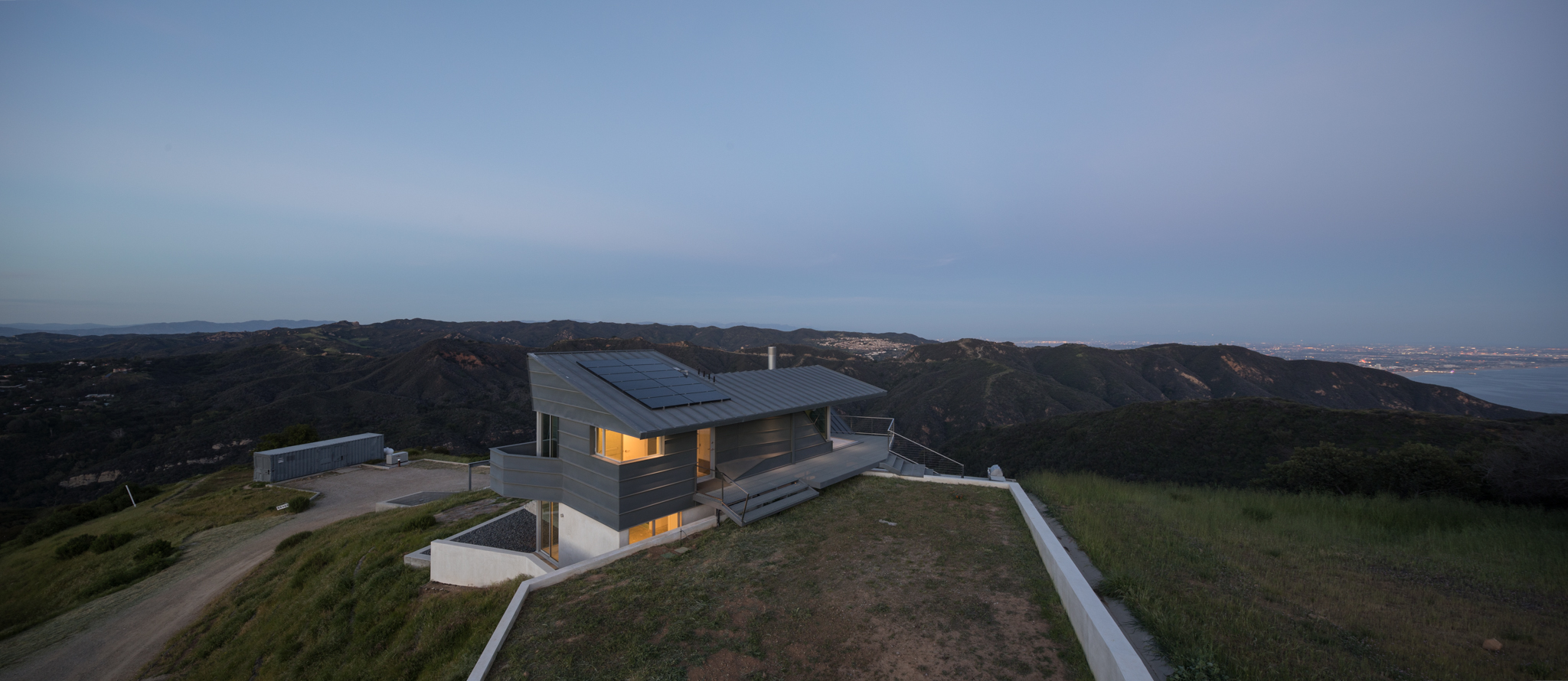 For the roof and wall cladding systems, approximately 3,000 square feet of RHEINZINK-prePATINA graphite-grey material was supplied by Old Country Millwork and installed by Atlas Sheet Metal as a panelized standing-seam system.
Deegan-Day Design & Architecture's design principal, Joe Day, AIA, explained that the project's name, 4/Way House, was inspired by four "rotations" integrated into the home's design:
• The first rotation is a planimetric rotation approximately 18 degrees off the cardinal north-southeast-west to the southeast, toward the Santa Monica Bay view.
• The second rotation involves truss configurations that give the house its angular envelope, opening the house toward the view, while providing a faceted fire blanket for the house.
• The third rotation nods to the garage, a Topanga-required design element to aid firefighters, that tilts 90 degrees upward and doubles as a movie screen.
• The fourth and final rotation references an internal ruled-surface rotation that governs much of the cabinetry and the transition between floors.
Raw concrete, exposed metal and birch plywood harmonize exterior and interior material choices.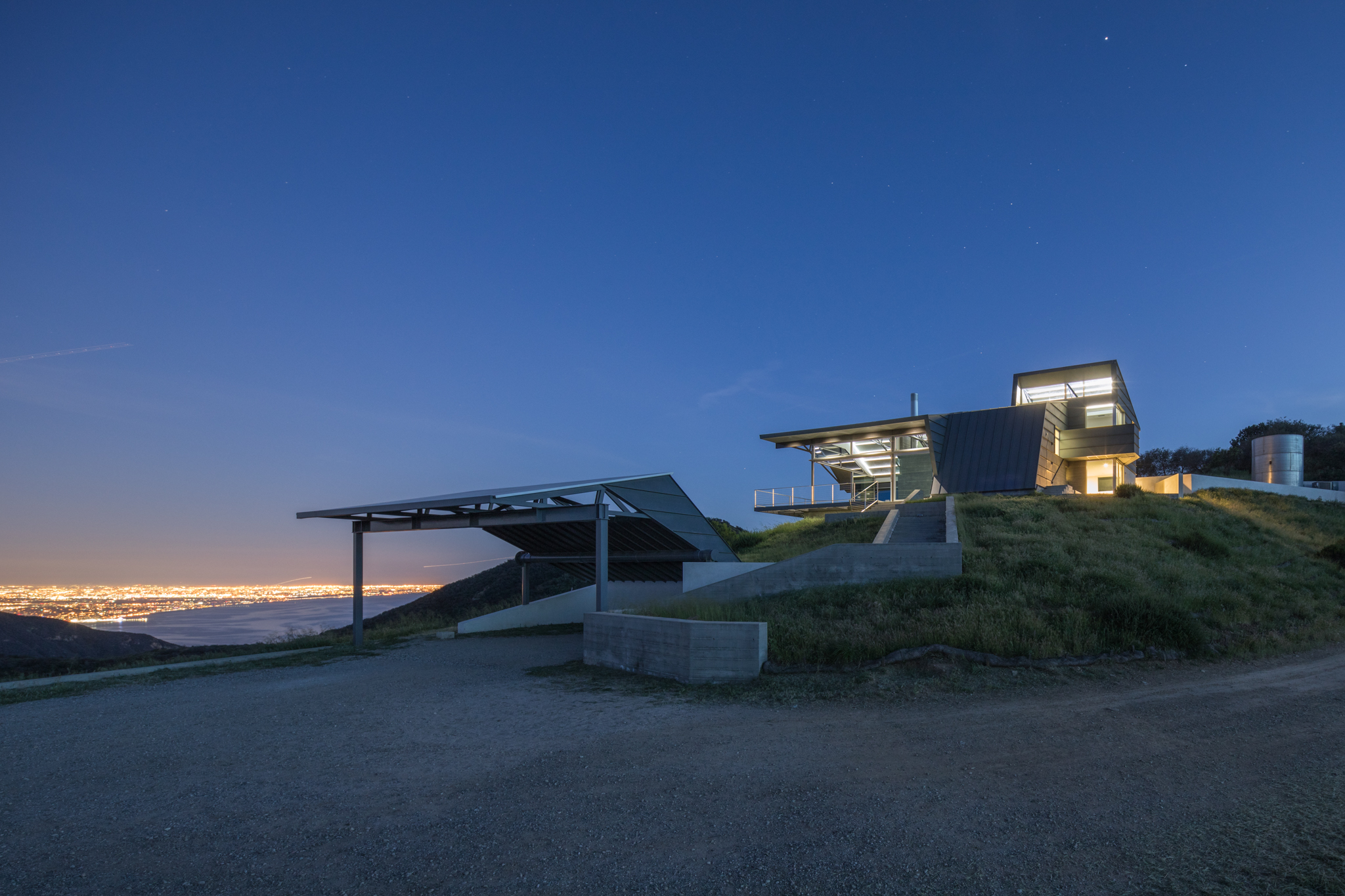 "To take advantage of a distant, but commanding view of Santa Monica Bay, the house folds across the grain of a steeply sloping ridge, ducking upslope neighbors and cutting into the hillside to cool the lower floor," continued Day. Surrounding terraces present a complement of outdoor rooms and act as a fire buffer.
In 1992, all of Skyhawk Lane burned, along with 39,000 acres of neighboring Topanga and Malibu, reducing all foliage to soot, and property values to half of their pre-burn high in the late '80s. Fire remains a constant concern for area residents. With this understanding, Day and his wife, Nina Hachigian, bought the 4/Way House property in the mid-1990s.
"Fear of fire, flood, slides and erosion dictate stringent setback, cladding and planting guidelines enforced by the state-wide Coastal Commission and by myriad county and city agencies," said Day. "During design development, we assessed first what would be left to rebuild if 4/Way did burn, and how the site might shield other homes and safely serve firefighters. The 2,250-square-foot retreat mediates between competing topography and sightlines, and between the allure and danger of life in Topanga."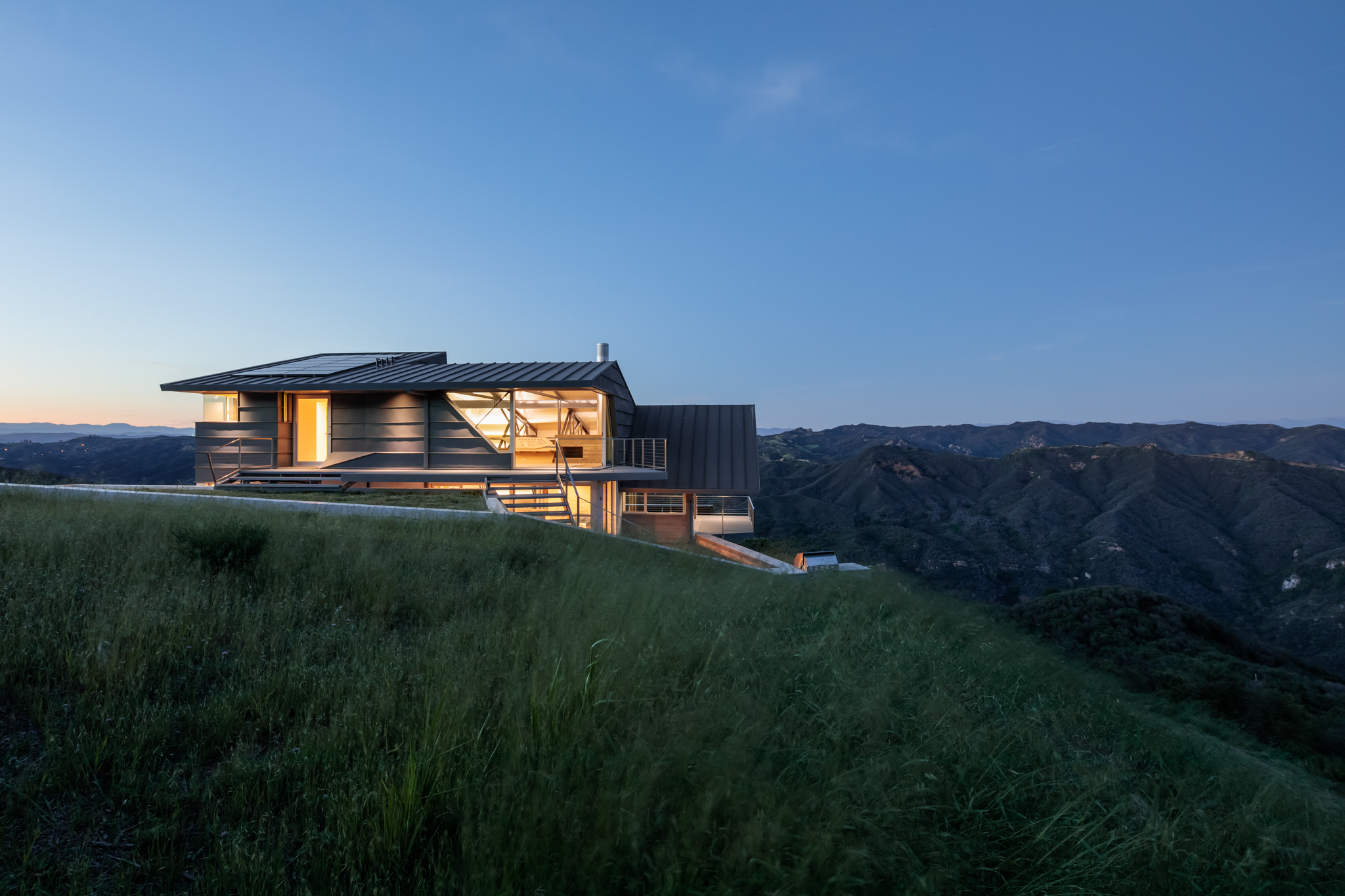 "Because 4/Way sits below its upslope neighbors, the structure as the first line of fire defense for the community. A lot of the rationale for the house has to do with the idea that now we're the outpost. If you can defend our property, you are defending five houses up the street," shared Day. "What we're trying to do is set it up so that the house itself, and anyone involved in protecting it, is well served by it."
Day's intentional approach and personal involvement with the 4/Way House project meant construction waited to start until 2008. Kent Snyder Construction served as its general contractor and progresses in phases. The entire project was completed in 2022.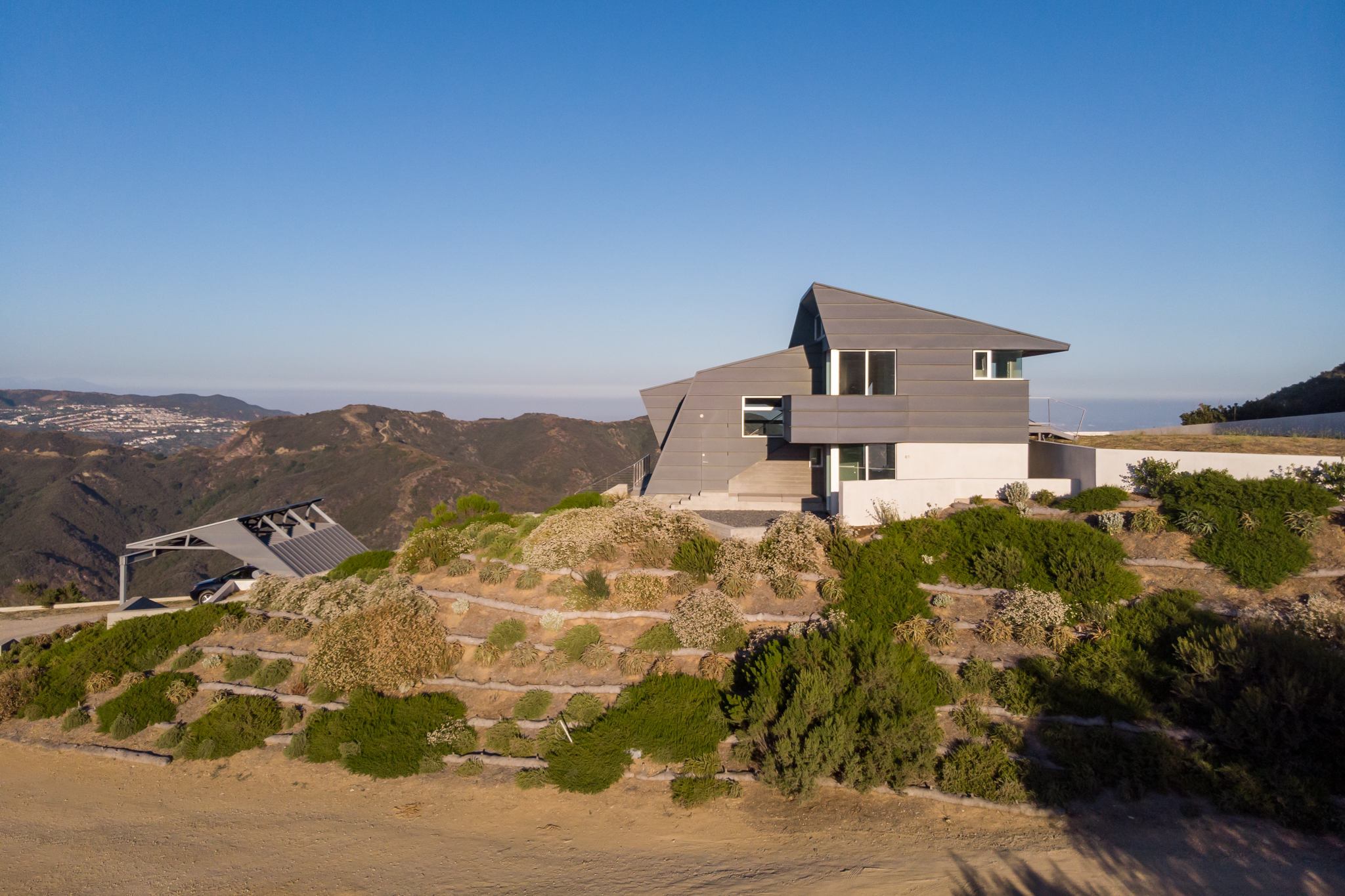 Featured among Architect's Top Projects of 2022, the magazine described 4/Way House as "a disaster-proofed, single-family project… that explores the ethics and methods of building on wildfire-prone land." The project also has been featured in Dezeen and honored with a Merit Award for small single-family residential projects from the American Institute of Architects (AIA) Los Angeles chapter.
**
4/Way House, Skyhawk Lane, Topanga, California
• Owners: Joe Day and Nina Hachigian
• Architect and interior design: Deegan-Day Design & Architecture, Inc.; Los Angeles; http://deegandaydesign.com
• General contractor: Kent Snyder Construction; Newport Beach, California
• Steel fabricator and installer: Banks Welding; Inglewood, California; http://bankswelding.com
• Exterior wall cladding and roofing systems – zinc metal installer: Atlas Sheet Metal, Irvine, California; https://atlassheetmetal.com
• Exterior wall cladding and roofing systems – zinc metal distributor: Old Country Millwork, Inc.; Los Angeles, California; https://www.ocmcoil.com
• Exterior wall cladding and roofing systems – zinc manufacturer: RHEINZINK America, Inc.; https://www.rheinzink.us
• Photographer: ©Taiyo Watanabe, Atelier Taiyo Architecture Photography
• Video, Steve King Architectural Imaging: https://vimeo.com/174878830

RHEINZINK America, Inc. led the introduction of architectural zinc in North America and continues to offer one of the industry's most reliable, trusted brands. Its portfolio of products includes RHEINZINK-CLASSIC® bright rolled, RHEINZINK-prePATINA® blue-gray and graphite-gray, RHEINZINK-artCOLOR® in an array of colors, RHEINZINK-GRANUM® basalte and skygrey; and RHEINZINK-PRISMO® color-pigmented, architectural-grade zinc options.
Architects and contractors are supported by unparalleled customer service and technical assistance. RHEINZINK is readily available through an established network of qualified distributors and systems partners across the United States, Canada and Mexico. Ideal for roofing, façade and wall cladding systems, gutter and interior applications. RHEINZINK is environmentally friendly, 100% recyclable and offers a potential lifespan of 80 years or more.
For more information on RHEINZINK, call 781-729-0812 or visit https://www.rheinzink.us.
###
---
Filed under: Projects, RHEINZINK
---
Story Resources
Word document
Request high res photographs for publication