Client News: Linetec preserves 1920's aesthetic for Avon Old Farms School's modern replacement windows from Winco
Posted on November 12th, 2021 by Heather West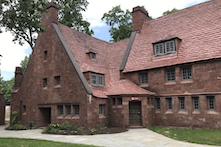 Avon Old Farms School in Connecticut replaced its 100-year-old windows with new aluminum-framed units manufactured by Winco Window Company and finished by Linetec in a "Steel Wool" color to match the historical aesthetic, while delivering modern performance. The durable, low-maintenance finishes support the school's sustainability goals and create a comfortable learning center for its 400-plus students in 9-12 grades.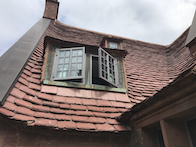 Opened in 1927, the Avon Old Farms boarding school for boys was founded and designed by one of the first licensed female architects in American history, Theodate Pop Riddle. The private school's Cotswold Tudor architectural style follows the form of medieval village structures in England's rural southwestern region of the same name. Sometimes referred to as "storybook style," notable features include steep roofs, prominent chimneys and side-hinged, project-out, divided lite windows.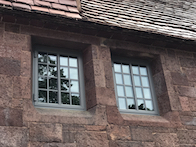 Replicating the original windows' appearance was simplified with WINCO Series 1150S 2-inch fixed and casement units in multiple configurations. These windows have an integral beveled glazing stop and applied muntin grid to simulate the historic look of true divided lites without compromising on performance. All of the Winco Window's aluminum frames, grids and trim were finished by Linetec in the Steel Wool gray color using a 70% PVDF resin-based architectural coating. Using aluminum extrusions from Winco, SWI also custom-fabricated some of the school's small, fixed, upper story windows.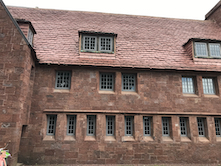 The window retrofit was planned and executed over four years during school breaks starting in 2018 and concluding in 2022. Stanley Wiesen, Inc. (SWI) Glass & Metal removed and replaced dozens of windows each year. The first phase included 186 units at the Diogenes Dormitory and headmaster's house. The second phase involved 205 windows at Pelican Dormitory and the first part of Eagle Dormitory. The third phase finished Eagle Dormitory and the Administrative building's 224 windows. The final phase will include 241 units at the Elephant Dormitory.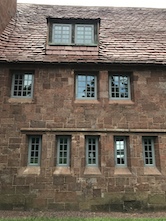 The windows look onto 900 acres of land in rural north-central Connecticut. The original school buildings at Avon Old Farms were constructed from locally sourced materials from the surrounding forests and quarries of the area. Respecting its natural environment, the school's sustainability initiatives include pollinator-friendly landscaping, water-efficient systems, and energy-conserving and energy-producing efforts to reduce its carbon footprint.
As an environmentally responsible finisher, Linetec also applied the windows' high-performance painted coatings under quality-controlled factory conditions to safely capture and destroy the VOCs present in liquid solvent-based paints before the finished products' arrival at the jobsite. These finishes meet the stringent AAMA 2605 industry standard, which are verified to exhibit outstanding resistance to humidity, color change, chalk, gloss loss and chemicals, and carry a 10-year warranty.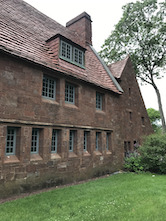 The windows' high performance and durable finishes help minimize maintenance and repairs throughout their long lifespan. At the end of their useful life on the buildings, the aluminum can be recycled and reused, further exemplifying the school's sustainability initiatives.
Supporting the school's goals, high-performance Vitro Solarban® 60 glass also helps keep out the New England damp, cold weather in the winter and manages unwanted solar heat gain during the summer. In the warm months, many of the windows can be opened for natural ventilation. The combination of operable units and high thermal performance reduces the demands on the school buildings' HVAC loads, which lowers energy usage, natural resource consumption and associated carbon emissions.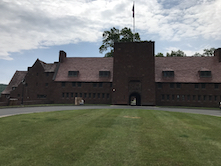 Avon Old Farms School noted, "By investing in our people, enhancing our campus and facilities, and building a stronger financial foundation, your support will continue to impact our school profoundly for decades to come."
**
Avon Old Farms School; 500 Old Farms Road, Avon, Connecticut 06001; https://www.avonoldfarms.com
• Original architect: Theodate Pop Riddle (1867-1946); https://connecticuthistory.org/people/theodate-pope-riddle
• Window systems – glazing contractor: Stanley Wiesen, Inc. (SWI) Glass & Metal; Hartford, Connecticut; http://www.swiglass.com
• Window systems – manufacturer: Winco Window Company; St. Louis, Missouri; https://wincowindow.com
• Window systems – glass fabricator: Vitro Architectural Glass; Pittsburgh; https://www.vitroglazings.com
• Window systems – finisher: Linetec, Wausau, Wisconsin; https://linetec.com
• Photos by: Winco Window Company
About Linetec
Located in Wisconsin, Linetec serves as a single source solution for architectural finishing. The company works with customers across the country, finishing such products as aluminum windows, wall systems, doors, hardware and other architectural metal components, as well as automotive, marine and manufactured consumer goods.
Linetec is a member of the Aluminum Anodizers Council (AAC), the American Institute of Architects (AIA), the Fenestration & Glazing Industry Alliance (FGIA), the National Glass Association (NGA) and the U.S. Green Building Council (USGBC). The company is a subsidiary of Apogee Enterprises, Inc. (NASDAQ:APOG).
###
---
Filed under: Linetec, Projects
---
Story Resources
Word document
Request high res photographs for publication