Client News: ROCKFON adds Kellie Knuff as architectural sales manager serving New York and New Jersey
Posted on November 26th, 2015 by Heather West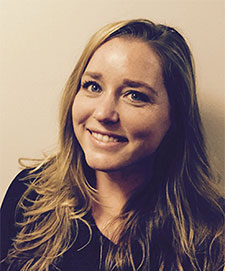 ROCKFON® named Kellie Knuff as architectural sales manager serving the commercial design community in northern New Jersey, New York City and Long Island, New York. She works with district manager Phil Curran, who also supports distributors and contractors in the area. ROCKFON continues to expand its staff and products to provide customers with a comprehensive range of stone wool acoustic ceiling panels, specialty metal ceiling panels and ceiling suspension systems.
Knuff brings nearly 10 years of experience working in the New York metropolitan market with architects, contractors, installers and building owners. "The innovative product attributes offered by ROCKFON's ceiling panels, accompanied by the well-recognized and utilized suspension systems offered by Chicago Metallic, provides a turnkey solution for interior architects," says Knuff. "I am excited to work with architects and designers to assist them in gaining a better understanding as to how the products offered can add unique value to their projects and their clients."
Most recently, Knuff was a part of Trespa North America's sales team working with architects and designers in New York City to understand the benefits and technical aspects of utilizing rainscreen applications in building envelopes. Previously, she worked at Goshow Architects as the business development manager in New York.
Before moving to Manhattan, Knuff studied at Pennsylvania State University, where she earned a bachelor's degree in communications, arts and sciences with a minor in business administration. She has continued her professional development throughout her career in such industry associations as the American Institute of Architects (AIA) New York chapter, the International Council of Shopping Center (ICSC) Next Generation events and the Society for Marketing Professional Services (SMPS).
At ROCKFON, Knuff and her colleagues throughout North America also are members and participants in the AIA, the Construction Specifications Canada (CSC), the Construction Specifications Institute (CSI), the Institute of Noise Control Engineering (INCE), the International Interior Design Association (IIDA), the National Council of Acoustical Consultants (NCAC), as well as members in the Acoustical Society of America (ASA), the Association of the Wall and Ceiling Industry (AWCI) and the Ceiling and Interior Systems Construction Association (CISCA).
###
---
---
Story Resources
Word document
Request high res photographs for publication