Client News: Tim Metcalfe joins EXTECH as technical sales engineer
Posted on April 30th, 2018 by Heather West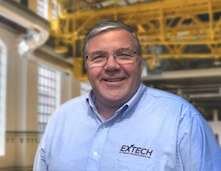 Exterior Technologies, Inc. (EXTECH) has hired Tim Metcalfe as a technical sales engineer. Reporting to EXTECH's general manager Jim Leslie, Metcalfe is responsible for assisting the sales team with technical support primarily focusing on daylight analysis.
Drawing from 15 years in the daylighting and architectural building products industry, Metcalfe's expertise includes a special focus on daylight modeling and sustainable building strategies.
He most recently worked as the vice president of architectural services for Duo-Gard Industries Inc., where he led the company's integrated building modeling strategies. His previous employers have included Wasco Skylights and Kallwall Corporation.
Metcalfe is a founding member of the International Building Performance Simulation Association (IBPSA) Boston chapter. He presented "Using Simulation to Optimize Daylighting Design" at the 2009 International Radiance and HDR Scientific Conference at Harvard University's Graduate School of Design.
Recognized as a resource by prestigious academic institutions, he has served as a consultant and lecturer at Harvard University, Massachusetts Institute of Technology, McGill University in Montreal, Wentworth Institute of Technology in Boston and Parsons The New School for Design in New York.
He earned a bachelor's degree in engineering from State University of New York.
For more information on EXTECH's products and services, please call 800-500-8083, email info@extechinc.com or visit https://EXTECHinc.com.
Exterior Technologies, Inc. (EXTECH) is an award-winning manufacturer and designer of wall, window, skylight, canopy and custom façade systems. The company delivers solutions for a variety of industries and applications, and are committed to collaboration, innovation and exceptional engineering.
###
---
Filed under: People
---
Story Resources
Portrait: Tim Metcalfe, EXTECH
Word document
Request high res photographs for publication