Niles Bolton Associates' renovated corporate headquarters features Rockfon ceiling systems
Posted on October 11th, 2023 by Heather West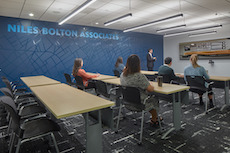 Niles Bolton Associates (NBA) recently renovated its corporate headquarters in Atlanta's Buckhead Plaza. The 25,605-square-foot, two-level office renovation updated physical space and technological systems to support the 158-person Atlanta office. The firm provides architecture, interior design, landscape architecture and planning services for clients' residential, hospitality, corporate office and other commercial projects.

NBA's team acknowledges that it's not easy being your own client, especially when the work is your calling card, and the bar is set extraordinarily high. To meet their team's own high standards and expectations, NBA's new space blends experience and inspiration to create a comfortable, inclusive, cozy style, where people want to be together. The resulting stimulating atmosphere encourages big ideas and offers NBA's staff the opportunity to grow personally and professionally.

"Ideal acoustics were of primary concern. With the decorative glazing, we were especially cognizant of how voices and conversations carry. Large format ceiling panels were chosen to add acoustic value where sound and voice control is imperative for both large meetings and the 'new normal' of having remote teams joining online," said principal, interior design at Niles Bolton Associates, G. Taylor Yarbrough, RID, IIDA, ASID.

Supporting the success, comfort and wellness of its staff, clients and visitors, NBA selected Rockfon acoustic stone wool ceiling products to convey a fresh, modern aesthetic, while delivering high sound absorption for a productive, creative workplace. For the café at the heart of NBA's headquarters, Rockfon® Color-all™ ceiling panels were specified in a warm grey with a finished-to-match suspension system.

For the conference rooms, bright white, large format Rockfon Sonar® acoustic ceiling panels with a very high Noise Reduction Coefficient, 0.95 NRC, were specified. In throughout various studio "neighborhoods" and open collaboration areas, the rooms' acoustics are optimized with 0.85 NRC Rockfon Tropic® square ceiling panels.

Additional, significant improvements were made to NBA's welcome center, private patio terrace, small breakroom and large multi-functional training room. Technological upgrades also were paired with new workstations, and pin-up areas for project design concepts are now available in every studio. NBA's resulting contemporary office design engages, educates and enriches the lives of NBA's staff and clients.

Yarbrough continued, "We maintained a clear line of sight from the entrance to our large café, which is the heartbeat of our office and adjacent to multiple conference and training rooms. The grey color [acoustic ceiling] tiles and matching grid bring a warmth to the room. It gives the feeling that the ceiling is receding a bit, becoming more spacious."

Relocate or renovate?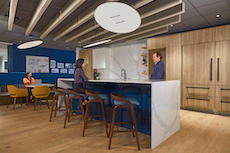 Founded in 1975, NBA moved into a newly built 20-story tower in Atlanta's prestigious Buckhead district during the 1980s. Through the decades, continuous updates and improvements were made in the area, at Buckhead Plaza and to NBA's offices. As NBA grew, the company leased additional space in the building, but availability required its offices to be on unconnected floors. Approaching the 2020s, NBA's leaders recognized their offices were in need of renovation, but were uncertain if they wanted to remain at the same address.

"We asked ourselves whether we should move or stay, and began an extensive search to find an answer," said Yarbrough. "Our old space had been renovated multiple times. We joked that the previous aesthetic was similar to a law firm. It had lots of dark mahogany wood and stone, thick carpets, heavy paneling, formal finishes and defined spaces. It represented the coat-and-tie mentality that many offices had up until about eight years ago. Aesthetically, it was in the past and technologically, it was challenged."

In listing criteria for its new space, the needs of staff and clients were considered carefully. Access to the outdoors and to high-speed, high-tech tools were important, along with convenient parking and transit. A modern appearance and upgradeable technologies were prioritized, as was a flexible floorplan with spaces to learn, create, collaborate and connect.

After reviewing available alternative locations, a solution was devised to work within the existing building. NBA retained its existing office space with its private outdoor terrace, parking, revitalized public transit, and variety of retail and restaurant options. By slightly shrinking its overall square footage, the firm was able to lease additional space on a connecting floor and bring together its whole team with its contiguous space.

"Our new work zone colors feature black, white, grey and pops of blue to create our beautiful spaced. In the past, the office tones were brown and cream. The old coat-and-tie, dark, formal aesthetic is now a more approachable, less stuffy, bright, modern space relying on quality, timeless materials. We were very strategic in layering components to provide clean, simple definitions," explained Yarbrough.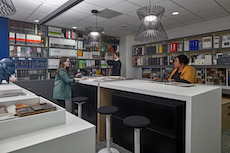 Right-sizing and optimizing
In deciding to renovate rather than relocate, NBA ensured everyone's input was considered. Yarbrough remembered, "We asked each department what do they need, and how could we best organize staff and resources. We also asked ourselves how our space can best represent out work. Much of our work is designing places you want to stay and visit."

"Building on the good bones, we repurposed and renovated, taking advantage of strategic spaces and doing it better," said Yarbrough. Architects were agreeable to smaller workspaces supported by digital technology and more collaborative space. Interior and landscape designers needed more space for the physical samples and support space elements.

"We had upgraded piece by piece, as needed over the years. This was an opportunity to start fresh and fully embrace the work styles and needs," observed Yarbrough. "It was not a one size fits all approach, it was about right-sizing and optimizing."

Optimizing acoustics to enhance each room's function included selecting sound-absorbing materials such as Rockfon's stone wool ceiling panels. Astro Interior Contracting installed all the Rockfon ceiling systems throughout NBA's offices. "They were very accommodating and able to work with us with several challenging slopped wall areas," noted Yarbrough.

The largest conference room is highly visible due to both its transparent glass walls and its proximity to NBA's main entrance. With respect to the hard surfaces of the walls and conference table, the energetic discussion in the room and the vibrant atmosphere surrounding it, ceiling panels with high sound absorption were specified to support clear communication for both in-person and dialed-in participants.

"We have a culture where we want to be with each other," shared Yarbrough. "We like to eat together, play together and work together. We invest heavily in continuing education and are proud of our strong mentorship program. We like to host our clients. We work with clients across the country and overseas. We appreciate that our clients want to visit us and stay after meeting. We were looking for an environment that could provide all of this."

Concierge model, sophisticated comfort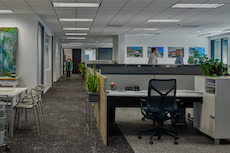 Throughout the office, subtle nods to core project types reinforces the firm's leadership in residential and hospitality design. For example, the conference room may be considered one of NBA's most traditional rooms in its functionality, but its interior design is described by Yarbrough as "more a dining room space than a classic corporate American boardroom."

He continued, "Re-envisioning the formal reception area, people entering from the elevator are greeted in our welcome center. Drawing from a concierge model, this hospitality zone presents a sophisticated, yet comfortable setting for short meetings. It's meant to be used, heard and seen. This creates the opportunity for intentional collisions where we reinforce the value of in-person relationships and idea sharing."

Distinguishing the café, NBA specified Rockfon Color-all stone wool acoustic ceiling panels in warm grey with a suspension system finished to match. NBA-branded bright blue accents complement the bright white and warm grey ceilings, warm wood flooring and casework, white counters and tables, soft fabric furniture, dark tile and transparent glass feature walls. In the elevator lobby, a 3-D "N" is monogramed in back-painted glass walls.

Contributing to the firm's visual identity, NBA's fine art collection is strategically incorporated throughout public, private and studio areas. Interspersed as colorful, playful focal points, these original works complement the firm's own works in progress and inspire new ideas.

"We have accumulated fine art of varying mediums over the years and, in our newly renovated offices, we took the opportunity to expand the collection. Of note, we commissioned a piece from local artist Tommy Moss which spans about 15 feet of wall outside our NBU, Niles Bolton University, training/flex room," shared Yarbrough.

Eco-conscious, smart design
The renovated office balances an inclusive, lively, fun and functional atmosphere with environmentally conscious selections and intentional biophilia throughout. In an office, the efficacy of good design is demonstrated not only by productivity and profitability, but by job satisfaction, employee and client retention, and long-term sustainability, health and well-being. Supporting these goals, the natural material properties of stone wool offer proven performance.
Along with its modern appearance and optimized acoustics, stone wool resists fire and water, without the use of additional chemicals. Rockfon stone wool ceiling panels provide no sustenance for mold, bacteria or potentially harmful microorganisms. Contributing to indoor air quality (IAQ), Rockfon stone wool products are UL® GREENGUARD® Gold Certified for low VOC emissions.
Contributing to energy efficiency, the reflective surface of the ceiling panels effectively disperses diffused lighting minimizing glare on screens and monitors. To showcase all work in its best light, the ceiling grid accommodates generous use of LED dimmable ambient and suspended task lighting. The grid and removable ceiling panels allow access to the plenum when future upgrades are needed to lighting, wi-fi and other technological tools of connectivity.
"No one should feel left out. We want everyone to feel heard," emphasized Yarbrough. "Work/life balance is important. You're not required to be in the office every day, but most people want to be. It's a testament to our culture, but also to our office design. It's the combination that makes it successful."

He explained, "We're very eco-conscious and wellness conscious. Our office design is primarily carbon-neutral and as a firm, we encourage the use of bio-based, sustainably focused materials. We practice what we preach to ensure we are doing our part and that we also benefit from good design. Good design does not mean you have to spend a lot of money. Good design means it really works."
NBA's renovated corporate headquarters serve as a modern environment that exudes warmth, that's both fresh and timeless, and that clearly emphasizes individuals and interactions. The connection to the natural world comes through in environmentally conscious choices of materials that include Rockfon acoustic stone wool ceiling systems. A color palette that leans toward black and white, greys and neutrals is always on trend. Looking to future-proof NBA, the plan takes into consideration how to support new technology and the needs of a vibrant workforce.
**
Niles Bolton Associates, 3060 Peachtree Rd NW, Suite 600, Atlanta, GA 30305
• Architect/interior designer: Niles Bolton Associates, Inc.; Atlanta; https://www.nilesbolton.com
• General contractor/construction manager: Leapley Construction Group; Atlanta; https://leapleyconstruction.com
• Ceiling – installing contractor: Astro Interior Contracting Inc.; Mableton, Georgia; https://www.astro-interior.com
• Ceiling – manufacturer: Rockfon; Chicago; https://www.rockfon.com
• Photographer: ©Brian Gassel Photography

About Rockfon
Rockfon is part of ROCKWOOL Group and is offering advanced acoustic ceilings and wall solutions to create beautiful, comfortable spaces.

At ROCKWOOL Group, we are committed to enriching the lives of everyone who experiences our product solutions. Our expertise is perfectly suited to tackle many of today's biggest sustainability and development challenges, from energy consumption and noise pollution to fire resilience, water scarcity and flooding. Our range of products reflects the diversity of the world's needs, while supporting our stakeholders in reducing their own carbon footprint.

Stone wool is a versatile material and forms the basis of all our businesses. With approximately 12,200 passionate colleagues in 40 countries, we are one of the world leaders in stone wool solutions, from building insulation to acoustic ceilings, external cladding systems to horticultural solutions, engineered fibers for industrial use to insulation for the process industry, and marine and offshore.

For more information, please visit https://www.rockfon.com.
###
---
Filed under: Projects, Rockfon
---
Story Resources
Word document
Request high res photographs for publication