Client News: New educational and employment center welcomes community and opportunity with colorful façade finished by Linetec
Posted on March 14th, 2021 by Heather West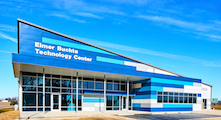 Opened on March 12, 2021, the new Elmer Buchta Entrepreneurship & Technology Center (EBETC) in Pike County, Indiana, revitalizes and supports the community's educational and employment opportunities.
Welcoming everyone to the EBETC's modern business incubator, the cheerful multi-colored exterior designed by Hafer features a metal rainscreen wall panel system manufactured John W. McDougall Company Inc. Linetec finished the panels using four different colors: Bone White, Cityscape Gray, a darker Regal Blue and a lighter Siam Blue. All 629 panels were installed by Midwest Roofing-Sheet Metal in coordination with general contractor Jasper Lumber Co., Inc.
As a single source solution for architectural finishing, Linetec offers more than 55,000 unique colors as well as in-house computerized matching and blending capabilities. Its advanced equipment and techniques ensure high-quality consistency in applying the four colors using two 70% PVDF-resin based architectural coating systems – Duranar® by PPG for the white, and Fluropon® by Sherwin-Williams for the gray and blues.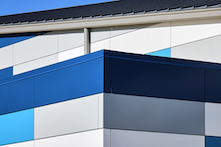 All of the finishes for the EBETC's panels were applied by Linetec under factory-controlled conditions to meet the industry's most stringent performance specification, AAMA 2605. Protecting and enhancing the aluminum panels, these coatings' strengths include resistance to color change, gloss loss, chemicals, UV, chalking, erosion, humidity and salt spray. These durable finishes are tested under extreme conditions to ensure they retain their appearance and high performance for many years to come.
Focused on the future needs of customers' projects, the occupants within them and the larger environment, Linetec's industry-leading practices efficiently capture and effectively remove the VOCs present in liquid solvent-based paints. These are safely removed at its factory before the finished material arrives on the building site for installation.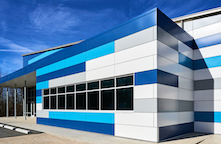 John W. McDougall Company provided installer Midwest Roofing-Sheet Metal with 8,820 square feet of its new GENESIS™ RainScreen Series metal wall panel system. To ensure a precise fit, John W. McDougall's team used a high-definition laser scanner to map the dimensions of the EBETC's building frame.
Based on the scanned dimensions, the panels were efficiently fabricated by McDougall with lightweight, durable aluminum plate. The GENESIS RainScreen panel system provides 0.50-inch-wide by 1.75-inch-deep panel joints, staggered or inline options for joint layout, as well as built-in channels to shed water. Along with colorful finished aluminum panels, the GENESIS RainScreen panel system is available in different materials and sizes, and with perforations, embossing and textures.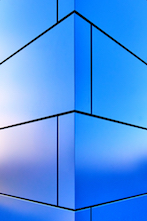 "GENESIS provides a unique look along with easy installation. It attaches straight to the wall without shims or caulking," said John W. McDougall Company's project manager Teshome Tulu. "We have used the panel system on other projects, but this was the first to use it solely on the whole job with multiple colors."
He added, "We have been partnering with Linetec for many years. We are very satisfied with their performance and quality. They meet our deadlines and help us provide better solutions."
All of the finished panels arrived on site by August 2019 and installation began in September. Early in 2020, the global pandemic caused concern and delays. Construction progressed safely in two phases through completion in early December 2020.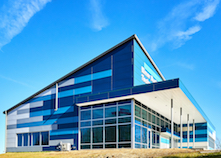 Now open, the EBETC's 8,500-square-foot facility offers a mix of co-working space and private offices, maker space and equipment for prototyping, training rooms, lounges and room for future expansion. The center's outdoor space also expands the potential for collaborating, working or relaxing.
Creating the EBETC was among Pike County's new opportunities for growth after suffering the loss of more than 1,100 jobs in the mid-2010s. The Pike County Economic Development Corporation (PCEDC) began an overall plan for the 4,000-acre community and its infrastructure. Today, the building also is home to the PCEDC's headquarters.
The EBETC was dedicated in honor of area business leader and long-time entrepreneur, Elmer Buchta, Sr., who founded Buchta Trucking in 1937. His son, Elmer Buchta, Jr., served as company president from 1979-2008. He and his wife, Judy, were among the first to commit to funding the center.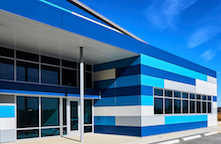 An additional $2.5 million in funding was secured through a grant from the U.S. Economic Development Administration (EDA). The EDA implements its mission by making strategic investments in the nation's most economically distressed communities that encourage private sector collaboration and creation of skilled, higher-wage jobs. Among its initiatives, the EBETC will be recruiting the graduates of Pike Central High School's award-winning Project Lead The Way program for engineering, biomedical and computer sciences.
"Pike County realizes the importance of retaining strong, local talent in their community. These talented individuals are responsible for spurring economic development through creation of new business and partnerships," summarized Hafer's architectural team. "With this knowledge, Pike County decided to build a facility that would provide physical space for these individuals to think, create and share."
**
Elmer Buchta Entrepreneurship & Technology Center, Pike County, Petersburg, Indiana
• Developer: Pike County Economic Development Corporation; Petersburg, Indiana; https://opportunity4miles.com
• Architect: Hafer; Evansville, Indiana; https://www.haferdesign.com
• General contractor: Jasper Lumber Co., Inc.; Jasper, Indiana; https://jasperlumberonline.com
• Exterior metal wall panel system – installer: Midwest Roofing-Sheet Metal; Evansville, Indiana; https://www.mwrsm.com
• Exterior metal wall panel system – GENESIS RainScreen system manufacturer: John W. McDougall Company, Inc.; Nashville, Tennessee; https://jwmcd.com
• Exterior metal wall panel system – coatings manufacturers:
   - White panels – PPG Industries, Inc.; http://www.ppgmetalcoatings.com
   - Blue and gray panels – Sherwin-Williams Coil Coatings; http://www.coil.sherwin.com
• Exterior metal wall panel system – finisher: Linetec; Wausau, Wisconsin; https://linetec.com
• Photographer: Richard Chisum, Chisum Multimedia; courtesy of John W. McDougall Company, Inc.
About Linetec
Located in Wisconsin, Linetec serves as a single source solution for architectural finishing. The company works with customers across the country, finishing such products as aluminum windows, wall systems, doors, hardware and other architectural metal components, as well as automotive, marine and manufactured consumer goods.
Linetec is a member of the Aluminum Anodizers Council (AAC), the American Institute of Architects (AIA), the Fenestration & Glazing Industry Alliance (FGIA), the National Glass Association (NGA) and the U.S. Green Building Council (USGBC). The company is a subsidiary of Apogee Enterprises, Inc. (NASDAQ:APOG).
Please visit https://linetec.com for more information about Linetec's architectural paint, anodize and specialty finishes.
###
---
Filed under: FGIA, Linetec, Projects
---
Story Resources
Word document
Request high res photographs for publication