Kolbe offers whole home solutions with custom capabilities to align with modern window and door trends | booth #C2515 NAHB IBS
Posted on January 23rd, 2023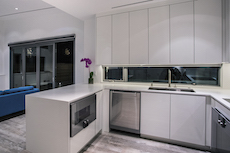 Wausau, Wisconsin (Jan. 2023) – Known for quality craftsmanship, attention to detail and innovative design, Kolbe Windows & Doors is showcasing inspiring examples of unique window and door applications at the National Association of Home Builders International Builders' Show (NAHB IBS) in booth #C2515.
"Our vast capabilities and continuous innovation allow our windows and doors to help create functional spaces specifically designed for comfort, convenience and connectivity throughout the home," says Kolbe's president, Jeff De Lonay. "This year's booth simulates a residential environment inspired by the visionaries who use our products every day."
Navigating through the modern floorplan, windows and doors of exaggerated heights and proportions, in custom shapes and unique applications, demonstrate Kolbe's custom capabilities. Kitchen and bath fixtures from Kohler® – another Wisconsin manufacturer – add a trendy and functional design element. Some examples of its one-of-a-kind window applications are:
• A VistaLuxe WD LINE trapezoid direct set with a floor sill gives a floor-to-ceiling appearance, reaching a height of over 10 feet tall. The Coal Black interior and coordinating exterior cleanly outline this angular opening. A VistaLuxe AL LINE geometric window of near-equal proportions features an all-aluminum frame with an Ultra Pure White powder coat finish that disappears into the matching white wall.
• A nearly 13-foot-wide by 2-foot-tall Ultra Series beveled direct set beneath a row of kitchen cabinets provides a unique alternative to the traditional countertop backsplash, maximizing views and natural light in common food prep spaces. The Maple interior with Clear Coat finish coordinates with the cabinets, Dutch door and window frames, while the gray, Shale exterior offers an alternative to black.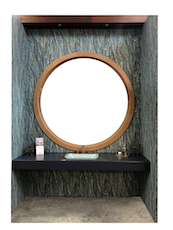 • A 5-foot-7-inch-diameter Ultra Series full circle direct set window creates a giant porthole over a Kohler bathroom sink and vanity. The rift-sawn White Oak with Clear Coat interior makes an impressive frame for light and views – a bold alternative to the traditional mirror or medicine cabinet. The slim Coal Black exterior frame recedes into the siding to let the large round window take center stage.
• A mixed combination of VistaLuxe AL LINE products offers large expanses of glass in a tranquil zen corner of the booth. The three dark-hued units, each measuring 9 feet tall, represent how to achieve oversized views with stationary, venting or combination configurations of direct set, hopper and tilt-turn windows.
• A VistaLuxe WD LINE corner window with a 22-inch jamb creates a wide bench seat that wraps around the corner for a cozy nook with unobstructed views. The Alder wood with Clear Coat interior offers a solution in which modern design can feel warm and organic. In the opposite corner of the kitchen, a Bright White corner direct set offers an even wider viewing area around a bistro set with a slim post and frame that recede into the wall to encase diners in views of the landscape.

"We are not only showcasing our most unique products – we are demonstrating their versatility by incorporating them into nontraditional applications that further enhance the design of the home," explains Liz Huber, Kolbe's marketing manager. "In addition to helping visionaries create architectural impact, a strong focal point, or defining the shape of a structure with our products, we also focus on the smaller details."
Some examples of distinctive design details on a smaller scale include:
• A trio of narrow 8-foot-tall VistaLuxe WD LINE casements in Sapele wood with a Clear Coat interior offers a center stationary window flanked by two venting windows. Square-profile performance divided lites precisely align in a custom Prairie style pattern across all three windows, with vibrant Copper Canyon exteriors that call attention to the strong vertical lines and continuous pattern.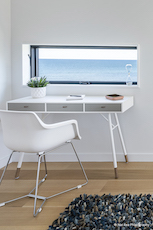 • Thoughtfully positioned directly over a small desk, a Forgent® Series All Glastra® crank-out awning with a Cloud interior finish blends into the wall to enhance a home office environment with views, ventilation and natural light.

A dramatic entrance is an impactful way to express individual style. Three examples of Kolbe's personalized approach to entrance doors are represented at IBS:
• Over 5 feet wide and approaching 10 feet tall, an Ultra Series pivot door greets visitors in contemporary style, with a Reconstituted Rosewood panel and horizontal glass insets. A full-length Rockwood® GeoMetek pull handle in Black Suede accentuates the verticality of the door, while flanking floor-to-ceiling direct sets and a horizontal transom across the entire entryway extend daylight and views.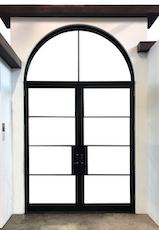 • A VistaLuxe WD LINE French inswing door offers the look of steel, with interior, triangular, performance divided lites in Coal Black K-Kron II finish, and a custom textured Terra Cotta Black exterior finish. Simulated lock boxes with Matte Black Dallas style Hoppe® hardware reinforce the aesthetic, while a half-circle transom above adds the crowning touch to the elegant entryway.
• A Dutch door is a flexible and functional option for households with children or pets. The two panels can either open together as a full door, or just the top can open while the bottom remains closed when accepting packages or greeting visitors. For style that goes beyond function, the Dutch door adds a pop of color with a Mystic Ivy exterior and flat Coal Black frame against the black wood siding, while a Maple with Clear Coat interior coordinates with the warm, organic aesthetic of the kitchen woodwork.

For more inspiration and information about Kolbe's endless capabilities, please visit https://www.kolbewindows.com.

What began in 1946 as a two-brother team has grown into an internationally respected manufacturing company. Kolbe Windows & Doors is one of the nation's leading manufacturers of windows and doors for residential and commercial markets. After 75 years, Kolbe products are best known for superior quality, custom craftsmanship, attention to detail, as well as innovative and unique designs.
###
---
Filed under: Events, Kolbe Windows & Doors, Products
---
Story Resources
Word document
Request high res photographs for publication