Client News: Collin College Wylie Campus features Rockfon's ceiling systems in four new facilities
Posted on December 6th, 2022 by Heather West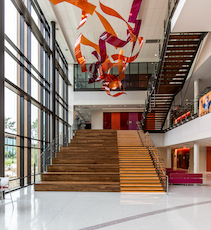 The highly anticipated Collin College Wylie Campus spans approximately 100 acres and serves up to 7,500 students plus faculty and staff. Academic courses focus on business, hospitality, fine arts, education, health sciences and core STEM programs.
Page Southerland Page (Page) designed the three, new, large facilities at Wylie Campus – the student center with an attached conference center, the campus commons and the library. A central utility plant also was part of the Wylie Campus initial offering. All four structures feature Rockfon ceiling systems. "It takes a village to erect a bold, beautiful, multi-building campus," said Dr. Mary McRae, Wylie Campus vice president and provost of the Wylie Campus.
Page specified Rockfon's acoustic stone wool ceiling panels for their modern, bright white aesthetic and their high-performance attributes. Rockfon's sound-absorbing ceiling panels help optimize acoustics to reduce noise and enhance the overall learning experience at Wylie Campus. Lasco Acoustics & Drywall installed all of Rockfon's ceiling systems as provided by Dallas-based distributor, Action Gypsum Supply.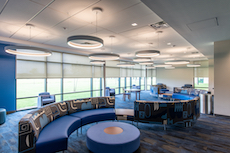 Rockfon's sound-absorbing ceiling panels help to optimize acoustics, maximize natural light and enhance the overall learning experience at Wylie Campus. Installed extensively throughout all three buildings, Rockfon Alaska® acoustic stone wool ceiling panels offer the best level of sound absorption demonstrated by its very high 0.90 noise reduction coefficient (NRC). Their smooth, white surface also reflects 86 percent light, carrying outside natural light more deeply into the building's interior core.
"The use of natural light and connections to the exterior are extremely important to the design and campus character," according to Page. "The buildings are oriented to maximize the use of daylight and long views to the outside are provided in most interior spaces. Wellness and sustainable strategies are incorporated throughout the buildings."
The reflected, diffused light from Rockfon's stone wool panels minimizes glare on screens and monitors, helping reduce eye strain and reduce associated headaches. All of the stone wool ceiling products selected by Page are UL® GREENGUARD® Gold certified for low emissions. Products meeting this stringent certification are recognized as supporting indoor air quality, which contributes to healthier interiors in educational environments.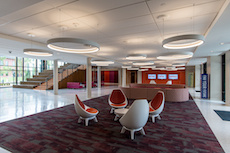 Made from natural basalt rock and recycled material, Rockfon's stone wool products are easy to clean. Stone wool also inherently resists fire, water, moisture and humidity, and does not support the growth of mold, mildew or other potentially harmful microorganisms. Offering additional assurance to design teams creating healthy, safe and sustainable spaces that contribute to occupant wellness, Rockfon Alaska is supported with an Environmental Product Declaration (EPD), Health Product Declaration (HPD) and Declare Label.
Along with the wellness and performance benefits, Page's design team appreciated the high-end appearance and versatility of Rockfon acoustic stone wool panels. Rockfon Alaska panels were selected in 2-by-6-foot sizes with angled tegular edge profiles. These large-format panels appropriately scale the ceiling within the spacious, open, communal areas. For smaller, enclosed rooms, Rockfon Artic® acoustic stone wool ceiling panels in basic white, 2-by-2-foot sizes with square tegular edge create the right visual fit.
Because full-height walls and other acoustic strategies were employed within many enclosed rooms, the Rockfon Artic ceiling panels' sound absorption could be specified to deliver a "good" NRC of 0.75, while maintaining 85 percent light reflectance.
In the student center's kitchen, multiple performance requirements were needed. Rockfon® Hygienic Plus™ helped meet all of the priorities: high light reflectance, excellent sound absorption, low particle emissions, Class A fire performance, cleanability and durability.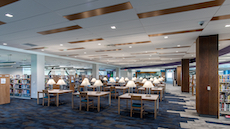 The modular sizing of Rockfon Hygienic, Alaska and Artic ceiling panels made it easy to use Chicago Metallic® 1200 Series 15/16-inch suspension systems in almost every room. In the library, Chicago Metallic® 4000 Tempra™ 9/16-inch provided a narrower, exposed grid. Where open plenums were preferred, Rockfon® Island™ in 4-by-4 and 4-by-8-foot sizes were directly suspended from the deck above. As example, in the fitness center and music rooms, Rockfon Islands were positioned carefully for optimized acoustics and ideal light reflectance.
"We emphasized feelings of warmth and openness in all of the interior spaces," noted Kris Walsh, IIDA, LEED® AP, principal and interior design director at Page.
The official Welcome Center for Wylie Campus is located in the three-story, 114-000-square-foot campus commons building. On the first level, students and visitors find a one-stop-spot for enrollment, admissions, advising and financial aid assistance, plus access to collaboration areas, multi-purpose rooms and the CougarFit fitness center.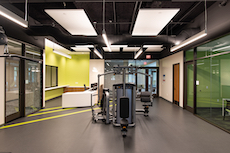 Traveling up the campus commons building's grand staircase to the second level, the Dean's suite of offices greets students as they move toward the career center, veterans' resource center, computer labs and more. On the top-most level, students pursing STEM coursework have access to state-of-the-art labs and classrooms with additional rooms for group study and meetings.
Also three stories with a warm inviting entrance, the 143,000-square-foot student center presents a sunlit atrium, grand staircase and colorful mobile suspended from the bright white ceiling. Inside, students and guests gather at Mama Lucido's café, a Starbucks coffee bar, a Barnes & Noble bookstore, the game room, or the numerous seating areas for socializing and studying. The attached conference center allows for flexibility with special events.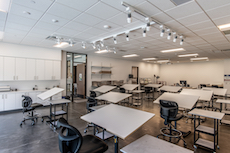 Conveniently located on the student center's first floor, students can access faculty and student engagement offices. Those in the fine arts program also enjoy the specialized studios' natural light. On the second floor are more offices, collaboration spaces, computer and multi-purpose classrooms. On the third floor, additional faculty and administrative offices are positioned and insulated from the music labs and practice rooms' finely tuned acoustics.
The library's glass rotunda has emerged as one of the most iconic architectural elements on campus. The 69,000-square-foot, two-story structure also houses the American National Bank of Texas Honors Institute and the Anthony Peterson Center for Academic Assistance, which includes a math lab, writing center and science den. Quiet areas are designated on level one with collaboration areas and classrooms residing on the upper floor.
While not viewed as part of the students' experience, the central utility building is essential to maintaining a seamless, functional campus. Most of the facility shelters equipment in rooms with open plenums. Where the team meet to discuss ongoing operations, the room is enclosed, insulated and features Rockfon's sound-absorbing stone wool ceiling panels.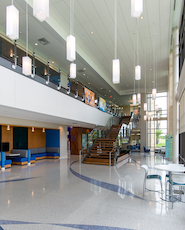 Wylie Campus' buildings are arranged around a central quadrangle with multiple walking paths and lawns connecting the structures. "We want students to embrace this campus and stay all day," explained Page's principal, Annelie Persson Call, AIA, RIBA, LEED AP, CDT. "The design is all about the students and creating a more dynamic academic environment for them."
Page described, "The architectural language unites the campus through thoughtful use of modern clean lines and warm regional materials. Building volumes and scales are gracefully broken down with careful material choices and juxtapositions, creating a more intimate residential quality across the campus."
Exemplifying this contemporary, accessible and localized approach, each of the building's exteriors are clad with a light-colored local stone, and indigenous, drought-resistant plants are used both outside and inside the buildings. Page elaborated, "The boundaries between buildings and the outdoor areas are fluid and encourage campus life to spill naturally from the classrooms and specialized instruction areas into the social stairs, large lobbies, common areas, gardens, lawns and benches."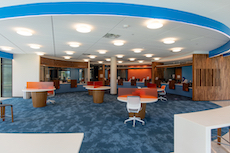 These purposeful and thoughtful design choices promote a familiar, biophilic connection that further supports campus sustainability and student wellness.
Together, the three main buildings on Wylie Campus provide 339,000 square feet of space. All were constructed concurrently as guided by Skanska USA. With nearly 40 years of experience in commercial construction, Skanska's Joe Lindemann said that working on the Wylie Campus was a career highlight. "You only get a few opportunities in your career to be a part of a project like this," he said.
"It takes a village to erect a bold, beautiful, multi-building campus," said Dr. Mary McRae, Wylie Campus vice president and provost of the Wylie Campus. Wylie campus arrived at a critical time. Since 2000, the city's population has grown from 15,000 residents to about 50,000, making it one of the fastest growing cities in Texas.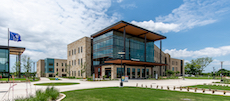 "Education has the power to change people's lives, and we believe that it should be readily accessible. This striking campus offers a wide variety of programs and provides us the opportunity to offer a warm Collin College welcome to southeastern Collin County," said Dr. Neil Matkin, Collin College Board of Trustees' district president. "We could not have built this campus without the generous support of our taxpayers and our many valued partners."
Wylie Campus fulfills one part of the $600 million bond voters approved in 2017 to fund five new campuses, three new facilities, three renovations to existing campuses and two re-purposed facilities. By the end of 2021, a total of 11 Collin College sites in Texas are anticipated to serve an additional 12,500 students each year. Because the majority of students expect to remain in their communities, the alumni will continue to contribute to the county's economic growth and vitality.
**
Collin College Wylie Campus – campus commons, student center, library and central utility plant; 391 Country Club Rd., Fairview, Texas 75098; https://www.collin.edu/campuses/wylie
· Owner/developer: Collin College.; McKinney, Texas; https://www.collin.edu
· Architect: Page Southerland Page, Inc.; Dallas; http://pspaec.com
· Project manager: AECOM; Los Angeles; https://aecom.com
· General contractor: Skanska USA Building Inc.; Dallas; https://www.usa.skanska.com
· Ceiling systems – installing contractor: Lasco Acoustics & Drywall, Inc.; Dallas; https://www.lascoadi.com
· Ceiling systems – distributor: Action Gypsum Supply; Dallas; http://www.actiongypsum.com
· Ceiling systems – manufacturer: Rockfon; Chicago; https://www.rockfon.com
· Photographer: Kevin Bowens Photography
· Welcome video: https://www.youtube.com/watch?v=5lsSubSxliQ
About Rockfon
Rockfon is part of the ROCKWOOL Group and is offering advanced acoustic ceilings and wall solutions to create beautiful, comfortable spaces.
At the ROCKWOOL Group, we are committed to enriching the lives of everyone who experiences our product solutions. Our expertise is perfectly suited to tackle many of today's biggest sustainability and development challenges, from energy consumption and noise pollution to fire resilience, water scarcity and flooding. Our range of products reflects the diversity of the world's needs, while supporting our stakeholders in reducing their own carbon footprint.
Stone wool is a versatile material and forms the basis of all our businesses. With approximately 11,500 passionate colleagues in 39 countries, we are the world leader in stone wool solutions, from building insulation to acoustic ceilings, external cladding systems to horticultural solutions, engineered fibers for industrial use to insulation for the process industry, and marine and offshore.
###
---
Filed under: Projects, Rockfon
---
Story Resources
Word document
Request high res photographs for publication